A minor role will usually only involve a few minutes of screen time but will usually see the character given a name and have some relevance to the main characters. A friend who in a twist is the key villain, a mother who only offers advice in one scene, somebody whose importance to the plot is only revealed at the eleventh hour. Other times it's a showy role for only one scene and everybody is talking about that performance after they leave the film.
A long time ago there were these ice skaters named Torville and Dean. They scored a perfect 6 from all the judges in their final routine at the 1984 Winter Olympics and naturally became legends.
Following their Gold Medal winning performance at the winter Olympics they went professional and performed for several years. In 1994 they returned to the Winter Olympics and won Bronze. Some time passed and they came to Australia to perform. My family were fans and on a whim one day decided they would see if they could get tickets. It was not in my parent's nature to go to such shows, they were luxuries to be weighed up heavily. Hence the last minute enquiry and the resulting lack of availability. So as a consolation prize we decided we'd go to the movies. Speed termed as a "Die Hard on a Bus" was out  with Keanu Reeves playing against type. We knew of his Bill and Ted's Excellent Adventure (1989), Parenthood (1989) and Point Break (1991) although only the first had been really watched by me as the others were probably deemed too adult. We went in with no expectations, my father, mother and siblings. I still think about that night every now and again watching Speed up on the big screen. Kids become teenagers and get too old to go see movies with their parents. Then your parents tend to not want to go out to the movies because its easier to wait until it comes out on Foxtel. 🙂 Speed was on the cusp of that change and an unexpected gift. This action film inadvertently became a family film  because we all have that memory and we all enjoyed that night and that movie. A great movie will be universally loved and bring people together.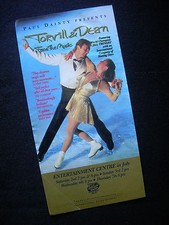 Torville and Dean would have been a once in a lifetime experience but there are no memories from that day tinged with disappointment only amazement. It turned out Speed was to be bonafide classic with amazing cinematography, a rip roaring score, amazing stunts, witty dialogue, and a fantastic ensemble cast. There's no denying that Joe Morton, Jeff Daniels, Dennis Hopper, Sandra Bullock and Keanu Reeves have a huge part to play in engaging the audience and making them care about the outcome. As a kid who'd never seen Easy Rider it made Hopper relevant again, it introduced the world to Sandra Bullock and it allowed Reeves to be seen in a new light. Yet there is not one speaking part in that film that isn't memorable. That gun wielding latino "Stop the busss!", the aw shucks tourist "We're at the airport…I've already been to the airport.", the lady with the G-string coming out of the elevator, the elderly African American couple weeping "The baby." just before that incredible jump. I could fill out the rest of the year in this series of posts with actors from Speed. I'm half tempted to, but on initial viewing there was one guy who we all strode out of the cinema talking about-the black guy who's car gets commandeered.
Credited as Jaguar Owner Glenn Plummer is still listed seventh on the cast listing at IMDB. An ordinary man finding himself in the extraordinary situation of flying down the LA Freeway after a commuter bus that has a bomb on it. I look back now and wonder how this played to African American audiences to see a black man in an expensive vehicle have his car commandeered at gunpoint by a white police officer (Keanu Reeves's Jack Traven) who then proceeds to wreck said vehicle and put both of their lives in danger.
At the time this was standard behaviour for film action heroes to pull guns when civilians black or white did not play nice with them. Now I wonder if Plummer's performance is a little over the top, at the time African Americans were featuring more and more in films and to Australian audiences any unique ways they spoke were lively and fresh and exciting to see. Bad Boys come out a couple of years later and the banter between Martin Lawrence and Will Smith was riveting because we weren't used to seeing this in mainstream American films. Now two decades later I wonder if Glenn Plummer was encouraged to ham it up but I like to think he maintained his dignity.
The characters always plays as real to the situation, the off hand way he says "Take the phone." after losing his car door feels right but you know a white guy wouldn't say it the same way and that's kind of the point. Well I guess it will be interesting to hear what you think but I thoroughly enjoyed  Glenn Plummer's performance as Jaguar Owner and it seems I wasn't the only one.
They made a point of having his character now named Maurice appear in a similar manner in the sequel Speed 2: Cruise Control (1997) courtesy of an amazingly ridiculous coincidence and he got some high profile roles directly after Speed in Showgirls (1995), Up Close & Personal (1996).
 More recently Glenn Plummer had roles in The Day After Tomorrow (2004), Saw II (2005), Sons of Anarchy (2008) and Suits (2016).
He has also branched out into other jobs co-writing, producing and directing in 2006 VooDoo Curse: The Giddeh (2006) and the upcoming Charlie Charlie (2017).
Some people will remember him in his early work in Menace II Society (1993) and his break out role in South Central (1992). Others know him from his recent television work. Yet if you've seen Speed it's doubtful you'll not remember him in that. He took a small thankless role and sold every line, every joke, every reaction and I hope to see him again soon holding my full attention with his incredible talent.
-Lloyd Marken