Bad Moms is a very pleasant surprise. It is the best broad comedy out of Hollywood this blockbuster season and while that could be a low bar to clear it is still an achievement in its own right. Maybe the writing was on the wall when Kathryn Hahn was listed in the cast, that woman has never failed to be good in any of her work yet and this could elevate her star status even more.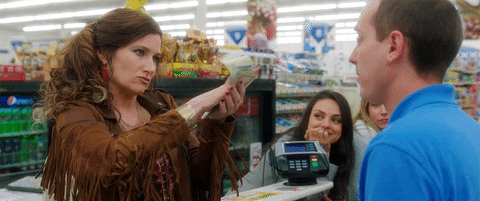 Mila Kunis stars as an All American Mom Amy Mitchell trying to do it all, raise the kids, keep the house running, please the hubby and hold down a good job. Like many women trying to do it all she finds herself constantly enroute to the next crisis she needs to respond to noting she's constantly late wherever she is arriving. One day she comes home and finds her husband Mike (David Walton) may not be present at the dinner table conversations but he is presently masturbating to a computer screen that has a woman skyping on the other end of it. The lout can't even muster up the decency to have a proper affair in person with his mistress.
Kicking him to the curb Kunis finds her already full workload overflowing. At the end of a very long day she arrives at the Parent Teachers Association Meeting a wreck and gets mentioned scathingly by the PTA President Gwendolyn James (Christina Applegate) the kind of well off immaculately coiffed individual who sits in judgement of everybody else. Revolutions have been born from such moments and so it is here. Kunis tells Applegate where to place her gluten free, sugar free, fat free cupcakes and steals off into the night to grab a drink at the local bar. God knows where her kids are at this late hour but at the bar she meets Carla (Kathryn Hahn) and Kiki (Kristen Bell).
Kiki and Carla are the two extremes of Amy's psyche, a repressed housewife who never talks back to her husband and suffers in vain as her children run her down and Hahn who barely remembers she has a child, sees men as expendable sex objects and doesn't give two gluten free cupcakes about what anybody thinks of her.
A million subtexts and questions abound in such a mainstream comedy. Kunis's daughter Jane (Oona Laurence) is a little stress bunny because statistically speaking young girls apply themselves more at school then young boys whereas Kunis's son Dylan (Emjay Anthony) cracks the shit because breakfast isn't made for him which means that Mommy has to sit him down and tell him that he has a sense of privilege and he better start doing for himself. Meanwhile Mommy decides that she's going to drive Daddy's car while he's living out of a hotel. While stereotypes exist for a reason, Kunis does a lot for her daughter including taking her to a day spa and getting her on the soccer team, meanwhile Daddy goes to a counselling session where he gets told sexual favours were not on offer because he never did any housework and the little boy gets the privilege of learning to do his own breakfast which should set him up well for later in life. Meanwhile Mommy spends a lot of time blowing off all her responsibilities, by the way this film is written and directed by two men Jon Lucas and Scott Moore who did The Hangover. Walking out to the car park afterwards I turned to my wife and said all the male characters were either losers or ideals, how would you like it if you saw a movie with female characters that only fit in those two boxes? She just smiled and replied "That's every other movie Lloyd."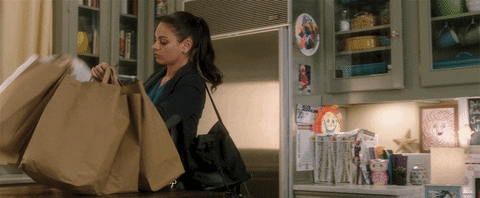 There's a nice message in this film about not having to measure yourself by other people's or society's expectations. That doing your best, loving your kids and enjoying life is enough. True to the spirit of not tearing other women down the ending strikes the right note. As a another fellow blogger pointed out having Kunis trying to eat spaghetti while driving from one appointment to another is a bit unrealistic but whatever sins or faults the film has they can be forgiven when there are so many laughs on offer.
Jay Hernandez makes a bigger impact here as idealised widowed Dad Jessie than he did in Suicide Squad. Applegate has her own pair of partners played by Jada Pinkett Smith and Annie Mumolo. They get some funny lines and Applegate seems to be having a ball.
 It may not be intended but the film plays as a mirror to the current U.S. election. Kunis as the outsider running for PTA President saying that we don't have to live up to expectations and change is needed in the system, Applegate as the long term insider who desperately wants to win. The ending almost feels like what happens when the revolution is won and the rebels start to be corrupted as leaders like they always are. May be I'm reading too much into it.
Plot inconsistencies abound, the kids or babysitters are referred to when needed and disappear when that is necessary too. Only commercial comedy would suggest these people are middle class and then have them to proceed to not worry about money during a divorce. It's okay, we're at the movies and we're not watching a documentary. Kunis, Bell and Hahn share a nice chemistry in this film with Kunis holding it all together as the lead, Bell doing some inspired physical comedy and Hahn stealing the show by doing whatever the hell she wants. A late scene where she explains motherhood to Kunis gives the film heart and a message. All the best gross out comedies have these two qualities. There's been a few comedies released this year, none of them had the audience laughing as much as Bad Moms. Do yourself a favour.
-Lloyd Marken
P.S. I really enjoyed the credits scene with the actresses and their real life mothers. You did a great job ladies and it made me think of how much I appreciate my Mum.