The Huntsman: Winter's War is a completely unnecessary prequel, sequel and spin-off but that is not to say it is not without merits. Snow White and The Huntsman was a big hit for Universal but bad press followed when it was published that the married director Rupert Sanders and young starlet Kristen Stewart had been involved in an affair. Sometimes the public doesn't care about such things but sometimes it causes issues and given it ended the relationship between Stewart and her Twilight co-star Robert Pattison the media interest was going to reach fever pitch. Snow White had proved a bona fide hit for young Stewart offering her chance to get work beyond the Twilight franchise and quirky indie hits. So what to do after shitting the bed?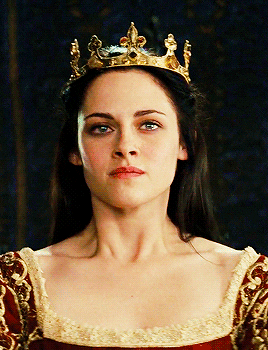 The inevitable follow-up went through a stilted development with whether Sanders would return (he didn't), Stewart would reprise her role (she doesn't) and whether the film that followed focussing on The Huntsman (Chris Hemsworth) would be a prequel? (hmm kinda).
Following the events of the first film we get into the back story of Eric, The Huntsman which turns out to be quite a tale requiring us to look back at events involving Ravenna (Charlize Theron) many years before Snow White. Freya (Emily Blunt) a younger sister of Ravenna following a personal tragedy left for the icy north where she raised an army out of soldiers captured and trained to fight from childhood. Her finest soldiers are Sara (Jessica Chastain) and Eric who plan to escape and marry which is forbidden in Freya's Kingdom. When Freya learns of this Eric sees Sara murdered before him and barely escapes to the southern kingdom where he will take part in the first film's events. Now in present day a darkness has taken over Snow White's Kingdom and Snow White herself (the great triumphant female heroine from the first film reduced to a shot from behind of her sick and knelt in front of her nemesis's Magical Mirror) and maybe only the mighty Tho-sorry Eric can save us.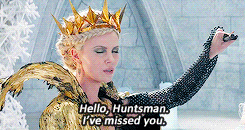 On paper The Huntsman appears like a poor cash in, the focus has shifted to a side character, the original's visual effects supervisor Cedric Nicolas-Troyan is making his directorial debut with this film and seven dwarves have shrunk to two (we get four in the end). The budget of the original was $170 million dollars and this sequel cost $110 million dollars, while the film looks good and sports great effects, sets and sequences it lacks the large scale set pieces with extras and real locations that the original sported.
Despite what the marketing would have you believe, the franchise's biggest star Charlize Theron is mostly absent from proceedings essentially showing up in the third act with a glorified cameo as if the filmmakers didn't trust their own tale to carry enough impact without her. Which given how much the film lifts when she appears may just be good common sense on their part. Balancing this out is newcomers Emily Blunt and Jessica Chastain who are two of the hottest young actresses working in Hollywood at the moment. Hot in the sense
but also hot in the sense that their proven talent and previous work makes them highly sought after. Their casting lends a lot of prestige to this sequel which at times often feels like half measures compared to the original. Blunt conveys a steely bitter resolve that you never quite trust will not crumble (she's been better in other films but it makes sense for her not to quite have the presence of Theron) and Chastain is suitably kick-ass.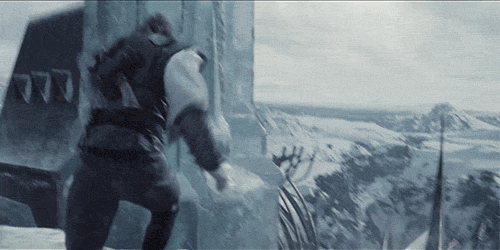 Chris Hemsworth enjoys his opportunity to be the lead albeit in yet another ensemble, sporting a fake Scottish accent, smiling charmingly and filing out leather pants as good as Chastain does (why doesn't she gets sleeves too or perhaps the question should be why does he have sleeves?!). The previous film allowed him in one scene to really stretch his acting muscles too, I'm not sure this sequel did but his performance is fun enough. That's the entire film in a way, completely unnecessary but fun enough. There are wisecracks, loved up couples all around, castles, sorceress's, monsters, fights, and all shot effectively, all told with a wink and a smile. Hey, I'm not complaining.
-Lloyd Marken