PLEASE NOTE: A SHORTER REVIEW BY ME CAN BE READ HERE.
Hail, Caesar! is another delight from the Coen brothers, their lighter fare tends to impress less than their dramatic work (think Burn After Reading compared to No Country for Old Men) of which this would be included but when the filmmakers are this talented you just sit back and enjoy the show.
Hail, Caesar! is all about putting on a show taking place in a big movie studio in 1951 when movie was king and streaming…my God did the word even exist let alone get used?! Eddie Mannix is a fixer for Capitol Studios (long term Coen fans may recognise the name), problem solving anything from scandals, injuries, personality clashes to kidnappings. In the socially conservative Eisenhower years he keeps bad press for the studio out of the paper and makes sure stars show up on set. Mannix played by Josh Brolin, has been doing this job a long time and is good at it but he questions some of the things he's done and Lockheed are looking to hire him for a much higher paying job. On maybe a particularly rough day, (the movie never implies directly that it is anything but another day at the office) Mannix has to deal with the studio's biggest star being kidnapped and held to ransom and Mannix remains torn about which career to pursue. The Lockheed guy meets with him for lunch and tells him "They're a serious company" and Brolin's face frowns. Maybe Mannix is hesitant despite his guilt and troubles because well he loves the movies and Hail, Caesar! loves the movies too. The best films about making movies have always loved the movies and been made by people who love making movies and adored by those who love watching movies, Singing in the Rain being the best example.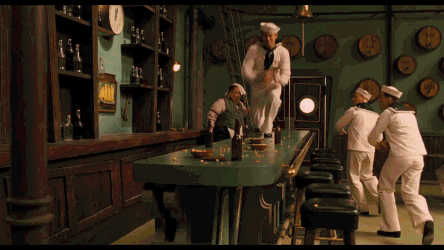 That love shines through in every sequence of the film, the Coens have actually bothered to do full dance sequences and synchronised swimming musical numbers, Westerns and yes old religious epics. Matte shots, horse tricks, missed lines that ruin takes, celebrity set ups, dancers harbouring secrets, winking at the camera are all on show. The Coens both lampoon old filmmaking and celebrate it by meticulously recreating it with a restrained use of modern technologies (CGI is used meticulously to have effects appear like old model work or rear projection). There is an added poignancy to proceedings lent by the very real fading of that era. Location manager John Panzarella (whose work includes L.A. Confidential) noted "Period locations are disappearing fast." And cinematographer Roger Deakins noted "I don't think the infrastructure is there" [for shooting on film in the future] due to limited stocks and processing options. Old Hollywood has been gone so long the ways of faking it are diminishing.
Yet this is not a film that exclusively looks back with rose tinted glasses, the Red menace of the Cold War evokes the same fear that ISIS does now, there is a Latino starlet Carlotta Valdez (Veronica Osorio) hoping for the same opportunities afforded her white co-stars, this is the era of McCarthy which may remind us a little that we now tear ourselves apart with political tribalism and humming in the background when Hollywood is in the final bloom of its Golden Age is the advent of stars demanding more and television only a few years away threatening the revenue streams that were taken for granted. Even more interestingly is the difference between Mrs Mannix (Alison Pill) (a basic stereotype of housewifedom from the 1950s fixing dinner late for her husband and deferring to his judgment even when he asks her what she thinks). Contrast this with Scarlett Johansson's starlet DeeAnna Moran who relaxes into her chair, talks with a stern demeanour and calls anybody on the hypocrisy of her situation. Hail, Caesar! may be a light comedy but it has a lot to say and says it well.
That makes it sound like a social diatribe and I assure you it is not. It is a film that is fun, makes you smile and even laugh at times. As usual that is due to the exceptionally clever dialogue of a Coen brother's screenplay and also in the utterly lovable character of Hobie Doyle who has been pulled off his usual B-grade cowboy fare to stare in a witty period drama. Alden Ehrenreich has been getting rave reviews as Hobie Doyle and this will be one of his break-out roles.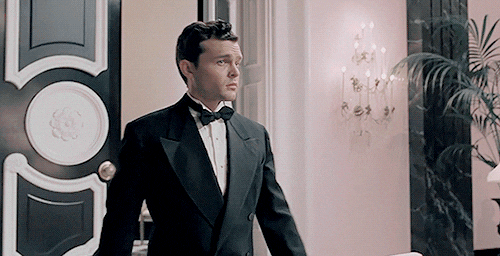 The Coen dramas seem to be more universally applauded than their comedies, almost like the latter are palette cleansers before they ramp back up again. Their best comedies though have grown in cult status over time such as The Big Lebowski and O Brother, Where Art Thou? Hail, Caesar! may not stack up next to those mighty achievements but it reminds you that the Coens are perhaps able to make such classics because they pour their heart and soul into doing what they love. Making movies. What a grand thing.
-Lloyd Marken