When I was a kid there was one superhero and his name was Superman and as played by Christopher Reeve he was a giant. There was something noble and good to admire about the man but there was nothing square about his decency. It was something to aspire to and there was a knowing eyebrow raised at times. Looking back it is a startling performance of little gestures, he sold Clark Kent being unrecognisable with body language more than the glasses he hid behind and there was anger and humour there in the character too. Michael Keaton, Christian Bale, Tobey Maguire, Thomas Jane, Robert Downey Jr., Chris Evans, and certainly not David Hasselhoff have ever measured up to that performance and that hero. Hugh Jackman is no different but perhaps that is a time and a place. I'm no longer a kid and maybe if you were a kid who grew up on these films Logan opening this month will have some poignancy for you. Because never has an actor performed over 17 years in 9 film appearances the same superhero. An achievement in itself, for my money Hugh Jackman was always a great actor in the role in films that sometimes didn't deserve that greatness. With that in mind let's take a look back at these films, performances and overall sex appeal throughout the years. With these shirtless shots I should buy untold credit to post girls in lingerie for several reviews. ;-P
X-MEN (2000) ***
The Performance: Jackman had done a few indie hits here in Australia and was performing Oklahoma on the West End when he got wrangled to replace Dougray Scott (his filming for Mission Impossible 2 had ran over schedule) at the last minute and thus a star and let's not forget a sex symbol was born. Wolverine was always the cool anti-hero Han Soloesque figure of the X-Men and while never plumbing the depths of Wolverine's painful past here Jackman delivered the vibe of the character well. His chemistry and protectiveness of Anna Paquin as Rogue was the heart of the film and foreshadows in part his relationship with Laura (Dafne Keen) in Logan.
The Film Itself: Not long after the Batman series of films had stalled, The Usual Suspects director Bryan Singer kicked off the next era of comic book films which have become the most dominant form of blockbusters in the past decade as Harry Potter and Lord of the Rings have faded away. The 90s had seen two great cartoon series based off old comic book storylines in the form of the X-Men and Spider-Man. Two years later Tobey Maguire put on the spandex and we were off to the races. If you ask me the first great comic book film of that decade was Spider-Man 2 but it all starts here and it is a solid fun film brimming with potential for the sequels.
Shirtless Rating: Jackman getting hired late in the game supposedly meant he didn't quite achieve the look he wanted for this film. In recent interviews he's even pointed to photos and remarked how he's quite not cut enough.
Yeah very disappointing Mr Jackman.
X-MEN 2 (2003) ***1/2
The Performance: Jackman was pushing to show off more of that berserker rage and when the X-Mansion is attacked and he's the lone adult defending it you see a bit of that. Brian Cox's performance as a pseudo father figure Colonel Stryker is brilliant and we start to see more of Logan's aimlessness caused by not knowing his own origins. Jackman was still in a happy blockbuster but there is a heart to the performance and him clearly taking more of a centre stage role as the star. Special note to his stunt work where he did jump off that stair case onto some waiting mattresses below. To have his arms outstretched like that takes some discipline.
The Film Itself: Easily the best of the first trilogy and arguably the best X-Men film full stop. More a chase film with characters racing to the next predicament, there's not too much character development but Xavier has a nice turn as a captor, everybody else is on fine form and the action is first rate. At the time, the opening setpiece in the White House was a game changer. I saw this film 5 times at the cinemas with different groups of friends, I've only done that for one other film.
Shirtless Rating: 34 year old Jackman was on fine form here even nudeing up for the ladies and fellas that way inclined. Think of all the chicken cutlets he had to endure for your entertainment.
X-MEN 3: THE LAST STAND (2006) ***
The Performance: Hugh Jackman, Ian McKellen's Halle Berry's stocks were pretty high at this point and so they feature pretty well in this film but Berry never got a fair shake at the part and I never got over wanting them to have cast Angela Bassett as Storm. Famke Janssen came to the fore and whatever the film lacks, Jackman and her played well the pain of loving someone but knowing they were dangerous. That ending is truly operatic in emotion and scale.
The Film Itself: We'll never know what could've been if Bryan Singer has gotten to complete the trilogy but I think Brett Ratner did fine. Some things are cheesy or appear low rent but he got the finale right and he let his actors play the roles they had established. Who doesn't feel something when that house comes toppling down. This was made back in the day when studios did trilogies not shared universes and there's some emotional weight and a sense of finality here. In some ways  the series has been always struggling to want to go back and nail the Phoenix story so we'll see what happens but I myself yearn for the day when doing trilogies meant you wrapped up characters stories.
Shirtless Rating: Jackman brings the rain again but that haircut ain't quite right. This would be the last time Jackman played Wolverine where I didn't have Karen in my life. I wonder what she made of these first three films?
X-MEN ORIGINS: WOLVERINE (2009) *1/2
The Performance: Jackman is every bit the movie star here in his first solo effort, getting into rip roaring shape, assembling younger beefcake all around him like a group of back-up dancers and playing a range of emotions. It's just…well you don't really feel it. Fatigue had set in, this gave us all the answers we ever wanted about the character and his past but very little reasonated and while I love Jackman I'm putting some of that at his feet as the star.
The Film Itself: Easily the worst of the bunch but there are some good things here. We see Logan had a painful childhood, the war montage is good and Ryan Reynolds was funny in his first scene and I like the line "I come with you, I'm coming for blood. No law, no code of conduct. You point me in the right direction, you get the hell out of my way. "
Shirtless Rating: Jackman seemed to step up the routine even more as he got older looking more and more ripped. Here he re-created scenes from X-Men 2 around about the time he turned 40. During his nuddy run I looked over at Karen practically inhaling popcorn as she watched transfixed at the images onscreen. I didn't have the heart to tell her in the moment CGI seemed to be being used. Shame really.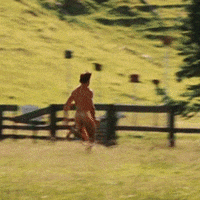 X-MEN: FIRST CLASS (2011) ***
The Performance: Hugh is essentially in this in a very celebrated cameo. PG-13 films in the U.S. are allowed one F word and Wolverine got it for his 25 second appearance. Long term readers may note, inspired by this I tend to put one swear word in every review. It's not a rule I strictly enforce but I like the idea of it being an ongoing gag. Anyway the cameo was the epitome of fan service without ruining the film. Loved it.
The Film Itself: Sir Ian McKellen was brilliant as Magneto and at one point there were plans to do an Origins film of him. Instead they recycled some of the plot for that film into this. The best bits are Michael Fassbender as Magneto going around the 1960s like a young James Bond. Fassbender and McAvoy got the relationship right between Charles and Erik. There was also a great subplot with Beast (Nicholas Hoult) and  Mystique (Jennifer Lawrence). Too bad they just played variations on this in subsequent sequels.
Shirtless Rating: Sadly in the half minute of screentime Jackman doesn't get his kit off but Karen has helpfully suggested I get the bath scene from Australia in here somewhere so why not here.
THE WOLVERINE (2013) ***
The Performance: Every time a new X-Men film came out Jackman would promise he was finally releasing the berserker rage in this one. I'd argue that didn't really happen until Logan but after his first solo run tanked Jackman put in the hard yards in this sequel. Following his loss at the end of The Last Stand, Jackman perfectly conveys Logan's grief and need for redemption.
The Film Itself: Directed by James Mangold maybe the finale falls a bit flat, maybe some of the dialogue ain't great but he's got a cool sidekick in Yukio (Rila Fukushima), some great lines (once again getting the sole F-bomb of the film at the perfect moment) and the story taking us to Japan. The train sequence looked terrible in the trailers but was fantastic in the film.
Shirtless Rating: Now 45 Jackman got into even more rip roaring shape. At this point I think Karen was more self conscious when Jackman got shirtless so there was no popcorn devouring this time. Must have been me knowingly turning to her in this scenes with a great big grin on my face and an elbow in her ribs that took her out of the moment. Can't say for sure.
X-MEN: DAYS OF FUTURE PAST (2014) ***
The Performance: After a couple of solo efforts, Logan was back in an ensemble X-Men film for the last time really. Him and Jennifer Lawrence's prominence on the poster tells you that even after all these years Jackman was enduring as a star like few. He's charming and cool here as he's ever been and generous with his co-stars with Bryan Singer returning to the helm.
The Film Itself: Fox's answer to The Avengers and regarded by many as the best of the series. It's tougher for men because there are not pays offs here I would have liked but it rights the series, has the famous setpiece with Quicksilver and for all the wonderful spectacle the finale is essentially old friends ironing out their differences. That takes courage, I rate X-Men 2 higher maybe even The Wolverine but this was a good return to form.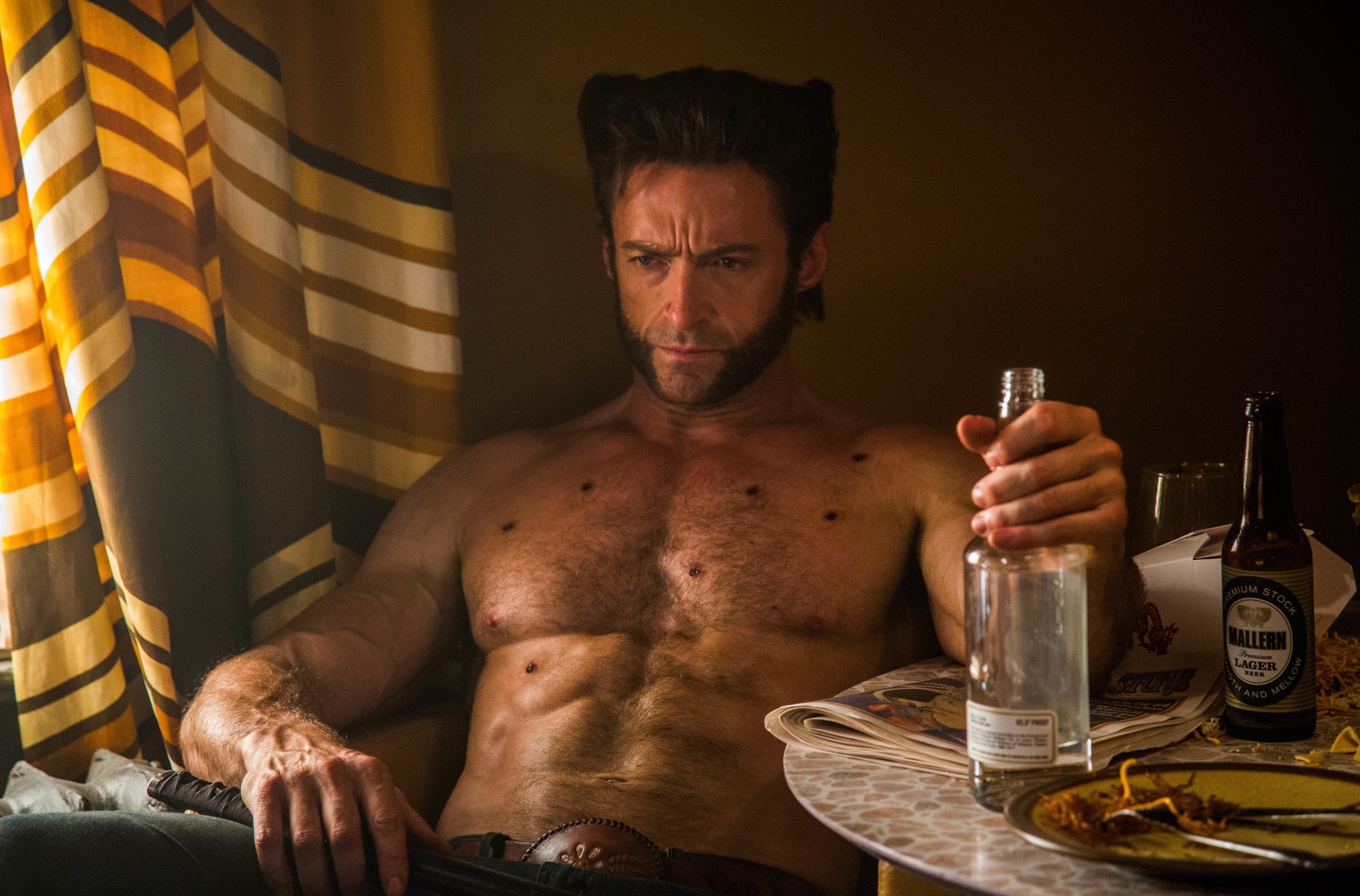 Shirtless Rating: The man is a machine. This was him in training for the film, if the bar ain't bending you're just pretending. 
At one point he bench pressed 136 kilograms. Judging by his nude butt scene he also did a few squats because that 46 year old arse was tight yo!
X-Men: Apocalypse (2016) **1/2
The Performance: Essentially re-doing his alkaline lake scenes again but this time better than X-Men Origins. This is the closest you could get to Logan at his most savage without an R Rating and I for one didn't mind the extended cameo.
The Film Itself: Reviewed on this blog previously, the film fails to draw you in with plots that have already been done before and a villain that mostly fails to engage. Bryan Singer has delivered better in the past and I don't know where the series goes from here but there are possibilities. In a way the series started off as a film adaptation of a cartoon series that it has mostly now done the plots of. It might be time to head off in new directions but if they bring back some of the cast here I would like to tie up some storylines like Beast and Mystique.
Shirtless Rating: Still looking good Wolvie and who doesn't like a man with his shirt off and his helmet on.
Logan (2017) ***1/2
The Performance: Hugh Jackman finally delivered everything he promised, he got to the guts of the character's pain, had a deep meaningful relationship with Xavier (Patrick Stewart), showed Logan's inherent goodness and nailed the berserker rage. This has always been an old broken down man and here we finally experience that with all its despair and resilience. Since his wonderful turn in Les Miserables I've been saying Jackman plays middle aged really well and I can't wait to see what he's done next.
The Film Itself: Some kids will tell you they don't see a point in comic book films that aren't comic book films. I shake my head. This is a story, a good one because it involves you and it makes you feel. Blockbusters can do that as much as kitchen sink dramas can bore the shit out of you with terrible dialogue and performances. This is easily my favourite alongside X-Men 2 and a very different film from the former.
Shirtless Rating: Well now that Logan is old and ravaged Jackman of course he won't look as appealing as he did in previous entries.
Oh for fuck's sake! Well I wonder if Karen liked the extra grizzle on Mr Grizzly. I'll go out on a limb and say yeah.
In closing thank you Hugh Jackman for all the hard work over the years and the passion you put into getting the role right. It's been a bumpy road but in the end you've stayed true to the word and given us one last great performance in the role to send the character off in style. As I once said of Christopher Reeve as Superman, I'm sure a few kids say now Hugh Jackman was, is and always will be Logan – The Wolverine.
-Lloyd Marken