X-Men: Apocalypse appeared in a crowded market of sequel s and comic book films this summer. The series was coming off a high of X-Men: Days of Future Past which combined the cast of the original run of films from 2000-2006 with the reboot X-Men: First Class kids ala like a Marvel Avengers team-up film. Intended as a trilogy capper to the young First Class crew, the scale of this X-Men film is bigger than any previous efforts with real world ending threats and yet the film is quite underwhelming. Where other films however muddled have felt fresh this year, this X-Men outing feels like a call back to better earlier trips. Even James McAvoy pointed out on Graham Norton "Charles goes bad again, I try to appeal to his inner humanity again." That's not what the main problem is though, Apocalypse is to put it mildly A bit of a fuckin mess. Too many characters, too many plot strands, an underwhelming villain and a finale that looks impressive at first but ends up like they always do being a big overblown cartoon that makes the audience feel no impact nor sense of stakes in the choreography. That is not to say it is without merit though. Their biggest mistake here is to not give closure to their cast of characters instead choosing to leave open the door for more profit-I mean storytelling.
Picking up from the events of Days of Future Past which was set primarily in 1973, Apocalypse takes place in 1983 with everybody fairly happy. Prof Xavier (James McAvoy) is running the School with Hank McCoy (Nicholas Hoult) and doing a bang up job. There are some particularly gifted students in attendance in the form of Scott Summers (Tye Sheridan) and Jean Grey (Sophie Turner) who we all know will become Cyclops and Phoenix. Jennifer Lawrence who proved the be the big break out star of this franchise due to her own one The Hunger Games, is back as Mystique rocking a leather jacket and being a bit of a symbol for mutants world-wide. She rescues them and is still fighting the good fight of mutants against humans who would hate, enslave or murder them or you know just humans in general. After almost killing the President, Magneto went back to Poland and raised a family.
These early scenes with Fassbender are low key and enjoyable. It feels like a natural progression for the character in middle age having fought the war for mutant rights and decided to go back where he came from, to where it all started and try to live a simple life as a man. The problem is we all know where this will end so it's hard to get too involved with characters that will be the fate of an inevitable plot development. At least though there is something dialled down and interesting going on in Poland. Quicksilver is back in this film too which makes you think something inevitable will happen there too since he mentions Magneto is his father. Inexplicably this does not take place and I think it has less to do with character motivation and more to do with copyright legislation.
Added into this mix is the villain En Sabur Nur or Apocalypse, a very old mutant maybe the first who used to make life tough back in the day for Egyptians and now has returned to……Sigh. You know it really doesn't matter. You'd be better off seeing Oscar Isaac in A Most Violent Year
or Inside Llewellyn Davis or Jennifer Lawrence in Silver Linings Playbook or James McAvoy in Filth or Tye Sheridan in Mud or  Sophie Turner in Game of Thrones or Evan Peters in American Horror Story or Olivia Munn in The Newsroom or Nicholas Hoult in Mad Max: Fury Road or Michael Fassbender in any movie he made with Steve McQueen or Lucas Till in…..in…actually this is probably Lucas's Till's best work. Still you get the point, there are better movies out there but I guess this one is not bad.
Look back in Egyptian times there was a mutant who ruled over the world with four deputies which allude to the Four Horsemen of the Biblical Apocalypse. I've heard Highlander the TV series did this idea more justice than this movie…… let that sink in for a moment. Awakened in modern times Ennie Sabie No feels a bit out of sorts and decides this old world of ours needs a bit of a renovation sensation which coincidentally includes our annihilation. How a victim of the Nazi's final solution gets on board with mass genocide is beyond me but little Magneto has had a rough time of it.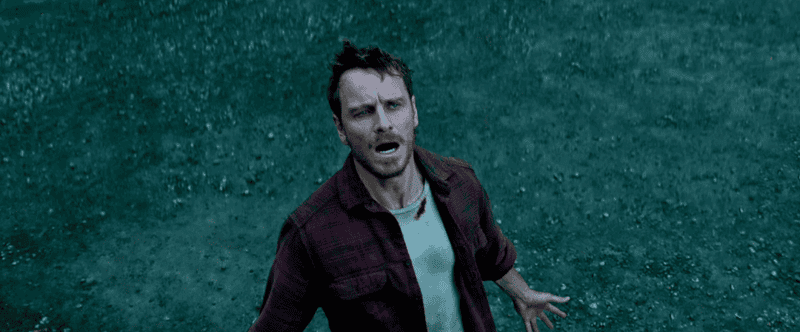 A startling close up of Isaac describing our world while connected to a TV is oddly compelling but sadly his motivations or how he draws in his followers of four is less convincing. There are some tantalising Meta jokes, references to past relationships but no real payoff. Hoult and Lawrence had a nice chemistry in First Class and it would have been nice to develop their love story to some resolution in this film.
More inroads are made with Rose Byrne and McAvoy but still no cigar. There is another stand out Quicksilver sequence which has less impact this time around but there is a good joke with Peters and Lawrence. En Zanzi Bur is a powerful figure with immense power but without a proper motivation the finale lacks emotional power. Things blow up, pixels play across the screen, and some actors even go flying through the air on wires but ask yourself in 3 months if you remember any of it. You'll remember Han Solo on the bridge a damn sight better or even Superman throwing that Kryptonite Spear into Doomsday.
Make a good film and everybody will beg you to be the only one to do a sequel, make a less than great film and everybody says it's time to put the franchise to bed. Both are knee jerk reactions that don't necessarily hold true. Bryan Singer has directed some fine films and been with these characters a long time, for me the best remains X-Men 2 which was 14 years ago. I wish him and 20th Century Fox well with the franchise and any choices they make in the future. In the end this could be as good a time as any to end this part of the story but if not, the directive should be simple – make it good. X-Men Apocalypse ain't bad though.
-Lloyd Marken