Imagine a comic book movie of refreshing anti-heroics, witty repartee amongst its characters, well choreographed action scenes and attitude to burn. Imagine no more. You can grab a DVD of, download, stream, get from vending machines or hang out on a mate's couch looking at him as he play acts out the whole movie of Deadpool or for that matter 2013's Guardians of the Galaxy. It will be cheaper and depending on your friend's acting prowess a damn sight better than seeing this new Suicide Squad at the movies.
Whoever created the trailers for Suicide Squad should be hired to do the work for the next Ghostbusters movie by Sony.
Those trailers popped with energy, eye popping visuals and sass. You can't deny the Brothers Gibb and Queen helped up with that, (Bohemian Rhapsody and Becky Hanson singing I Started A Joke played over the trailers) but after lacklustre marketing for Independence Day: Resurgence, Ghostbusters, Star Trek: Beyond and X Men: Apocalypse the Suicide Squad trailers promised at the end of this summer there would be one bright spark of originality and fun. Then Batman's Mum Has the Same Name As Superman's Mum came out and underperformed and there were rumblings of re-shoots, cuts for PG-13 audiences and instead of rejoicing about the fact that Suicide Squad would be vastly different to the current DCEU light lifters instead there was disquiet and a need for re-direction. Now Jared Leto is nodding his head as interviewers note his on air screen time is so small you could argue his role is that of a cameo and he's playing the Clown Prince of Crime for fuck's sake.
Somebody call Al Pacino, Gene Hackman,
Samuel L. Jackson, Kurt Russell or Billy Bob Thornton or anybody else who's played a legendary movie coach and sent them over to Warner Bros. and TELL THEM TO GET THEIR SHIT TOGETHER! FYI Warners this is what shit together looks like.
Honestly I would've been kinder to Batman Vs. Mopey Superbeing Who's Superbummed About Rescuing People Cause Feelings and His Girlfriend Is Super Nice and Looks Like This,
had I known how underwhelming the rest of the blockbuster season would be except for you Ricky, you brought it little buddy.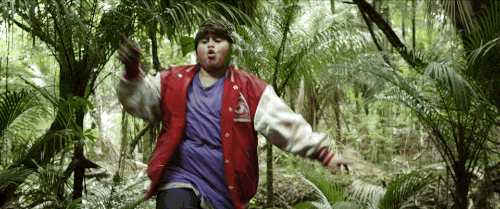 Harley Quinn was created in 1992, by Bruce Timm and Paul Dini for the much respected Batman animated series of the time, which is relatively recent by comparison for most DC comic book characters as for example the Joker whom first appeared in 1940. Dr Harleen Quinzel has built up quite a fan base in the relatively small time, studied for the contrast of her kick ass persona that still is very much under the spell of a man who may not really value or treat her well. Someone who has robbed her of autonomy and sanity but also made her a stronger individual rebellious of society's expectations. Fans have been waiting a long time to see her on the big screen and Margot Robbie does not disappoint. There's no denying the attractive actress wears hot pants well but Robbie subtlety shows that her sexuality is just another weapon in this character's arsenal. An important aspect of the character is she appears a harmless beguiling woman capable of inflicting incredible violence with no restraint. In addition to being a fighter she's also lovesick for the Joker.
Yet how much can two insane and immoral characters be with a messed up power dynamic be in love? Does the Joker really love her and does she really love him? These are intriguing questions. The Joker appears throughout the story focussed on being reunited with his incarcerated woman, risking much but she's also partly incarcerated due to him abandoning her. She exists this way because of his brainwashing, is there affection there or are they merely playing the part of a couple. It is a new take on the Joker being done on film to give him a lover and their relationship could prove fascinating but the bulk of their only time onscreen are mostly brief flashbacks that barely establish their relationship let alone probe the dynamics of it. Which is a shame because it's the most interesting thing above the film. Talks of a Harley Quinn spin-off should be met with approval and despite the film's flaws, getting the adaptation of a beloved character right straight out of the gate is rare and should be celebrated.
In fact most of the squad are full of interesting characters well realised by the actors playing them. There's Amanda Waller played by Viola Davis, an intelligence operative who puts the squad together and sees metahumans as the next strategic upper hand in world affairs and deterrent. The most powerful being in the squad is Enchantress, a witch goddess who has taken over the body of the archaeologist who found her Dr. June Moon (Cara Delevingne). Dr. Moon can bring her forth but can't necessarily control her. Leading the team is her boyfriend Colonel Rick Flagg (Joel Kinnaman) who is looking for a way to free June from the Enchantress. Actually he's not, he's not doing much of anything actually for a Special Forces soldier he spends most of the film being rescued and losing everybody's respect. Being a good guy not as powerful as evil people he has to lead could have been a fascinating dynamic but mostly he just stands there and points guns until it's all a bit too much for him. His only real display of a personality comes when he is dismissive of hitman Deadshot (Will Smith) despite their shared military background.
Anybody holding their breath for Will Smith to play against type as a ruthless killer should start inhaling now. Smith plays Floyd Lawton, a father and a good man who just happens to shoot people for a living but hey we only see him kill a criminal. Smith one of the most likeable movie stars on the planet is cool, funny and sympathetic here but the most prickly he gets is being a smartarse to Flagg. The Fresh Prince made the smart play segueing into a different kind of character as apart of an ensemble film rather than rehash past glories but the film doesn't reward his choice and I really would have liked to see Captain Steve Hiller return.
As Richard Jackson pointed out he concludes many scenes with "let's do this" which remains unclear since they basically were doing the same thing they are doing now. Quinn and Lawton form a bond in the movie although why is unclear except maybe the two characters are aware of the good chemistry that Robbie and Smith had in Focus. Rounding out the team is gangbanger El Diablo (Jay Hernandez) who has the superpower of projecting flames (arguably one of the most powerful members so naturally he doesn't want his powers following a tragic incident from his past), bank robber Captain Boomerang who has some reaaallly cool Boomerangs, a mutant played by Adewale Akinnuoye-Agbaje called Killer Croc (although nobody is going to use the word mutant in DCEU film), Slipknot (Adam Beach)who is really good with ropes and Flag's bodyguard Katana (Karen Fukuhara) who wields a magical samurai. Most of these members are hardly super powered but apparently the powers that be see them as a fallback if the next Superman goes rogue. Why use bad guys too after Batman worked so hard to lock them up? So that they can be plausibly denied and expendable except we never see these guys do harmful things to innocent people (an effective choice in say The Godfather but here denies the whole point of what makes these characters different in this genre).
We see Amanda Waller kill an innocent in cold blood which is supposed to make her look cool and ruthless but makes her more evil than the squad. Interestingly Viola Davis read M.E. Thomas's autobiography Confessions of a Sociopath to prepare for the role and described Waller as "relentless in her villainy" so the act is true to the character but is not as appealing as other aspects of her character. Or again we don't really see enough of the character to understand the complexity and contradictions at the heart of her. That's the problem with the film, Waller, Quinn, Joker, Deadshot and Killer Croc are interesting characters and Davis, Robbie, Leto, Smith and Akinnuoye-Agbaje are good actors but we get tantalising glimpses rather than hard looks.
The attitude and sass of these characters is infectious and the saving grace of the film, a scene in a bar late in the film has the right kind of energy that should have appeared in bigger doses to establish characters and develop relationships.
The most disappointing aspect of this action film is the action scenes often boil down to people shooting at things and lacks real excitement and inventiveness. Given the expensive sets and effects it is disappointing that they weren't put to more effective use with the set pieces, cinematography that includes spectacular shots like this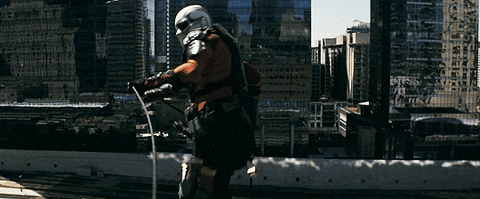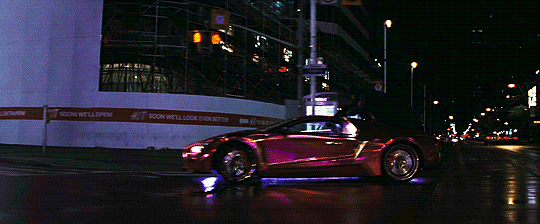 that are sadly not in abundance throughout. Former submariner and director David Ayer made the critically acclaimed Fury and End of Watch but here with a $175 million budget something has been lost. Speaking of lost, many questions are raised by the editing of the film suggesting that key scenes were scrapped and re-shot hurting the narrative flow of the story.
Suicide Squad frustrates with missed opportunities, an action film that fails to excite with its action scenes, a film of bad guys that don't appear to be all that bad and flashbacks that hint at a story we're not told. Suicide Squad was the last and great hope of 3 weeks of watching disappointing blockbusters that kicked off with Central Intelligence. None were bad and none were great, the best thing that can be said about Suicide Squad unlike most of the others is that it makes you excited to see these characters again in a film worthy of them.
-Lloyd Marken