A funny thing happened in Episode 5 of David Letterman's new show, on Netflix, My Next Guest Needs No Introduction. The man who's verbally sparred with pundits, network executives, movie stars, politicians and fellow comedians just ceded territory to his guest. This is no loss or embarrassment for the 70 year old because his guest was Tina Fey and Letterman adores Fey. Not for her beauty which is striking, not for her kindness to him (Letterman distrusts gushers), but because as far as he's concerned this is one the funniest people doing comedy today. Letterman did not deign to pass a torch to any of the many late night hosts upon his retirement the way Carson did for him but here you can't help but notice who owns the stage in this exchange. Both come across as funny and intelligent but Fey shines and Letterman wisely doesn't put up a fight. She won't even let him win a point for saying one of her most recent skits was good. She deconstructs what was missing to applause. There's nothing pathetic in this either, he states his opinions and gets quite a few laughs just by being himself but he's delighted by how funny and intelligent she is and isn't looking take any moment away from her.
Maybe his deference comes in this, as a liberal who has grown personally and politically in recent years and is constantly striving to create a better world with what little time he has left and worries about his young son. Maybe in Fey, Letterman thinks maybe the world will be alright and he's not alone. Tina Fey is the gold standard of established female former SNL alumni. She's done her own show, got some hit movies under her belt and is now doing a musical of her classic Mean Girls. She's also a Mum and Letterman always fascinated by child rearing compares notes with his guest which is nice.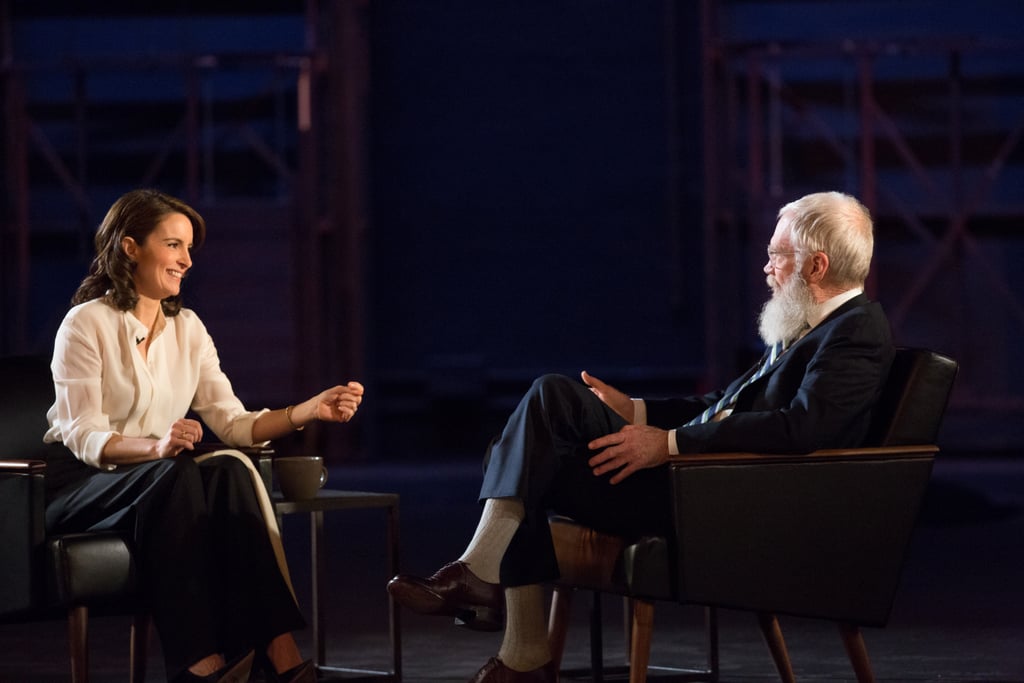 A lot of media buzz has been created by a moment where Letterman says he doesn't know why he didn't have more female writers on his show and offers maybe he didn't believe they wanted to do his show. Fey who was one of the presenters when he retired, when he was awarded the Kennedy Centers Honours and the Mark Twain prize looks him in the eye and says but they did. If you've read The Last Giant of Late Night: Letterman by Jason Zinoman you'll appreciate the history behind this moment. She's not being disrespectful but she's being direct and Letterman concedes he was ignorant. I think its important to note that this is not really a personal criticism so much as a principled statement. At this point Fey is discussing real benefits that came about as the writers rooms she's worked in have become more diverse. Letterman seems to be in agreement and the show ends with Fey saying I can't believe I got to meet you let alone talk to you. Yet she is maybe at the height of her powers and he is maybe past them and no kind words from either can mask that.
The remote in this episode is even odder than the one from Jay-Z previously. After talking about Fey's days at Second City in Chicago Letterman asks for a recommendation of where to eat in the Windy City. So he meets Blues legend Buddy Guy at The Athenian where they talk a little over roast chicken slathered over some chips. Letterman wisely advices Guy not to think too hard on where the grease comes from. Then Letterman takes in a performance in a club with Guy and Paul Schaeffer on the keyboards. It's nice to see Schaeffer again and Guy has an interesting story in himself but the whole thing feels unrelated and under explored for what it is. I don't know now what to expect with the impending finale with Howard Stern but I hope the remote actually has something to do with Howard Stern!
For me the best thing about this episode besides Fey herself is this, I would say Fey at times seems to be intensely feeling some emotions that she keeps a handle on. Letterman gets her to talk about things in the long format, about her family, about the construction of comedy performance and I don't know if others would've been successful in eliciting such a powerful hour of conversation out of her. Maybe but he did. He's still got something to offer.
-Lloyd Marken