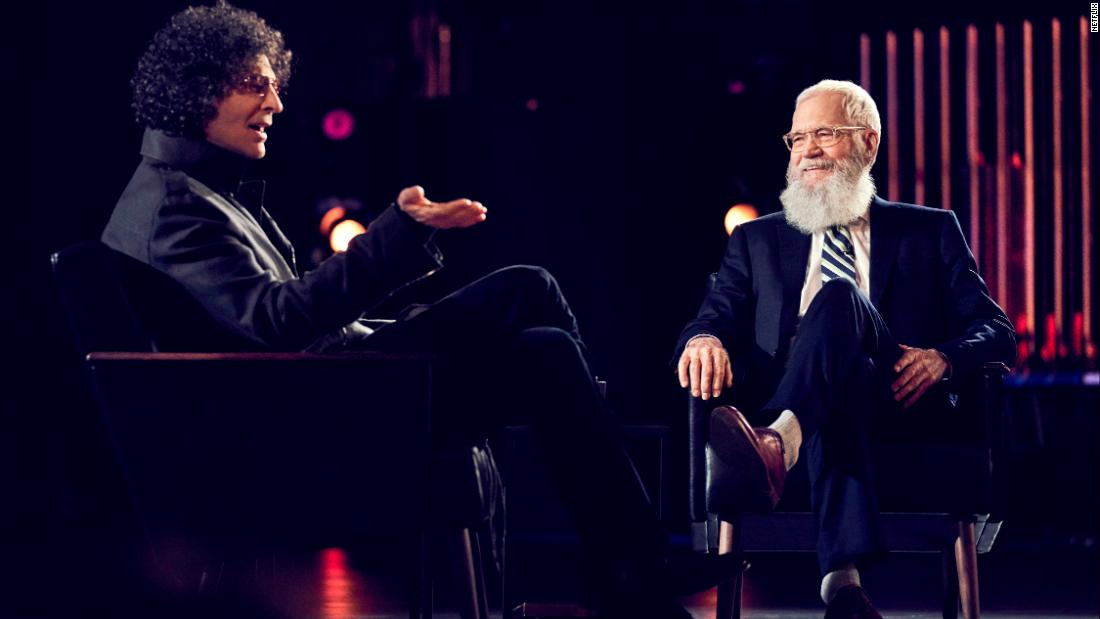 We find ourselves at a funny crossroads with the end of My Next Guest Needs No Introduction. Letterman seems to have enjoyed himself and there's been enough that long term fans can insist he's brought something good to the table. Yet the idea that Letterman has maybe added something new to his substantial legacy would be a stretch at best. The two late night talk shows he did were very different beasts to this program designed to entertain every minute they were on air (whether they did or didn't) and paced to reflect this while still padding out with formula wherever you could since the workload was so high you had to have some reliable mainstays. It is not surprising to find myself wistfully missing the band, the sketches and the up to date nature of that program to comment on whatever was making headlines at the time. On the other hand Letterman can do great interviews and the long leisurely pace of his Netflix show showed potential for deeper conversations. The remotes also showed great promise to have Letterman out in the field but as the show went on this aspect more and more seemed an afterthought or a side dish that deserved to be the main. By the way let me just say that I really enjoyed the opening theme tune by the always great Paul Schaeffer.
I started this program happy with the Obama episode but looking forward to his conversations outside his comfort zone with Malala Yousafzai and maybe Jay-Z. Looking back the obvious candidates bore better episodes President Obama and George Clooney remain probably the best episodes. Malala Yousafzai delivered what I was hoping for, of challenging Dave and I hope to see more of this in the future but Jay-Z was not as good and Tina Fey was mostly entertaining because of her considerable talent. Going into the last episode I decided Howard Stern's antagonistic needling would probably make for a good episode if not terribly original.
Stern is on point throughout, I enjoyed the relaxed way he asked Dave about his Netflix show at the end of it but Stern surprisingly got serious about his own childhood and about the apologies he owed Letterman and others. It was honest and vulnerable and showed growth but it didn't necessarily make for good entertainment with Stern even suggesting at one point I can get the Fartman costume in five minutes if this is bad addressing the audience. Stern a contemporary of Dave's is still in the game I guess and still 'hot'. It made me reflect on how after all the fanfare during Dave's victory lap in 2015 that he is maybe a little out of the loop calling on favours to have people show up for this show.
I don't want to beat on the show, I'm a fan and this was a perfectly good hour of viewing for me with Stern who is such a talent. But its interesting to note that what followed in the form of a bonus episode prepared by Netflix where Jerry Seinfeld and Dave sat down at an industry event as two of their stars and just chatted was far more entertaining and showed a more traditional filming dynamic. They threw back and forth at considerable pace, telling the other about the greatness of their work and vehemently denying it themselves, obviously prepared with some jokes which they fired off but also building to off the cuff remarks however the conversation threw them. At one point Jerry told Letterman he did not want to talk about his kids but he give him one thing a minute later. At another point Letterman talked about the kindness of a baseball player saying good day to him in the VIP part of the crowd. Seinfeld said that was nice of the baseball player but as Letterman insisted the significance of the nature of the gesture the former sitcom star let slip that he's not doing this past the VIP area concluding "You're David Letterman, you idiot." The crowd erupted.
Watching Letterman with Stern and Seinfeld shows he can still improvise something on the spot and riff with the best after coming across unmatched with Fey. I saw him on Seth Meyers the other day and some of it was downright odd as he presented a tick in a snaplock bag from his back, so absurd I'm sure some fans of his 80s work were pleased but he also told some good jokes. So we know Letterman is still sharp and funny and under the right circumstances prickly and dignified. We know he's earnest and curious and wanting to do good in the world. We know he can still get things out of people and can make a fascinating chat in the long time format of these interviews.
So what's next? Come back and do another 6 or 10 episodes next year. Interview people like Amal Clooney, Donald Glover, Meryl Streep, Viola Davis, Margot Robbie, Ryan Coogler, Kumail Nunjiani, Chadwick Boseman, Lupita Nyongo, Jordan Peele, Greta Gerwig, Patty Jenkins, or Elizabeth Warren. Maybe that's a little celebrity heavy or whatever but just for starters. Do the remotes with those people, go with them somewhere or watch them interact with their family or crews. Go to India and look at Turbines, go wherever you like, interview whoever you like and try to change the world for the better. Because I love you Dave and I was happy to have you back and I hope to see you again soon but there's a few things we could improve upon for next year.
-Lloyd Marken