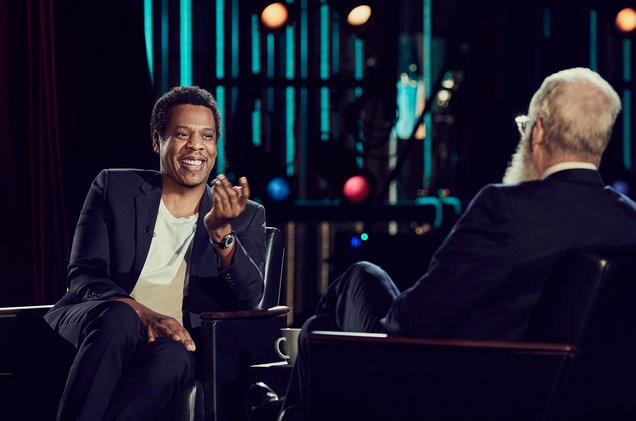 I was interested to what would happen in episode 4 of the new David Letterman show My Next Guest Needs No Introduction where he was to interview rapper Jay-Z. I don't know Jay-Z or a lot about his genre of music. I also didn't recall interviews between the two on The Late Show. To me it seemed like this was an opportunity for Letterman again to push outside his boundaries a little in away that interviews with Tina Fey, George Clooney, President Barack Obama and Howard Stern would not offer. Jay-Z is one of the biggest entertainers in the world and so its no surprise to find out that he was on Letterman back in the day but none of these talks seemed to have become the stuff of legend the way say ones with Stern did.
This new show disappoints and satisfies in equal measure then from what I was hoping for. For starters Jay-Z is warm, funny and thoughtful as an interview subject and he's got a story or two to tell. Learning about Jay-Z's life is the highlight of the program as he looks back on a father who wasn't around, a mother who couldn't be true to her own sexuality and a teenage boy selling crack after growing up in poverty. Music saved Jay-Z but its also interesting to note lots of people who helped him along the way. Now he is using his weight to look out for people not given enough opportunities or are treated unfairly from the justice system. If you're inclined to argue that a justice system will target communities where crime is prolific not race I don't think Jay-Z particularly cares. He's offering scholarships for young people poor but smart. He's asking does the punishment fit the crime and then fighting for those where he sees it isn't. I'm happy to see that too.
But if you were looking to get an insight into the world of rap you will be sorely disappointed. Letterman discusses how complex the music is and Jay-Z discusses how putting something together is just like writing jokes for a stand-up. A few songs are discussed but they're not played, something that would upset the flow of the show I admit. Also when Obama's speeches or Clooney's film clips weren't shown in previous minds I didn't mind because I knew what they were talking about but whereas here my own ignorance meant I was disappointed not to be showed more.
Also in those episodes the remotes fitted nicely into articulating an aspect of the main guest. Here we go to Shangri-La studios and talk to producer Rick Rubin on a day where they doing some recording with singer Madison Ward. Two things stood out immediately, Rubin gives Dave's beard a run for its money and two you can be an older gentleman in shorts striking a yoga pose. I'm just sayin'. Rubin is a legend in his own right and could easily be the subject of his own show and Ward has a first rate voice. While Jay-Z discusses the artistic process of producer and singer, its obvious this is intended to give us a demonstration of it. It also perhaps hint that whatever the genre of music or the background of the artist the point of music is always the same. That's a lovely sentiment and some of the remote is nicely edited together and the lyrics of the closing song (beautifully dueted by Ward and Lukas Nelson) echoes some of what has been discussed by Letterman and Jay-Z.
Yet you might not even be aware after watching it of Rubin having been co-founder of Def Jam records which Jay-Z would go on to become President of. You will however be painfully aware of Letterman's high school romance with an English girl as being one of the coolest things that ever happened to him in the same hour of television where he discusses marital infidelity. Regina you're a saint. As interesting as some of this was I can't help think of how much more effective it would have been if we'd been in the recording studio with an actual hip-hop artist. To me the discussion of the music is where this episode misses the mark.
The show closes strongly when Letterman discusses his own transgressions and then asks Jay-Z if any of this sounds familiar. Jay-Z gives a good but perfunctory answer and they move on to another topic and then Jay-Z further articulates how you've got to be better than the worst you've done. Unprompted he owns up more to his regrets and the lessons he took from them. Some of the lessons Jay-Z is trying to learn are ones we could all learn from about how to put away ego and fear and be good to others. Letterman (who never gives easy praise) says he loves him and they shake hands. Missed opportunity or not, the show does have it's moments.
-Lloyd Marken