When I planned what I was going to see at BIFF 2008 I intended to go to a seminar and ten years later I can't be certain but I think it was DIY- Distribution: Maximise Your Chances of Festival Success! on Saturday 9 August at GoMA Cinema B. It's possible burnt out and tired I didn't go. It's possible I arrived late. It's possible I went and it was great. So I'm putting it here. These are all about memories, sliding too much into a journal of free flowing thoughts and feelings. Hardly prose for public consumption but you have kindly indulged me and I guess even these confused meanderings are something taken on the record now before they become more faded.
The idea of this series though is not supposed to be about self musing besides a little light nostalgic fondling. It's about a Film Festival in my home town that was so special to have and to celebrate whatever memories I have. To make a case for why these film festivals are important for creating communities of like minded patrons but also dreamers and makers who have a platform to be inspired by or even to showcase their work. I hoped to show that by saying how good it was to be a Volly, to showcase local filmmakers getting a big launch for their debut and to point out all these films I saw that I would've skipped past on the shelf at my local video store or now streaming content displayed on my screen. Ask around, see how many people have seen Hunger even if they've seen Shame or 12 Years A Slave? Ask if they've seen a film from India or Romania in the past year or even 10? The only Romanian film I've seen I saw at BIFF 2007 and it was amazing! Even average films took me to the Chinese countryside or Korean cities or Mali courtrooms. The great ones made me reconsider my life and our place in the world.
When I set out to write this series BIFF was gone, which we'll get to shortly, and then in 2017 it came back and I want to celebrate it and bring new fans in and make others appreciate their own local film festivals or get involved in organisations that create similar opportunities where they live. Let me know if I'm doing that even a little and no…I still can't be sure if I went to the seminar but I'm glad there was one.
IRMA VEP: If I did go to the seminar then the next thing I went to Saturday 09AUG2008 was Irma Vep as part of the Olivier Assayas program at Palace Centro 1 at 4:20pm. I went and saw this with my friend, work colleague and pimp Karen B who kindly set up me to meet her friend Karen earlier that week. I'm sad to report that I remember a lot about Irma Vep but not much of the plot. It was an interesting film about film making and featured Maggie Cheung in a very engaging performance and a tight black leather costume at times which I suspect was part of the reason why I was happy to see it. I can't speak for Karen.
THREE BLIND MICE: Finally we get to the final day of BIFF 2008. I went and saw Three Blind Mice at Palace Centro 1 with my sister Nadia at 2:30pm. A film I'd been interested in but missed at the 2008 Sydney Film Festival, it was a great movie and solid directorial debut from actor Matthew Newton. It centres on three Royal Australian Navy officers (Ewen Leslie, Toby Schmitz, Newton) spending their last night of freedom in the city of Sydney before reporting for duty at their ship the next day. It's been a long time since I've seen the film and I don't know how accurate it would come across to me now with military details but it is more and more a relevant subject matter. The men are shipping out for the Middle East yes but this is not about one last grab for freedom before the gloom of war. One of these men is haunted already and there is a tension between the three bubbling away. This is not a film about combat but about abuse. Abuse by those in positions of power and authority. That happens in the military as it happens in every part of society but it is particularly painful when considering that those who are abused are usually some of the most idealistic, patriotic, loyal and selfless people we are lucky to have put up their hands to possibly face death on our behalf. Newton was available in a Q&A afterwards with other cast members and spoke about how he couldn't think of anything more horrible then being away on a boat surrounded by ocean and trapped with someone doing the wrong thing.
The film effectively conveys this central theme while also being a healthy exploration of masculinity within a humorous night on the town story as well. A top notch cast of Australian talent including Pia Miranda, Brendan Cowell, Alex Dimitriades, Marcus Graham, Bob Franklin, Gracie Otto, Barry Otto, Jacki Weaver and Bud Tingwell. Shot on Digibeta too the film has that nice edge of verisimilitude while also capturing Sydney at night in a beautiful way.
Newton is the son of Australian television and entertainment royalty Bert and Patti Newton and was already flying high following films like Looking for Alibrandi. His partner Gracie Otto was there at the Q&A having edited Matt's writing/directing effort and co-starred. Matt was a charming and thoughtful speaker about his film and his cast. There's no denying his talent…So I don't know if its ironic or not to add that a man who made a strong film about bullying and the pain it causes had several incidents of assault first reported with his long time girlfriend Brooke Satchwell in 2006, later with girlfriend Rachael Taylor (her work in Jessica Jones must be informed by her experiences) in 2010 and hotel staff and police. Newton was diagnosed with bipolar disorder and checked into rehab. I wish him the best but I'm glad to see the strong women he hurt have survived and flourished with their careers and lives in the after mark of what would have been very painful incidents. I like Three Blind Mice and I don't pretend to know everything about anybody but I just thought I should let you know these things when considering whether you want to see the film.
BOARDING GATE: After the Q&A for Three Blind Mice I went outside and said goodbye to my sister before meeting up with Brian to watch Boarding Gate kicking off at 5:10pm back inside Palace Centro 1. Boarding Gate starred Asia Argento who I knew from XXX and who was actually a real life hero by then even if the rest of the world didn't know it for years yet. The French film directed by Olivier Assayas started Argento as a former hooker meeting up with ex-boss and lover played by Michael Madsen. Argento gave it all her and there was some great location shooting in Paris and Hong Kong but I'm not sure if I can tell it was a great film or even what I recall happened in the end. Brian did notice thought that Madsen in one scene cleared all contents off a table surface just like he did in Thelma and Louise suggesting it was a go to move of his. Certainly Madsen's scenes stayed in my memory and seemed to have given the film some electricity.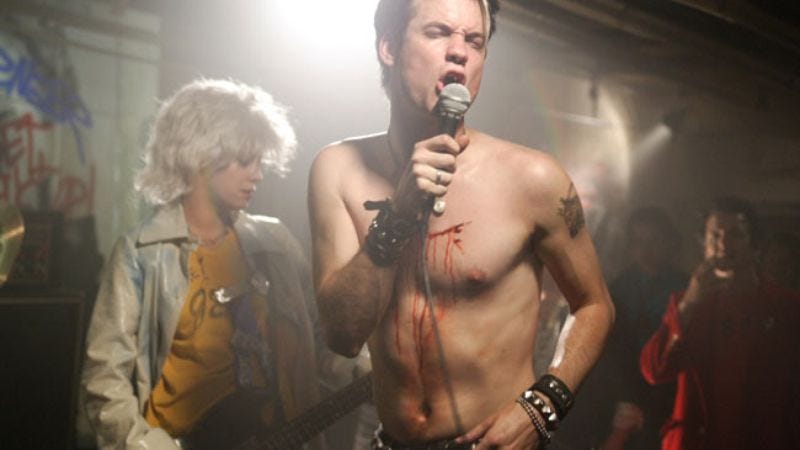 WHAT WE DO IS SECRET: The last film I saw at BIFF 2008 was What We Do Is Secret at Palace Centro 2 at 8:40pm. I think Brian and I grabbed a bite to eat beforehand. There were always a section of films/docos related to music in every BIFF program and I always wanted to go see one of those and so I managed in 2008. What We Do Is Secret directed by Rodger Grossman is about the late 1970s LA punk scene, about The Germs and about their lead singer the late Darby Crash. If you know about one of those 3 three things or are a fan of them there should be something in this film for you. For me there was not any of those things but I was impressed by Shane West's performance as Crash having seen him previously on the show Once & Again.
I saw 21 films at the 17th Brisbane International Film Festival and one seminar or at least watched whole 20 films and maybe went to a seminar. Of the 20 films I stayed awake for there was Hunger (U.K.), The Battle of Algiers (Algeria/Italy), Alvin Purple (Australia), Diary of the Dead (U.S.), Late August, Early September (France), Cargo 200 (Russia), Four Women (India), The Man From Hong Kong (Australia/Hong Kong), Small Gods (Belgium), Wendy and Lucy (U.S.), Chop Shop (U.S.), Katyn (Poland), Raja 1918 (Finland), Stone (Australia), The Visitor (U.S.), Black Ice (Finland/Germany), Irma Vep (France), Three Blind Mice (Australia), Boarding Gate (France), What We Do Is Secret (U.S.) and quite a few short films screening in there as well with some features. That was 1 film from Africa, 2 films from Asia, 4 films from Australia (including 3 Ozploitation classics), 5 films from America and 10 films from Europe (3 of them directed by Olivier Assayas).
Never again would I see so many films in such a short span of time, I like to think when I retire I'd like to do it but getting to retirement and having that kind of cash in it seem very unlikely these days. It was an indulgence and you're lucky if you get one in a lifetime. I still saw front of house staff and talked briefly with Andre about how I had been a gopher on a B-grade action flick shot on the Gold Coast the previous year. He was looking to make his own movie and I kindly came into possession of the BIFF booklet that have been featured at the beginning of these BIFF 2008 posts. BIFF 2008 was jam packed full of great films and memories but the stand out was meeting a beautiful girl on the steps of Palace Centro.
-Lloyd Marken