A shout out to the host of this Blogathon, Paul and his awesome blog Pfeiffer Films and Meg Movies. The blog focusses on Michelle Pfeiffer and Meg Ryan with an emphasis on their films One Fine Day and Addicted To Love. The first is a sentimental favourite of mine and the latter not highly regarded by myself so it tells you something about Paul's writing that I remain fascinated by the new ways he riffs on both. Check it out if you haven't already.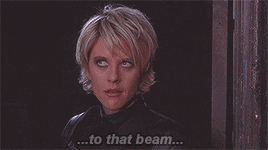 Alas today I'll be briefly talking about Courage Under Fire, one of my favourite Meg Ryan movies up there with French Kiss, I.Q., and You've Got Mail. Meg was America's Sweetheart in the 1990s, she made well over half a dozen romantic comedies and they were all blockbusters. Yet there were films that showed she was capable of a wide range of work and Courage Under Fire was one that actually met with serious box office.
Directed by Ed Zwick, starring Denzel Washington, Ryan, Lou Diamond Phillips and featuring Matt Damon in his first serious role. It tells the story of a tank officer (Washington) assigned a desk job to investigate the actions of a medevac pilot for a posthumous Congressional Medal of Honour. Ryan plays said pilot Captain Walden who only features in a series of flashback scenes told from different points of view.
Made in 1996 it is one of the first major productions centred around the Persian Gulf War dealing with combat fatigue. The 100 hour ground war of Desert Storm had been an unexpected moral boosting success but slowly the after effects of that war like any war were coming to light including Gulf War syndrome. Zwick has alternated his whole career between war epics and small intimate soap dramas. These two extremes often serve each other well. Here he is putting together a puzzle where you have to assess those being interviewed as telling the truth or not and which Walden seems more real to you. Ryan at the time was playing against type putting on an accent, playing a military officer in a physical dramatic role.
On top of that she is playing at least 3 different versions of herself and has to make sure she doesn't play anything too obvious or the spell is broken. I think she does a great job. If that isn't enough she also has to get the audience emotionally involved in whether she is a hero or not and the results of that truth. I think she does a great job, the film belongs to Washington dealing with his guilt over a blue on blue incident and searching for the truth. He's every bit the movie star too surely one of the early examples of Denzel being Denzel and us loving him for it. Yet it is Meg Ryan who stood out to me for nailing a different type of role for herself. It's now been 21 years and it all flew by in a wink. Happy Birthday Meg and see you soon.
-Lloyd Marken