And we're back talking about the Brisbane International Film Festival, the first post about BIFF clocked in 2,988 words, the first about BIFF 2005 at 2,305 words so it may relieve some viewers to know this is razor thing at 1631 words. Recaps on BIFF 2007 and BIFF 2008 will most likely be split into parts too. We'll see about BIFF 2017.
P.S.: My first showcase screening was for the movie P.S. starring Laura Linney on Tuesday, the 2nd of August 2005. It was screened in the old IMAX screen South Bank Cinema 5 which was massive. I don't know if any change was made to the projection of the 35mm film but it was big cinema with a big crowd for such a character based movie, another benefit of early screening at festivals. I was a big fan of the leads Linney and Topher Grace and liked the idea of the story, a university administrator who finds herself falling for a younger man who reminds her of a long lost love from when she was about that age. I'll admit how cool she looked in the above picture rocking that shawl got me interested in seeing it too. How you perceive films changes over time, I of course saw things from the perspective of the young male who would be perfectly happy to bone someone as beautiful as Laura Linney. As I get older I understand the trepidation of doing such a thing with a much younger person. Yet perhaps I've always been an old soul, Linney's character is full of regrets and anger about how life can turn out and that was something I was only too keenly in touch with at only 24 going on 25. I had already accumulated skeletons in my closet, disappointment at my prospects and shame at my changing body. Yet I remained a romantic and enjoyed love stories that recognised that life isn't always perfect but there can be solace and respect and affection if you meet someone good for you and that you have to be prepared to not hide away due to fear and bitterness. I've read reviews that weren't so kind to P.S. but I enjoyed it and whatever your misgivings about the film you can't deny that there is one particularly powerful scene which I will attach below. This scene says so much about life and ageing and has always stayed with me.
VANISHING POINT: Take a look at the picture above which was in the BIFF pamphlet. Now who doesn't want to see that movie! In the age of internet, dvds, streaming, etc more and more films get remembered but in Australia 2005 you would've been hard pressed to get a copy of Vanishing Point much less see it on the big screen. Another film from the Blacktop Dreams program I was seriously excited to see Vanishing Point on Wednesday 03AUG2005 in South Bank Cinema 3 at 9:20pm. On the surface it has a fairly minimalist plot, the power of it was in it being part of the long forgotten past and an indulgent B-grade action film. Naked girls riding motor bikes and stunts galore. As previously mentioned there was something in car chases from this era where you feel the speed of the vehicles, there is always a sense that tyres won't hold, the car could veer out of control and it makes you feel more connected to the action. This film was made in 1971, before The French Connection, barely after Bullitt and The Italian Job. The kind of car chases I grew up regularly seeing in film and tv were in their infancy and it is remarkable how much this film has never been bettered for what it captured. Every shot is beautiful and creates such kinetic energy, a wonderful collaboration of cinematography and editing. As time has gone on though the central conceit of the lead character Kowalski broken down by life and effectively committing one long act of suicide has only increased in value. The film does reflect the disillusionment of the time, raging against the man, (Kowalski is a man formerly of respectful institutions who has completely turned his back on them) but a sense that the flower power is over too and offered no solace to Kowalski either. With minimalist dialogue too the of vagueness of why Kowalski is doing what he is doing only makes it more powerful. I find it a lot deeper now but at the time it was immediately a BIFF highlight.
PADAM ONNU: ORU VILAPAM: Another Showcase screening at BIFF 2005 was the French actioner 36 Quai des Orfevres which I was very tempted to see but I was committed to seeing films from all around the world and so instead I saw on Thursday the 4th of August 2005 in South Bank Cinema 4 at 6:30pm Padam Onnu: Oru Vilapam from the Fifty Years of Malayalam Cinema program. Directed by T.V. Chandram who started out as an actor and an assistant in the film industry. The title translated into English means Lesson One: A Wail. The film follows a talented young girl growing up in rural India who is good at her studies but the culture around her wants her to get married off and some of these marriages don't last. I was caught up in the narrative of this film and the plight of the young girl played by Meera Jasmine (who won Best Actress at the Indian National Film Awards for her performance) which was so affecting. I still haven't seen the French film.
GATTACA: As part of the CineSparks program for young people there were free screenings in the Suncorp Piazza just a stone's throw away from the South Bank Cinemas. I went over during one of my volunteering stints and watched Gattaca (which I had seen on VHS a few years earlier) at the Piazza 10am on Friday the 5th of August. I was moved more this time, the ending is quite sublime. Additionally for those who are fans or not fans of the actor Jude Law I urge you to check out his performance in this film which is very impressive. I won't spoil it for you here but the plot is about a young man played by Ethan Hawke who is growing up in a world where most people have their children genetically conceived. This is not cloning but your offspring are essentially a combination of the best of your genes. Hawke's parents conceived him the old fashioned way at the advent of all of all of this. With birth  defects rare a class divide has sprouted up, people pick partners based on the best combination of genes and those with weak hearts, bad eyesight are doomed to less fruitful employment, etc, etc. In some ways these are truths that have long existed but this kicks it into another gear. Yet there have always been people that fight the status quo, that dream big and pursue their goals no matter the obstacle. There is no gene for the human spirit.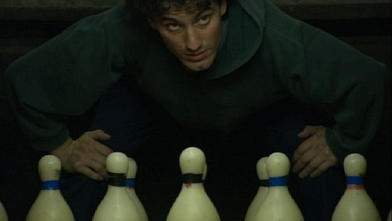 PIN BOY: Pin Boy screened Saturday 30JUL2005 in South Bank Cinema 4 at 2:10pm. I may have seen it then but I believe more likely I saw it at another session on Friday the 5th of August in South Bank Cinema 4 too at 1:50pm. I probably just got to go in during my Volly Shift, not planning on seeing the film or buying a ticket but it seemed interesting. It was from Argentina and told the story of a young man from the country working in  manually operated ten pin bowling alley. I knew that once upon a time bowling alleys had been like this in my country and I was keen to see another place in the world that I may not see without the power of film. I'm afraid the festival was catching up with me and I fell asleep during the film at a couple of points and its so long ago I can't tell you much more except that it was interesting and I wish I had not snoozed a bit.
NEAR DARK: We're heading towards the final weekend of BIFF 2005 where on Friday the 5th of August 2005 I went to Regent Cinema 1 to watch another Blacktop Dreams film  Near Dark at 5pm. Kathryn Bigelow's career was not in hyper drive at that time but Near Dark was a cult classic and everybody loved Point Break. This has a lot going for it, made in the wake of Aliens sharing certain cast members, nostalgia for the 80s, a vampire movie. On the point of Jenette Goldstein, Bill Paxton and Lance Henriksen they are brilliant. If you only know Goldstein as Vasquez in Aliens then check her out here and Bill Paxton was always such a character. It's very sad he is no longer with us. I thought I would love this film and was a little underwhelmed by my reaction. Its true it was gorgeous looking film, my heart was warmed just to see Pepsi signs the way they used to be and the vampire characters were an interesting idea for how to see vampires. Essentially a family unit and white trash
rather than European aristocracy.
They didn't look sexy, they looked miserable but also loyal to each other. Think about the last words Lance Henriksen's character says in the film and you kind of have a really strong theme there. Maybe it is due a re-watch.
Well that's it for Part II, hopefully we'll conclude 2005 with Part III. I hope you're enjoying this look back at not just film but the history of the festival itself and the inspiration it can provide to young minds far from the streets of Hollywood and open up the whole world's cultures, regions and histories to those who can't afford to travel far.
-Lloyd Marken