The man drives a big old SUV onto a house on a hill in suburban woods like any old house you'd see in your neck of the woods. There's a Gatling gun hidden at the front of the interior for home protection. At dinner with perfectly placed table settings and he sits down to eat food uniform in shape and temperature. Then he closes his bedroom door to go to sleep and plays heavy metal music. Lights flash in his room as he takes a wooden club and rubs it along his shins in a rhythmic and comforting manner. The noise, the visual stimulation, and the pressure it is all to help him cope with the outside world as a highly functioning individual with autism.
These are the scenes that makes The Accountant something new and interesting for an action thriller but they become less frequent as the different plot threads unravel to a third act of action sequences. For a while though this film delivered on the promise of its premise and thankfully it is always at worst at the very least a perfectly serviceable action thriller.
Ben Affleck stars as Christian Wolff, a forensics accountant who works for numerous criminal enterprises (I guess everybody has to make a living somehow in this economy). In fact Chrissy boy is doing just fine for himself with original copies of comic books from the 1930s and classic art pieces. Downside is his work makes him incredibly knowledgeable of said criminals so he needs to maintain a particular set of skills. Fortunately when he was but a poor autistic boy knee high to a grasshopper his Daddy dearest happened to be a psychological warfare officer in the United States Army and well he done fuck that boy up. A strong believer of nature not raise my boys to be some pussies Wolff Blass went from chasing some French boys down a rainy alley when he was twelve to being an elite trained martial artist and sharp shooter. There's a bit more to it than that but part of the pleasure of the film is a series of flashbacks that unravel the mystery of Christian's origins. In the meantime the FBI led by Ray King (J.K. Simmons) and data analyst Marybeth Medina (Cynthia Addai-Robinson) is trying to ascertain if Wolff is just one person and where he is. Christian himself goes to work in a legit job auditing a private corporation Living Robotics who need help discovering the source of some financial discrepancies. He meets with the CEO Lamar Blackburn (John Lithgow) who immediately seems too nice to not be shifty and one of their accountants Dana Cummings played by Anna Kendricks who is too Anna Kendricky to not become some sort of ally who will challenge Christian's long held isolation and reserved emotions.
Most of the cast it has to be said are playing the type of roles they've become known for. Kendrick is a little quirky and smart but also cute as, Lithgow charmingly untrustworthy, Simmons as sarcastic and authoritative, Jon Bernthal as a rival assassin who appears downright dangerous and unpredictable so shout out to Cynthia Addai-Robinson who I have not seen before. Ben Affleck as Wolff portrays his character well, no expert on autism I think he plays certain scenes of frustration well and is suitably dialled down and restrained throughout the bulk of the running time. Wolff has a kind heart and a keen mind and the punk ass kid from Armageddon sells it and anybody who has seen Affleck's Batman knows the guy can sell a fight scene but I can't help but wonder if there are other actors out there, maybe from Boston originally too, who would've created more sympathy.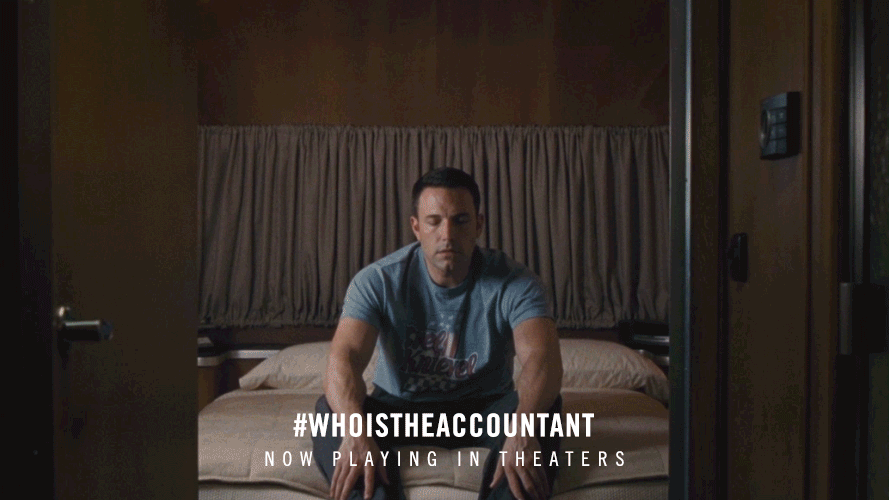 This is the type of film which impresses with its smarts and patience, more so in the first half. Whole scenes are given time to breath where people converse and get a feel for what the other character is planning (Addai-Robinson and Simmons particularly shine in one). When the action comes it is exciting and appears to utilise stunt work more than the manipulation of pixels. The Accountant could have elevated itself beyond the genre if it had been prepared to go a little deeper with the challenges of autism for a person in this line of work, in life in general. Certain threads and characters get dropped without realising their full potential and the finale may have one twist too many. Still after Jason Bourne and Suicide Squad, I'll take a good film as a win, hell I might even line up for the sequel. In the meantime kids with autism around the world are turning to their parents and saying I now know I can dream big of being an assassin working for criminals when I grow up. So there's that.
-Lloyd Marken