Jason Bourne. You know his name. David Webb actually. You know his skills. I've never seen a magazine used like that. You know the man. Jason Bourne a new fragrance for men from Paul Greengrass that smells very familiar. A good litmus test for how one will react to Jason Bourne will be in how much they enjoyed The Bourne Ultimatum.
Stop me if you 've heard this one before. Jason Bourne is free, roaming the world having defeated his enemies at the end of the last film. Yet things nag at his conscience, he worries that they'll come for him and new flashbacks never before experienced suggest other players played by the latest older white guy to appear in this film that point to an even larger conspiracy theory and an older black ops program that predates the one from the previous film. Somebody inexplicably decides to unearth Bourne even though it has never ended well for the CIA. The old white guy turns out to be responsible for everybody's misery although the may try to be ambivalent about this at first. No matter how many operatives Bourne faces, there will be a particular assassin he duels with for the bulk of the film. There will be at least one spectacular car chase for the ages and one extremely well choreographed fight scene where the music stops and there is only the sound of grunting, impacts of blows and the snapping of bones.
An up and coming actress will have a pivotal role in the CIA and assist Bourne when she uncovers clues about the conspiracy theory. Joan Allen counts as up and coming – I expect big things from her in the future.
It's no wonder if that all sounds familiar because, if not exactly the plot of the first film The Bourne Identity (a more upbeat film with Bourne actually amnesiac with the delightful Franka Potente as a love interest), it has certainly been the plot of every sequel. The Bourne Supremacy worked as a mirror to the first film with a darker, grittier style that benefitted emotionally from the feelings we had for characters from the first film. It seemed unlikely that the last we'd see of Jason was walking down that street in NYC since our imaginations ran riot with ideas of possibilities for the character. It's fair to say none would have been as dispiriting as where we find him here. Having been on the run and in hiding for years, he makes a living as an underground fighter living off the grid. Former CIA agent Nicky Parsons (Julia Stiles), the only other character returning from all previous entries hacks the CIA and retrieves information about Jason's comic book origins – cough – sorry past. This puts both Parsons and Bourne on the radar of the CIA again who meet in Greece as a taskforce is headed up by new CIA IT guru Heather Lee (Alicia Vikander) and over seen by CIA Director Robert Dewey (Tommy Lee Jones).
The hook of The Bourne Ultimatum was Bourne came home to America to finally learn who he really was. This was supposed to make it unique and a continued development from Supremacy. It wasn't. It was a cold repeat of moments that were better done in Doug Liman's Identity and Greengrass's own Supremacy. With star and director having recently rejuvenated their careers with the quality films Captain Phillips and The Martian you can't be faulted for hoping this sequel might reverse this summer's trend of undernourishing blockbusters. After all it's been 9 years and during interviews there was a lot of talk by the creative team of how the world has changed with social media data collection, Snowden, Greece's debt crisis, civil unrest and terrorist attacks in European metropolitan cities. Indeed there are many references to how the world has changed in this new film but it's all lip service and nothing deeper is done with them.
If there is something new brought to proceedings it is that Bourne is now aged and dour, the ravages of this life lived are showing and with no character he trusts to play off his dialogue is minimal perhaps due to the fact that screenwriter Tony Gilroy is not on hand to write it. Narratively this makes sense but means Damon has less opportunity to portray a character and not a bas-ass automaton.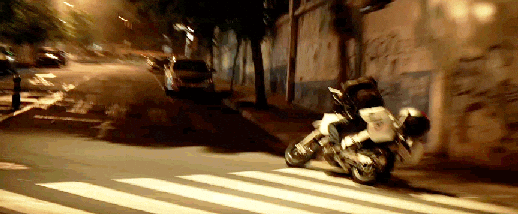 The superhuman Bourne here is a far cry from the highly skilled assassin of the first film who was one of many well trained spies. In this film, people say his name like a punchline or whisper it reflecting his legendary status in the CIA but also our popular culture. For some that will be enough, Matt Damon is back playing Jason Bourne and he remains a likeable if worn down hero. There is something compelling about the character and the way that Damon plays him that places the audience on his side and even here makes one consider even another sequel being made where the character can be further developed.
Greengrass and his team have not lost the knack for staging ambitious action sequences involving hundred of extras in global cities across the world, for example the riots in Athens (shot in Tenerife, Canary Islands) puts real scale and scope on the big screen as opposed to very pretty animation. Rather than quick cutting to death to hide a million sins, the people behind the scenes have done these stunts and captured the action on film in a clear but exciting fashion. The chases and fights are so retro they're fresh, the destruction of 170 motor vehicles in the making of the car chase on the Las Vegas strip is the kind of vehicular mayhem you rarely see these days and is most welcome. Alicia Vikander has a few layers to her character too but ultimately nobody really engages interest with the audience. Bourne here is a bit too broken, at least Nicky is doing something with her life. In the books David Webb becomes an academic with a family, constantly drawn back into his former life but at least one can argue this way Bourne isn't saddled with a revenge tale audiences know by rote. Because as it is already, this is a film you've seen twice already and when it was done better.
-Lloyd Marken