Quite possibly the most heavily hyped film of all time Star Wars: The Force Awakens has hit cinemas. After being burned by the prequels long term fans just want to know one thing-is it any good? And the quick answer is yes! With expectations being raised so much by the nostalgic laden marketing we have overlooked that the new movie The Force Awakens would buy an awful lot of goodwill just by being better than the prequels. However it didn't beat the North American Box Office records in 16 days just by failing to be bad. Yes The Force Awakens is good yet more importantly it is fun.
Picking up the story 30 years after The Return of the Jedi, different forces throughout the galaxy are in search of the long absent Luke Skywalker. Poe Dameron a pilot with The Resistance is dispatched to pick up plans which may lead to Skywalker's location but is unfortunately captured by the First Order led by Kylo Ren. The map remains with his trusty droid the seriously cute BB-8 who makes his way marooned on the desert planet Jakku where he comes across the scavenger Rey.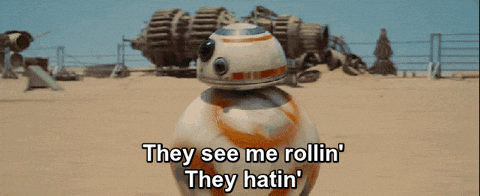 Meanwhile a Stormtrooper having witnessed his first battle in the capture of Poe sees the Resistance pilot as a way for them to both escape the First Order.
The three new leads of Rey (Daisy Ridley), Finn (John Boyega) and Poe (Oscar Isaac) are inherently good people who make you laugh and like them almost immediately. Rey has come under criticism in some circles for being good at everything. Not a complaint without merit but Ridley makes Rey very believable and likeable that it seems churlish not to enjoy the character's success for the most part. Kylo Ren as played by Adam Driver, like Vader before him starts off as a forbidding threat and becomes more complicated and fascinating as the story goes along albeit also far less intimidating. Out of all the returning 'legacy' characters Han Solo and Chewbacca are given the most screen time. Chewbacca has never been used better but Han Solo still roguish is now older and more vulnerable and Ford revels in playing the same character at a different stage in his life with very real new stakes.
J.J. Abrams is a story teller noted for great set-ups of premises and reinvigorating old franchises anew. Yet he is also known for jumping ship to work on new projects. He also specialises in pacing that carries the audience along at a zippy intoxicating rate that upon reflection appears to have helped gloss over coincidences and plot holes. The Force Awakens still suffers from this but it is arguably Abrams best film. It is not a bad thing he is stepping aside for Episode 8 and how that film answers some of the questions left hanging from this one will determine how fondly we remember both.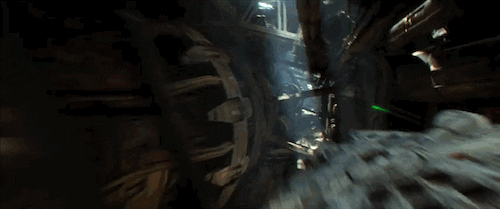 Yet J.J. has pursued practical effects and location shooting to help match the aesthetics of the first trilogy, he's referenced the past with the original cast and tons of Easter eggs but established a new mythology with lots of open-ends to speculate on for the next two years. Crucially he's given us new characters to root for and sprinkled solid character based humour throughout. The highest compliment you can give this film is it makes you excited about Episode 8. Who would have thought?
-Lloyd Marken
Author's Note: This review has been republished from my other site where I publish shortened film reviews of mine https://hottipsfromlloydmarken.wordpress.com/ I don't generally get a lot of traffic on that with WordPress but it is a hit with my friends on Facebook so I've kept putting posts there semi-regularly. I found my longer review for The Force Awakens on lloydmarken.wordpress.com became more of a spoiler heavy dissection of the film and would like to therefore include my short piece on this site too since it is more akin to a review.