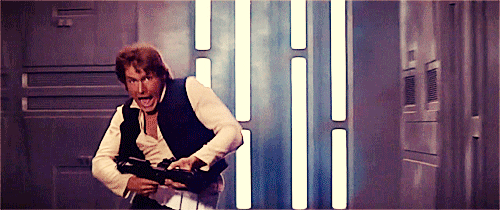 This is it in another 24 hours Star Wars: The Force Awakens will be playing across cinemas in my local cinema and the world. This is the last day I will know as little as I do. The last day I won't know the answer to a million questions like did Han and Leia stay together all those years since we last saw them? Why not? What has Luke been doing? Are the new characters related to any of the old characters and who out of them will be Force sensitive? It is the last day anybody will really discuss the quality of the trailers because afterwards it will only matter if the film was good. Perhaps most importantly it is the last day to be this excited about a new Star Wars movie. There is something about the thrill of the unknown and the advertised but not yet consumed product. Tomorrow you might see a movie which you love dearly and go back to see 2 or 3 times. You'll never be this excited about it again.
Disney have played this well. That last trailer has to be the best trailer of the year but it works mostly if you're a fan. Recent trailers for blockbusters this past month have been shoddy when compared to the marketing for this movie. They've put the new characters Rey, Finn, Poe and Kylo Ren front and centre because they are where the franchise is heading and these films have to speak to a demographic that at best grew up on the prequels. Rey says she's no one but we know she is going to prove to everybody she is someone. She dreams of adventure and seeing beyond where she grew up. A young man once looked out at two suns and thought similar thoughts. Finn does not know his purpose anymore or even who he is. We know he will find out both in this story. These are questions all of us ask of ourselves at different points of our lives but most keenly when we are young. Audiences could relate to Luke Skywalker in his dreams for adventure in the original Star Wars. Rey and Finn will do this for another generation.
Speaking of generations the trailers suggest Han Solo and Chewbacca will be guides for Rey and Finn throughout this universe and keepers of past stories much like millions of parents will be as they take their kids to see this space opera which is kind of like Guardians of the Galaxy only less funny sweetie. "A Jedi. The Dark Side. It's true, all of it." Han says in the trailer and these are the kind of words you would tell a child when telling Star Wars as a bed time story.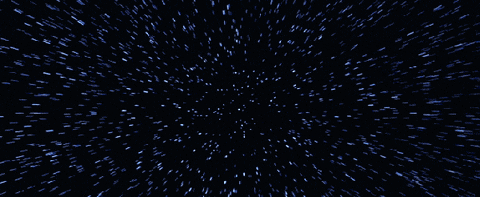 For my generation they've handed out nostalgia hits with John Williams score and money shots of the Millennium Falcon which paradoxically may not hold much appeal for Millennials. But make no mistake this is the ultimate 4 quadrant hit. When the Falcon moved into hyper drive and the score kicked in I felt goose bumps all over. At the end when Lupita Nyongo told me "The Force it's calling to you…just let it in." the Meta was strong with me. A million fans who felt burned by the prequels would've all felt the same way – she's talking to me directly and I do want to let it in. I don't think it's unnatural to feel directly addressed by a trailer and yet share that feel with millions. These are films after all that make fans feel a tremendous sense of ownership. Look at the furore over Greedo shot first and the insistence that is it Star Wars not Episode 4: A New Hope!
Disappointment over J.J. Abrahams last film Star Trek: Into Darkness has tempered some expectations but his Super 8 felt so much like a movie from the 1980s made for kids that I believe Abrahams will nail the feel of the original trilogy's world. I'll make a prediction here and now and it's the safest bet. It will be good, it won't be terrible and it's won't be great. It can't be 1977 again. The freshness is gone. I suppose Mad Max: Fury Road, Creed and Skyfall felt like films of their franchise but reinvented for a new modern age and as good as anything that came before. Maybe Star Wars could do that too and I hope it does but that is a hell of a thing to pull off and even then can it possibly meet the expectations set by that final trailer?
Part of what has me nervous is how excited I was when The Phantom Menace trailer dropped back in the day. It's fascinating to look back now and see bits of scenes that were awful in it. Look Obi Wan is shaking Jake Lloyd's hand but that's the kid that says "Now this is pod racing." All that CGI which at the time was exciting because we'd never seen anything like it and the scale was so impressive. We couldn't tell how fake it was all going to look. There's Jar Jar Binks getting zapped by the engines but we didn't know how maligned his character would be. Jar Jar, Watto, battle droids these were impressively rendered CGI aliens who opened up the scope of the universe like the aliens in the original had. Lots of space battles. None of that suggested the endless boring political subplot. Ewan McGregor sounded so much like Obi-Wan I wondered if he'd been dubbed by Sir Alec Guinness who was still alive at the time. Yoda my favourite character was back and his dialogue was good and Samuel L. Jackson was going to be a motherfucking Jedi!!! It's pretty fashionable these days to hate the prequels and my sentiments are with the original trilogy but I've got to say I don't hate them. There are things I find in all of them worthwhile. In The Phantom Menace I really like Qui-Gon Jinn as a character and I think Darth Maul was suitably awesome as someone who made two Jedis look brave for going up against him. The Pod Race was fantastic and meeting Anakin as a slave's child on Tatooine was a really interesting choice. But I digress. I went to a midnight screening with two friends from high school. I was 18 and about to leave uni in my first year. We caught a cab into the city afterwards just to walk through it in the middle of the night. Desperate for freedom and to see the world, like a certain young Skywalker I guess. Dissecting everything, discussing where to go in the sequels we liked it but things nagged at us. The biggest thing for me was the flow of the film, the dialogue often seemed stilted and the scenes rushed quickly by but paradoxically dragged as well. To me the story settled down best on Tatooine but the beginning I had found very jolting.
If anything makes me real nervous it is that we haven't seen any scenes from the film yet. I don't know if the dialogue will not flow any better than a prequel at this point in time but JJ and Lawrence Kasdan haven't written bad dialogue in the past so I remain hopeful. I'll be honest as a teenager back in 1994 I read George Lucas was going to make new Star Wars movies and I got really excited. The original trilogy had alluded to such a rich history and vast universe that my head spun with the possibilities. Yet even as a teenager I sat and wondered if Lucas could still make good movies. Radioland Murders, Tucker, Howard the Duck and Willow were in the rear view mirror at that point. I was right to be worried then. I hope I am right to be optimistic now. One more day and we'll know. May the Force Be With You.
-Lloyd Marken