The Dressmaker has been referred to as two tantalising prospects, star of the film Kate Winslet describes it as a story about a daughter re-connecting with her mother and director Jocelyn Moorhouse describes it as "Clint Eastwood's Unforgiven with a sewing machine." Both are somewhat accurate and both reflect the appeal of the film at this time of year.  The blockbusters have come and gone and the Christmas releases and award baiters loom on the horizon but have not quite arrived. In fact The Dressmaker ruled the Australian box office for two weeks after The Martian had dominated and before Spectre launched on our screens.
Kate Winslet as Myrtle 'Tilly' Dunnage buses into a remote country town in the middle of the night. She's shot and lit like movie stars of old and immaculately dressed but she's carrying a sewing machine like a gunslinger with a rifle. The film is subversive almost immediately, the local sheriff greets her immediately but here he is a friendly Hugo Weaving as Sergeant Horatio Farratt, morally compromised by his past but as he will prove repeatedly, mostly an ally to Tilly. The house on the hill overlooking the town does not belong to the corrupt all powerful official but to the isolated and rejected recluse in the form of Tilly's mother. She's a pistol she is.
Judy Davis is positively one of the greatest actresses our country has ever produced but she's seldom done the crowd pleasers. Ladies and gentlemen, Ms Davis pleases the crowd in this film. Molly Dunnage is a classic older salt of the earth woman, she tells you the truth and she says what we all wish we could say. She's got the best lines to be sure but it is the gradual repairing of the relationship between mother and daughter which is at the heart of the film and Davis and Winslet play these interactions beautifully. The growth that relationship will have to undergo is revealed almost immediately when Tilly arrives at the house and Molly insists she doesn't have a daughter.
We awaken the next day to the town below and meet the characters that inhabit it. Here we are in 1950s Australia. A small close knit community that looks after itself, everybody dressed well in suits and big dresses in the harsh Australian heat. Remember the good old days when people had standards? Well of course that subversive nature continues throughout the film. Mousy wives aren't so foolish, macho police officers may have dark secrets and ugly ducklings could turn out to be more ruthless than first thought. Tilly interacts with them all; the chance of some Australia's best acting talent to share the screen with Winslet. She has arrived to re-connect with her Mum and find out the truth of a murder which drove her out of town as a child years earlier. Her way back into the community presents itself as the skills she learnt as a dressmaker while exiled in Europe. The dresses in this film are simply gorgeous, a whole other character in the film almost and the work that has gone into them led by Marion Boyce (main costume designer), Sophie Theallet (made two couture gowns) and Margot Wilson (assigned to Tilly Dunnage's wardrobe) should be applauded.
A wonderful sense of humour is present (slapstick is even nicely deployed) and then there is the love story with Tilly slowly falling for handsome Teddy McSwiney played by Liam Hemsworth. After you see this you may say Chris who?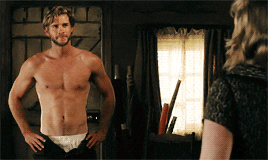 Liam underplays wonderfully in a female centric film supporting them in their star turns but Teddy is both protective and confident in his own strength and such proud masculinity telegraphs a fall to come. Pay attention to it and other telegraphs (a murder mystery after all is prominent from the beginning) because this is not a feel good film as the first half may give you hope for, it is dark black comedy and like a Western not everybody is going to be left standing at the end. There is a part of me that can't help but still feel disappointed about this. Halfway through the film I was musing that they don't make movies like this anymore and I couldn't wait to recommend it to my parents. By the end I was no longer sure I would but I looked across at my wife in the darkened cinema and saw her smiling. Women who you shouldn't fuck with are still a rare breed in cinema and Tilly Dunnage is the bomb. I can't deny that is something to be celebrated. The Dressmaker plays by its own rules and is full of surprises but its heart is right there in the scenes between Davis and Winslet. It might be the best Australian film of the year. And ohhh those dresses.