Casino Royale and Live and Let Die. The two Ian Fleming novels I read a few years back, they were light weight and I scarcely remember much about them but I do remember a great sense of physicality to the character. Bond could get out of and back into shape, got hurt in them and bad ways to die were ever present. My father who read them very young before Sean Connery became a movie star told me that the more you read of the books the more filled out the character of James Bond becomes. Daniel Craig has brought both of these attributes to the series. If you look back, George Lazenby in his one movie has more character growth than the other actors over their whole run. Except Craig. Daniel Craig's James Bond remembers and ages and in a train cart in North Africa he arrives at a crossroads. Imprisoned, on a personal vendetta, married, returning home; these series of films have been electrifying when they've done something new with James and the ending of Spectre sees Bond in a very different place. It's difficult to speak about the film without revealing spoilers but unlike some professional critics I will at least try. I'm looking at you Matt Zoller Seitz and I'm a fan! Let me just say that Spectre's whole finale felt contrived and yet that last shot I both really enjoyed and dreaded. It could be a curtain call for Craig and that's fine. If not well then, as M once said, my advice to Eon productions is "Don't muck it up."
We open in Mexico City during the Day of the Dead celebrations with an uninterrupted tracking shot that takes us from crowded streets to deserted rooftops. This could be the best bit of the film. Bond in disguise, anonymous in a crowd, a female companion both part of the disguise and granting him access, their bodies heady with the promise of sex that is not to come before the spy…actually well spies on someone. The dramatic action that follows (augmented by CGI) is not nearly as interesting but there are tongue in cheek moments and great use of the crowd, location and two crazy stuntmen hanging off a helicopter. The opening credits and song showcase beautiful but unsettling imagery of two lovers threatened by the spectre of death. Notable for two things, first Craig who has always featured heavily in his credits is here bare chested and objectified like the women and second an early shot looks like a threesome involving an Octopus.  No I'm not joking and no that's not my idea of a fun Friday night.
Returning to London the secret agent finds an intelligence community under threat from government bureaucracy and an M under pressure. Bond doesn't trust him like his predecessor despite the courtroom shootout from Skyfall. So Bond has to go rogue again, you might think that's a trope but he's only really done it two or three times previously. Fortunately for Bond he does trust the people he needs support from in Q and Moneypenny and with their help he sets off to Rome next. Snowy Alps and Tangiers will follow and he will eventually track down the mysterious Mr White who is the physical embodiment of links to Spectre from the Quantum of earlier films. There is a lot of call back to previous personalities lost which I was happy to see although perhaps due to the critical reaction of Quantum I don't recall any mention of dear old Mathis. Silva from Skyfall really had an agenda of his own so retconning him into Spectre's organisation feels a little shoehorned but it'll pass. The film is grand in scale but going for a moody dreamy feel, most locations are at night and deserted. It's epic including a spectacular explosion late in the piece but drained of colour to a palette of yellows, grey, browns and whites it's ghoulish rather than pretty. The dead are alive the opening proclaims and in more ways than one. This is all about Bond putting his ghosts to rest, White, Vesper Lynd, M and new villain Franz Oberhauser played by Christoph Waltz. A perfect film then to finally have a boogeyman come for him and Mr. Hinx played by Dave Bautista fits the role well. A graphic killing for his introduction and that train fight with his hulking frame moving at speed after the now leaner Craig is fantastic.
That fight scene is without doubt the highpoint of the action in this Bond film which is disappointing although I enjoyed the effort put into a pursuit where an airborne Bond goes after bad guys in cars for a change. The car chase in Rome feels like a mixed bag of intentions that never quite comes together. I kind of liked Moneypenny getting yoghurt out of the fridge in London while talking to Bond via phone in Rome. The chase is even an afterthought almost for Bond as Hinx shows up beside him almost as if to remind him that he's being chased. There is no real sense of speed or jeopardy in it though and I'm sorry but you know what the new Ashton Martin-not that pretty. Fuck it we'll be in driverless cars in two years licking iPads so who cares. Still Vanishing Point children, that's a car chase.
A lot of excitement was created by Monica Bellucci at 50 becoming a Bond girl and as someone who can appreciate a woman whom appreciates garters I was very excited to see where this led. Sadly garters are the high point. She's cast off fairly early in proceedings for you guessed it – a younger woman.
Fortunate then that Lea Seydoux saddled with a great deal builds an awful lot in a very short time frame. As Dr Madeline Swann she is the daughter of Mr White whose work came to his house one day when he wasn't there but she was. Usually when a character hates a lead and resists the narrative I can get impatient but she has very genuine reasons to resent Bond who is basically bringing a world she has successfully hidden from back into her life. There's an age gag to be sure but love is love and their relationship feels pretty well matched to me. There's a bit more to her than meets the eye, Bond recognises a kindred spirit as Duncan Casey pointed out and her relative youth offers a sense of renewal for Bond if he is prepared to risk it alllllllll because the writing is on the wall.
The opening credits for Casino Royale sported a lot of bodies falling to the ground and the film that followed made the deaths count even if they racked up considerably fast. Craig's Bond has always inhabited this world of killers with a sense that one day the bullet could come for him. Skyfall in fact showed the character possibly getting shot for the first time ever-twice! Spectre really asks is Bond more than just a trigger? Swann is at the heart of that question and she may just be one of the best Bond girls ever. And I haven't even mentioned that dress.
Spectre is not a perfect Bond outing. The personal stakes were higher with M and Vesper, Casino Royale more real and Skyfall more fun. Those who complained about the plot holes in Silva's plan will be driven crazy here by the decisions both Bond and Oberhauser make in tracking and trying to kill their opponents. That might feel a bit rich given the history of the series but after the reality of Casino Royale I did find it off putting. Christoph Waltz sits in the back of a helicopter in the finale kind of looking bored. A great actor diminished in a role that should be crackling, he's playing a Bond villain for crying out loud.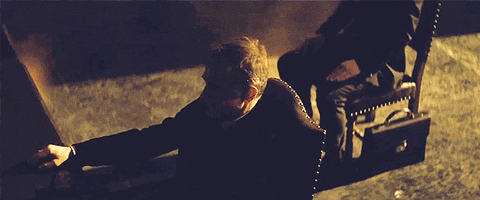 I don't want to say he is what is wrong with the film, the projection of power in a shadowy board room scene early on is sublime but the handling of his character and the pointless backstory given to him is muted at best. On a bad day Spectre falls in line with the lesser Bonds, serious with good intentions but lacking polish, wit and excitement. Today though is a good day and Spectre is a good Bond entry with a strong love interest, epic if downbeat cinematography, a scary henchman, an ambitious theme of love's triumph over death and Daniel Craig once more in the role he has made his own. Enjoy him here, James Bond will return but Daniel Craig may not.
-Lloyd Marken
For those who have ready my previous rankings of the Bond film series you may be wondering where Spectre falls into it. As I mused throughout the rankings can change on any given day. Already I'm questioning Die Another Day, Thunderball, From Russia With Love and The Man with the Golden Gun but I'll leave it as is for the moment. Spectre on a bad day could easily fall behind For Your Eyes Only which I believe was a little bit more fun than this latest film. Yet I keep thinking about the ambition of this film, telling a real emotional story for Bond and really considering the guts of the character and his future. The film plays like a nightmare and accordingly can be a bit of a slog but the performances are excellent, there's an epic quality to the world and I really enjoy that Bond's relationships matter here.
So without further ado here is how I rank the now 25 James Bond films.
25. A View to a Kill
24. The Man with the Golden Gun                                                                                                                                                                                                                                                                                                     
23. Octopussy 
22. Thunderball
21. The World Is Not Enough
20. Live and Let Die
19. For Your Eyes Only
18. On Her Majesty's Secret Service                                                                                                                                                                                                                                                                                                     
17. Quantum of Solace                                                                                                                                                                                                                                                                                                                           
16. Moonraker
15. From Russia With Love                                                                                                                                                                                                                                                                                                                   
14. Never Say Never Again                                                                                                                                                                                                                                                                                                                     
13. Spectre 
12. Tomorrow Never Dies
11. Diamonds Are Forever
10. Die Another Day                                                                                                                                                                                                                                                                                                                                  
9. Dr. No                                                                                                                                                                                                                                                                                                                                                     
8. You Only Live Twice                                                                                                                                                                                                                                                                                                                             
7. The Living Daylights   
6. License To Kill                                                                                                                                                                                                                                                                                                                                        
5. The Spy Who Loved Me                                                                                                                                                                                                                                                                                                                       
4. GoldenEye
3. Skyfall 
2. Casino Royale                                                                                                                                                                                                                                                                                                                                        
1. Goldfinger