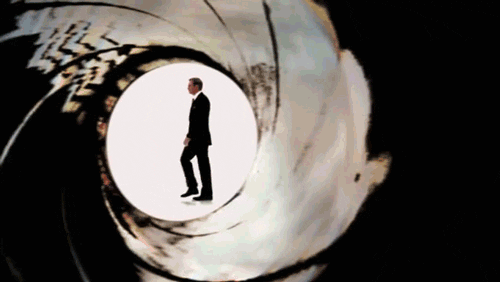 Inspired by the upcoming release of Spectre and far better lists done by others I've decided to rank the Bond movies according to me in terms of quality. Please note there is a lot of short hand and spoilers below, the list assumes that everyone has watched the films in the series.
24. A View to a Kill
I've got no issues with Roger Moore playing Bond at 58 even if it makes the age gap between co-stars is a little ridiculous but you're setting a pattern already when you remark about the youth and inexperience of a 36 year old Daniel Craig and cast him with a 26 year old Eva Green. Moore is as fit and healthy here as he ever was and even a decade earlier he left most stunts to the stuntmen so why should it matter now? This was one of the last Bond films from before my time that I got around to seeing. 80s car stunts, Paris, a climax on the Golden Gate Bridge, Grace Jones and Christopher Walken…it's fair to say I was looking forward to it but the film never really delivers. All the components are here, Patrick MacNee shows up and causes some emotional heartbreak with his death but that's mostly due sentimentality for his portrayal of John Steed. Thirty years later Grace Jones remains an original force of nature, she's physically formidable, 1 of only 3 possible black lovers the series has had and the ONLY! henchwoman ever who ,also rare, turns good and she also boasts impressive fashion sense. Christopher Walken one of the most distinctive charismatic personas of cinema has a great little death scene too. And yet…neither is terribly memorable here, Jones essentially playing the persona she had established for herself and Walken having not quite developed the freedom to go all out like he would in just a few short years. The idea of them being both being genetically engineered is not made much use of unfortunately either. Tanya Roberts as Stacey Sutton is way too weak as the main love interest to make for compelling storytelling even if she brings out a nicely protective side in Bond.  Notable for being Lois Maxwell's last film, she played Moneypenny from 1962 to 1985. The stunts remain good but I can't recall any killer lines or kick ass Bondian moments. It's sad to see Moore and Maxwell go out this way but at least we've got a killer tune in the title track and this awesome little Youtube video https://www.youtube.com/watch?v=MXixbmHSpE8
23. The Man with the Golden Gun
This was the last Bond co-produced by Harry Saltzman and was Moore's second outing in the role. It's dated badly to our politically correct times. Moore roughs up Maud Adams (a villain but still) and cuckqueans Britt Ekland's fellow agent Mary Goodnight. The kind of stuff that makes us awkward at liking Sean Connery's films is still present in Moore's era. For some actually this is Moore's best. It's got a terrific car stunt (undiminished by that slide whistle), gorgeous Thailand, Britt Ekland walking around in a bikini throughout the third act and the great Sir Christopher Lee as the villain of the piece. For many it's Lee who makes it and the idea of the ultimate assassin against the ultimate spy is a neat idea. The best scene has to be Scaramanga telling Bond in no uncertain times he could have killed him at any point but wants a contest. Sadly that is the highlight of such a tantalising premise. For me the film fails to fire for most of its run time.
22. Octopussy
Surely Sir Christopher Lee has this 1983 entry beat and maybe he should but as a child of the 80s Octopussy has the stunts – cars taking to railway tracks, planes flying through hangars, roof top fights on steam trains and airborne airplanes!. There is also Bond avenging a fellow agent, 009's flight to the British embassy is both surreal and haunting with his clown make-up but obvious distress played well by stunt man Andy Bradford. Maud Adams returns to the franchise as the strongly layered female villain and love interest Octopussy although an awkward love scene exists here too – this girl can't catch a break. Everybody loves Q and he gets a neat moment in the field here. Plus I like that Faberge egg, can I have one? Moore appears to not be doing the running like he did two years earlier in For Your Eyes Only and they actually screen tested James Brolin. Connery was doing Never Say Never Again though and so producer Albert R. 'Cubby' Brocolli doubled down on his reigning Bond star. No idea what led to Moore returning for A View to a Kill. This has the wit lacking in Moore's final film. A personal favourite is when henchman Gobinda played by Kabir Bedi is told to climb out on to the roof of a flying plane to get Bond off the roof. "Out there?" he checks incredulously.
21. Thunderball
How could I? It's Sean Connery for fuck's sake. Bahamas, a Tom Jones title track, a fascinating love triangle and a great looking Vulcan bomber. This is the big money earner that gave the filmmakers so much money and good will that they've turned it into a 50 years and counting franchise. No doubt if I watch it tomorrow it might shoot up the list, it is actually incredible to realise how consistent the quality of these films are and how tough it is to rank them definitively but in my memory the damn thing is…it's just too boring. Note this could be an early example of a box office hit running off the prestige off its immediate predecessor. In this case Goldfinger.
20. The World Is Not Enough
This is a film I wanted to love so much. I couldn't wait to see Begbie face off against Bond and the premise was strong with a villain who can't feel any pain. Bond gets played here by a woman, Elektra King, and that's a great idea for a Bond film especially since she manipulates his protective instincts and Brosnan was already the warmer passionate Bond. He never smacks bitches around like the other actors or yells at them for no real reason. All the more devastating then, that final scene where he shoots her without hesitation and then displays a great deal of remorse. Sophie Marceau is great too in her performance as Elektra; I love how her eyes flash when she says "My father was nothing. His kingdom he stole from my mother, the kingdom I will rightly take back." For me this is a terribly frustrating film for what it could have been and what it gets right. The death of Elektra is fantastic, one of the best in the series. The kidnapping of M is brilliant too which makes it a little disappointing that she doesn't get to do more in her escape. The fight at the end should pay off the novelty of a villain who can't feel physical pain and be emotionally cathartic for both men who have lost much with Elektra's death and would blame the other. See the fight in GoldenEye for a hint of what could have been. Still Brosnan delivers with the concluding line "She's waiting for you." Robbie Coltrane returning as Valentin Zukovsky from GoldenEye makes a nice return and permanent exit. People like to pick on Denise Richards as Dr. Christmas Jones, but she has to sell that line "But the world's greatest terrorist running around with 6 kilos of weapons-grade plutonium can't be good. I have to get it back. Or somebody's gonna have my ass." Otherwise Pierce's wonderful punch line doesn't work. She's eye candy I grant you and I don't know how many nuclear physicists wear that outfield but she's not a weak link here. This is Desmond Llewellyn's last go as Q and as always he delivers. The filmmakers took time to write a nice exit scene for him. I've only realised with age that the line "Never let them see you bleed." is as good as admitting your heart is breaking. Wonderfully English and restrained yet heartfelt. Desmond Llewelyn served with the Royal Welsh Fusiliers in France during World War II where he was captured and spent five years as a POW – a genuine hero. The opening ski boat chase on the Thames is one of the best of a series that has always prided itself on great openings and the first time that London took centre stage in a Bond film. I was pumped after watching it but sadly the action scenes that follow are rather average and the plot itself moves rather sluggishly. This really could have been great but it's not. Still some stellar ideas. Whenever I've seen Bond in a theatre there is always a chortle of disbelief and approval from a middle aged man in the audience. His moment here was when Bond dives the ski boat underneath the water and straightens his tie. These are the moments that make Bond.
19. Live and Let Die
Roger Moore in his first Bond at 43 looks practically like a baby, good genes Sir Moore, so it's no surprise they got a long run out of him. Interestingly the very English Moore's debut is a film influenced by Blaxploitation but obviously not a Blaxploitation film. How cool would that be? Maybe a black Bond who would take out some oppressive white motherfuckers in Whitehall after uncovering a conspiracy that goes all the way to the top. Instead Moore's Bond kills a black gangster and his voodoo thugs while bedding a white girl slave that one of them was keeping and hoping to deflower in good time. It's the reverse of certain dated cliché white man fears. The majority of African-Americans in the film are villains but they're competent complex individuals played by strong actors led by the great Yaphet Kotto. What's fascinating about Live and Let Die in our modern times is not so much how things have changed but how things have remained. How many black villains have we had in the franchise since Live and Let Die? 1 or 2 black henchmen? 1 or 2 black love interests? The movie is 42 years old. 42 fucking years old! I'm supportive of different voices being heard and celebrated in media even if sometimes I find it discomforting to think about it in terms of quotas. For example I like Naomie Harris as Moneypenny and Jeffrey Wright as Felix Leiter. I am happy they were cast because of how good they are as actors but I also believe if a by-product of that is more black faces are on screen in the Bond franchise then that is a good thing. Just putting it out there. I think Idris Elba would be great as Bond but I would like Daniel Craig to stay on too for at least one more. Decisions. I got off on a tangent here. The novelty of running motor boats over ground is still neat today the double decker bus makes a nice change from a supercar. Jane Seymour is one of the most insanely beautiful women in the world but lines such as "Now I feel like a complete woman." After losing her virginity to Bond just make me snigger. It's not a great Bond film but it's not a bad one either. The crocodile stunt is suitably bad ass and best song of the series has to be either Live and Let Die or Goldfinger although I really enjoy Chris Cornell's You Know My Name.
18. For Your Eyes Only
You've got to hand it to Eon Productions. You've just made more money at the box office than any previous Bond film with Moonraker. Critics might have sniggered you just re-made The Spy Who Loved Me and put it in space to cash in on Star Wars but you know what? It worked. So what do you do? You go back to basics. That takes wisdom and that takes courage. It's such a shame then that the film is at times boring. As a kid it was really boring. I couldn't stand the film, as an adult I've come to appreciate it a lot more. The opening is a great source of contention as Moore's Bond references Tracey Bond by visiting her gravesite and then encountering Blofeld who is summarily dispatched. The scene has in its favour great helicopter stunts and Bond putting to rest Tracey's killer without the ambivalence of his fate in Diamonds Are Forever. Against it, Moore being funny again and showing no grim satisfaction when dispatching his long time nemesis and due to legal reasons Blofeld is neither named nor really shown. An iconic villain is dispatched quite quickly and easily with no real payoff reflecting the producers' intention to make a point of saying they didn't need him anymore but disrespecting the history of the character with the audience. I'm not as pissed as some but I can certainly see the missed opportunity here. The rest of the film plays better. We go to snowy Alps, Mediterranean ports and cliff top monasteries. Cassandra Harris as Countess Lisl is playful and beautiful in her scenes as a love interest. Later she is run down by henchman Loque played by Michael Gothard. Bond shoots at his car but misses failing to save her from death. In a later scene when he faces Loque down on foot while the bad guy drives a vehicle at him he doesn't miss and there is a great satisfaction in that. I love that they made Bond miss in the earlier scene! The scene concludes with Bond kicking Loque's precariously perched car off a cliff. Moore ever the gentleman did not want to do that scene noting that it was a Bond thing to do but not his Bond. When you think about the Countess though it makes you glad Moore eventually agreed. In our harder harsher times this is the moment that modern audiences embrace Moore for. He's been vindictively cruel, impressively unbowed before Mr. Big and Scaramanga, tensely focused in Moonraker's closer but here in this scene he's just plain old bad ass. Moore really could act you know? With more than those impressively talented eyebrows. Carolina Bouquet as the main love interest was 24 while Roger Moore was 54 creating the largest age difference between Moore and any of his Bond girls. Thankfully Moore looks good and tanned and plays it more paternal than lecherous. It doesn't hurt that Bouquet is a strong character played by an actress who already had a great deal of presence and maturity. Right before the keelhauling scene Bond says "We're not dead yet." to comfort Melina, a throw away moment that I love. Moore is at the height of his powers here playing Bond older and calm-confident and relaxed in the role he now owned. Julian Glover with that great dinner scene as an ally, turns villain and becomes far less enthralling but he's good just not great. You know who's great? Fuckin Fiddler on the Roof himself Topol as Milos Columbo with his pistachio nuts and gregarious nature. There's a lot to love here including the great mountain fall stunt by Rick Sylvester but once you've seen it there's not enough to propel you through the slow bits again for a while.