Do you recognise this actress?
How about now?
Still not sure, how about now?
If not then maybe I should tell you immediately after this, the title Ghostbusters appears on screen.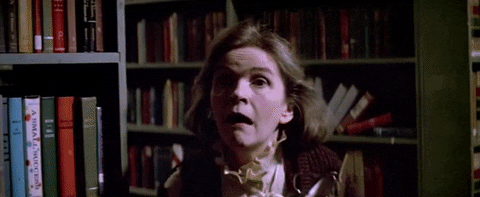 The actress shown is Alice Drummond, the embodiment of a Star Character Actor. Her film career is littered with roles that might as well be simply termed "Old Lady". That was her type and she played it well with various nuances. When thinking about this series she was one of the ones I knew I would do when I got started. In addition to her famous turn in Ghostbusters (1984), I know her well for Ace Ventura: Pet Detective (1994) with her classic line "Laces Out." straddling the line of manic but adorable. No doubt I recognised her at the time in shows I watched like Ed and Boston Legal and you may recall her from Dark Shadows, Ryan's Hope, The Equalizer, Grace Under Fire, Friends, Law and Order and Spin City.
From her film debut as Woman in Elevator in Where's Poppa? in 1970 through to the 2011 short film Open House she amassed 43 film appearances. These included roles I remember like the dreadful Funny Farm (1988) and roles I do not remember like Eyewitness (1981), The Best Little Whorehouse in Texas (1982), Running on Empty (1988), Awakenings (1990), Nobody's Fool (1994), I.Q. (1994), To Wong Foo Thanks For Everything, Julie Newmar (1995), In & Out (1997), Pieces of April (2003), House of D (2004), The Honeymooners (2005), Synecdoche, New York (2008), Doubt (2008) but can almost picture. I'm planning to watch Awakenings in the near future and I'll be interested to see her performance in it as I mostly remember her for her comedic work.
Despite playing variations of old ladies in her film work for over 3 decades, Drummond was capable of great range. In 1970 she was nominated for a Tony Award for her performance as Mrs Lee in The Chinese and Dr Fish. Just one of those enjoyable discoveries with this series where you found out so much more about the performer and their life achievements. She regularly performed off and on Broadway for the rest of her life. Sadly she passed away last November aged 88. Her work lives on. Where do you remember her from and what was one of her performances that proved a favourite with you?
-Lloyd Marken