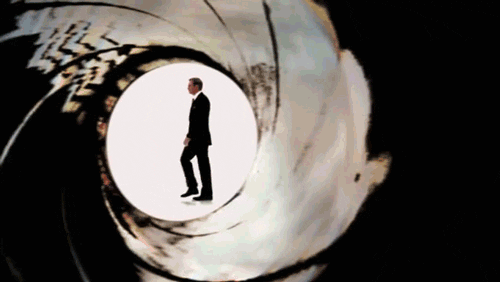 17. On Her Majesty's Secret Service
I know how could I? So let's talk about what works. George Lazenby, the weakest actor to inhabit the role, nails every scene he needs to. He brings a boyish vulnerability to the role and an absolute tenderness to his love scenes with Diana Riggs. Beyond that he is arguably the most physically talented individual to have ever played the role. Skidding down ice on his belly while firing a machine gun. Craig, Connery and Dalton threw themselves into stunts but Lazenby was comfortable doing them. When escaping from the goons halfway through and being rescued by Tracey he seems genuinely scared. I don't know if Connery would've played it that vulnerable and that's something to admire in Lazenby's performance. Lois Maxwell as Moneypenny and Bernard Lee as M have a great scene where she changes Bond's impulsive resignation letter to a request for leave. The ski scenes were ahead of their time and Telly Savalas makes a great villain as a very physical Blofeld. The famous final scene is absolutely devastating. In some ways we haven't had a lot of screen time to see the relationship develop but Riggs and Lazenby have sold it. And then a car drives past and a machine gun is fired and Bond is a widow. We don't see the fatal shot hit, it's all from Bond's point of view and we share in his shock. How many films feature a death like that of the love interest in a blockbuster franchise? It's why the death still packs a punch. It is a great moment but here's the thing. The rest of the movie is good but for my money not nearly as exciting as some of the films on this list. Give me another week and it could shoot straight up the list but for now it's just not one of my favourites. Sorry.
16. Quantum of Solace
This is a real tough one. Capable of sliding or rising given any time of day. I like the song too and it is universally hated. Quantum disappoints for a lot of reasons. Like the second effort from Brosnan and Dalton it ramps up the action and like Brosnan's without fully nurturing the plot. Vesper haunts this movie but is seldom mentioned by name and the true catharsis frustratingly takes place off screen at the end. Yet I love what they got right here. It's dangerously as political as the Broccolis ever get with a plot about corporations making deals with dictators and undermining third world populaces. I got no problems with that, it makes Bond feel relevant. Olga Kurylenko is great as Camille, seen more as a protégé then a love interest. Bond is hurting here and so is the female lead making them partners on a parallel journey of revenge. M has some great scenes as does Jeffrey Wright as Felix Leiter which makes me scream out for him to come back and be given something substantial to do. The call back to Goldfinger works better for me than the one to The Spy Who Loved Me. Bond's assault on the villain's hideout in the finale is ludicrous but Craig's physicality sells it. He basically jumps down into the garage and starts shooting. My favourite scenes are the ones with Giancarlo Giannini's Rene Mathis reprising his role from Casino Royale. Spying is a tough and dangerous business. You can see why Bond treasures good allies and mourns far too many deaths. For me a lot of the action works but that car chase is over-edited. The best scene may not even involve Bond. Mathieu Amalric as Dominic Greene explaining how Quantum works to a military dictator is the villain's highpoint.
15. Moonraker
When I was a kid Moonraker was one of the best Bonds ever. It came from the time of Superman and Star Wars and looked the same in terms of film stock and being broadcast on Channel 10. People fighting giants on cable cars, laser fights in space, a city with streets made entirely of water (this could have been my first introduction to the city of Venice) with a speed boat and gondola chase, a fight in a glass store where everything gets trashed and a skydiving sequence where our hero jumps without a parachute and then has to fight someone for one before they hit the ground. Too bad they got to waste time with all this kissing crap. Then I grew up and the plot became ludicrous and the film a re-make of the better The Spy Who Loved Me. And yet what's not to love. Lois Chiles can't measure up to Barbara Bach but she's capable and beautiful. Look at how they play the scenes in space. Bond stays in command and knowledgeable but its clear Holly Goodhead is the expert here and piloting the craft. Jaws was a great villain diminished by continuing to fail so the producers correctly just made the audience favourite a good guy. I always liked that he got a happy ending and helped Bond. Although at 10 I never noticed just how great a rack his geeky girlfriend had. I mean is she geeky? She wears glasses. That doesn't make you geeky so what the hell am I talking about?! Thoughts for another time. I'm a sucker for the theme tune. The least liked of Shirley Bassey's contributions it's still meant she's done 3 songs for the series and nobody else has done even 2. Go Shirley! Special mention to Michael Lonsdale as villain Hugo Drax. Every line he delivers in that condescending snobbish voice is a joy but "Mr Bond, you persist in defying my efforts to provide an amusing death for you." has to be a Meta highlight.
14. From Russia With Love
From Russia With Love is beloved by critics. It's Bond before Bond became too much of a formula. That fight scene with Robert Shaw as Red Grant is over 50 years old and holds up remarkably well when you think of what was contemporary at the time and how much fight scenes have developed since. There's a great love interest, a staggeringly good ally for Bond and a plot that allows itself to slowly develop things without worrying the audience has ADHD. Look at something like The World is Not Enough which actually had a crack at developing strong and complex characters for comparison. It's admirable but TWINE shoves an action scene in regularly just to make sure the kids aren't bored. From Russia With Love builds them organically through their story. Hypocritically it's down on my list because my memory is that it was still a bit too slow and boring for my tastes. This is definitely another one that could shoot up the list on a different week.
13. Never Say Never Again
Eon didn't make this movie. It's a remake of Thunderball but Sean Connery is playing James Bond and that makes it a James Bond movie okay! You'll be hard pressed to find those that don't rate Thunderball better than this 1983 effort so I submit it could just be that whole child of the 80s thing again. I saw it in the 90s which meant that I've always seen it through nostalgic eyes. It's got the look in the film stock once again and yes it was on Channel 10. Connery here is in better shape than he was twelve years earlier for his last Eon production and he's enjoying himself. Moore gets a lot of credit for being the funny Bond but Connery was just as much a master of the dead pan and there is a lot of wit in this film not to mention Connery is a good sport about the commentary given to Bond's age. I love the bit where Connery in a ballroom whispers to Kim Basinger's Domino "Your brother is dead. Keep dancing!". Cheesetastic! There's an excellent bike chase, Barbara Carerra hamming it up wonderfully as a femme fatale 12 years before Famke Janssen would be celebrated for her work as Xenia Onatopp and Klaus Maria Brandauer sulking about Bond magnificently. Yet it is seeing an older Connery, an icon of the 60s looking as good as ever in the early 80s as Bond that is the real draw here just before he disappeared into white haired/bald Connery with facial hair and became just as big a star as he had ever been as Bond.
12. Tomorrow Never Dies
We're at the half way mark with Tomorrow Never Dies a solid but unexciting Bond film. The action is ramped up but there is enough wit and characterisation to make it more than a series of set pieces. Michelle Yeoh a charismatic performer holds her own and is presented as an equal in Chinese agent Wai Lin. Jonathan Pryce savours the opportunity to be outlandish and send up media barons as Elliot Carver. Judi Dench as M and as always gets some nice moments. Pierce Brosnan in only his second time out completely and utterly owns the role. But it is a basic by the numbers adequate Bond. Why it ranks so high is the fact that I'm a Brosnan guy and its relative youth means the stunts remain more interesting to me. If there have been a few on the list so far  that could rank higher next week this is the first that could rank lower but I do love it. My favourite sequence is when he gets taken into a room and beat up. Managing to get the upper hand he eventually subdues his several opponents. Pryce is doing a presentation downstairs and to embarrass him Bond pulls the power to the building. The look on Pierce's face says it all. He then goes back to his hotel and plays cards staying up with vodka and a pistol waiting for more attackers to come get him. The scene is classic Bond and harkens back to the darkness of the character and the Connery years. I believe Brosnan was always pushing for stuff like this but it is Craig who has gotten to play it more. Instead of enemy henchman Teri Hatcher comes as Paris, a former lover and now the wife of Carver. This is a Bond of regrets and their love scene is passionate. When Paris is murdered by Vincent Schiavelli's eccentric hit man and Bond manages to get the drop on him there is a great deal of satisfaction. By the way Brosnan wore a Royal Naval uniform in this one so we're long overdue for Craig to get polys out. I don't care how tall he is.
11. Diamonds Are Forever
Diamonds maybe forever but Sean Connery no longer plays Bond. Most things in life after all are not forever. After Lazenby got arrogant and walked away or his Bond didn't make as much money Connery got a sixth go at the role. Who knows which reason is accurate but hint-Connery got 1.25 million dollars which set up the Scottish International Education Fund and United Artists commitment to produce two films he wanted to do. Sounds like United Artists at least wanted him back. In hindsight we got lucky. After all they couldn't keep going back to this well but thankfully they did and we got Connery in the 70s. It's an odd film. Tracey Bond is never mentioned by name but Connery is typically ruthless in tracking down Ernst Stavro Blofeld in the beginning and killing him (not really but thinking so anyway) while on personal leave. Imagine if Salvalas had returned to take on Connery? Or Lazenby?! Or if Connery had done the previous film but projected some of that lovesick vulnerability that Lazenby did? Missed chances. But afterwards not a lot is made of the past or even of Connery's return. Moneypenny is still flirting and asking for a ring. Really? M is still M and Connery ends up with some girls and is still his cheeky self. What's interesting is Sir Sean is not really out of shape but there is a little puppy fat and the temples are allowed to show grey hair along with those 70s sideburns. He looks visibly older and while not out of place in the 70s fashion it reminds us how much the world has moved on in the past 10 years.  Which is why maybe the primary setting of 1970s Las Vegas matters so much? In a town known for being seedy and about gluttony a little tired and older Bond suits the setting. What's neat though is Connery looks comfortable driving a muscle car, sporting the sideburns and being at the centre of a more silly plot, silly female leads and even a camp non-threatening but delightfully witty Blofeld played here by Charles Gray. God help me but I just love Diamonds Are Forever. It's interesting to note that while Moore often has some hard edged scenes in his first couple of Bonds, Connery is here alongside some of the fun cheeky stuff that Moore would become known for. He does well. "I was just walking my rat and I seem to have gotten lost."