When is a movie not a movie? The new Ghostbusters could be an example of such a thing. There are seldom few reviews out there that don't feel like diatribes about gender, remakes and fan service. Negative reviewers feel compelled to point out their history with the franchise and whether they enjoy female led films. Positive reviews take the time to scold small brained insecure men who couldn't deal with women being at the forefront of a beloved franchise. Which is fair enough because there were puzzling and unsettling paradoxes here. For example, late last year several underwhelming trailers were released for this season's blockbusters but even bad trailers for anxious releases get more likes than dislikes on YouTube. Not so for the Ghostbusters trailer whose unprecedented negative rating seemed the result of a concerted effort by those with a sexist agenda. Paul Feig has made 3 films previously with female centric casts in traditionally male dominated genres. Bridesmaids (gross out comedies), The Heat (buddy cop action) and Spy (ummm the spy genre).
None of these caused controversy or debate albeit Bridesmaids was celebrated a little for breaking new ground. Is it that fan boys particularly felt under attack for the casting in their beloved franchise? Was it a perverse extension of the mindset that had caused a stir when Daniel Craig was cast as blond Bond? Yet these are different characters in a new iteration, Bill Murray remains the only actor to have portrayed Peter Venkman, you can leave those old films on a shelf unharmed. After years of false starts and Harold Ramis's passing, doing a new take with a female led cast felt like a great way to organically do something new, different and fresh. Plus the old cast were showing up in cameos to give their blessing. While that often is a case of writing enough numbers on a cheque surely the old fans would not want this to fail if the old cast didn't? It can't be worse than say Blue Brothers 2000?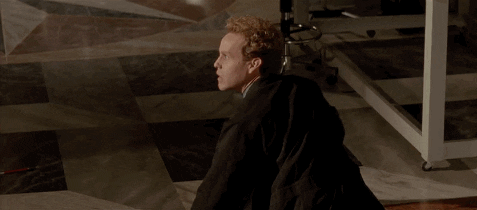 Ghostbusters for some holds a special place in their heart the way Superman and Star Wars does for others. Yet the response for this film seems a little over the top given how much Ghostbusters II failed to fire. Kristen Wiig, Melissa McCarthy are well established movie stars now in their own right and at one point Elizabeth Banks was rumoured to be under consideration (what the hell happened there Hollywood?!) although Kate McKinnon does look very similar.
The trailers and marketing were subpar but the negative reaction has also felt targeted and revealed some ugliness. On the other hand the implication that people who don't like this film are all sexist is insulting to both genders and something Sony seems happy to have exploited.
So here we are…maybe we can talk about the film now for a bit. Wiig stars as physics professor Dr. Erin Gilbert trying to get tenure at her university when an old book she co-wrote about paranormal research is re-published hurting her chances. She tracks down her old friend and co-author Dr. Abby Yates (Melissa McCarthy) who is now continuing paranormal research at a technical college with Dr. Jillian Holtzmann (McKinnon). She tags along with them in their latest investigation and wouldn't you know it they come across an actual ghost which thus begins their adventures of busting ghosts. Soon enough they're joined by Transit Officer Patty Tolan (Leslie Jones) who calls them to one scene and reveals herself an expert on old historical landmark buildings and their hauntings.
All four are entirely new characters with echoes of the original quartet, Yates is Ray Stantz-the believer super excited by what they're doing, Holtzmann is Egon Spengler – socially awkward and tech minded, Tolan is Winston Zeddemore-the practical outsider (references to Patty or Winston as being streetwise I don't get, they were just very grounded and smart in that sense) and Gilbert is Peter Venkman-interested in other things including in an adorkable way the opposite sex. Not to sound too politically correct but Patty Tolan in the trailers seemed a throwback to old stereotypes of African American women. In the film she is more well rounded and arguably the most likeable character compared to killjoys chasing tenure and others complaining about Chinese take-away.
The film following all the media coverage seems oddly prescient in retrospect, the film's villain is a little man who studied the ghost research of Wiig and McCarthy only to use it to cause more havoc and bring about him becoming a more powerful giant being. A thinly veiled reference to the stereotype of a basement dwelling fan boy geek who can't relate to women and who has delusions of grandeur. Some have suggested this is an attack on the franchise's fan base but who wants to identify as this guy? More disappointing is the fact that this idea for an interesting villain isn't further developed.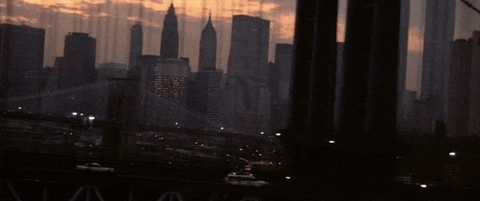 The film follows trends of blockbusters these days, less scary and sexy than previous incarnations or more pointedly less adult and more family friendly for four quadrant appeal. Boston fills is for New York City for the most part, there's a great deal of CGI which has less impact than practical effects. Everything has less impact! A neat touch though is McKinnon slowly developing the tech throughout the film after each encounter to make it more practical and combat effective which comes in handy during the finale.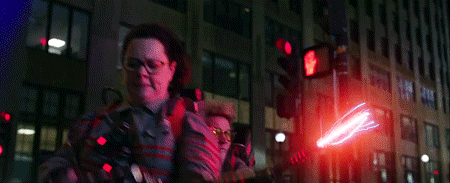 These are some of the most likeable female comedic actresses working today and they remain likeable in this film. I read a really good piece by Matt Zoller Seitz citing how here is a blockbuster with four women in the lead who are all about the work, not defined by their relationship to a man, are all supportive of each other, surrounded by people (mostly men) saying they can't do their job before they prove ultimately they can. These are all great things to have in a blockbuster but as a scary film it's not scary enough, as a comedy there are great spaces of time between laughs throughout and chemistry wise something is off with this film. The new Ghostbusters film isn't bad but it ain't great either and don't both genders deserve a great Ghostbusters film?
I'll close with this picture. These little girl wants to bust ghosts, were there little girls who wanted to busts ghosts in 1984 but were told they couldn't just because all the Ghostbusters in the movie were men? I don't know, my sister had Princess Leia, Supergirl, She-Ra and Rainbow Bright so it didn't come up. If this movie makes it a little easier for these girls or any girls to play being a Ghostbuster, if it spurns an interest for these girls or any girls to do science, if it makes these girls or any girls have a more positive image of themselves as women then that's a good thing. I hope they enjoy the film too.
-Lloyd Marken