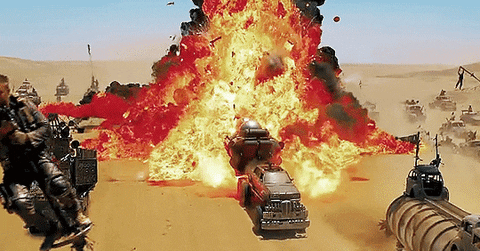 Mad Max: Fury Road arrives with a bang easily the best blockbuster of the whole American summer. Like a howling breath of fresh air for the action genre, this fourth entry in the franchise both paradoxically shows how films could be shot going forward and revels in old school practicality. George Miller at 70 has led a cast and crew of all ages in the reinvention of a franchise and a genre with the kind of energy and zeal a man half of his years would shudder to muster.
Skipping an origin story with what is effectively a reboot we are plunged head first into this dystopian post-apocalyptic world with little water or petrol. Reducing all back to tribal loyalties and feudal pecking orders, those with muscle are the ones who wield power. Max Rockatansky (Tom Hardy) himself is a man with capable skills and physicality but is subject to attack due to his loner status. His vulnerability shown up in the opening scenes where wandering the desert he is chased and captured by a group of thugs and taken to The Citadel where dictator Immortan Joe (Hugh Keays-Byrne) rules supreme. Tellingly Max and Joe never meet, Max even following an escape attempt is never seen as truly remarkable but strung up to be used as a blood donor.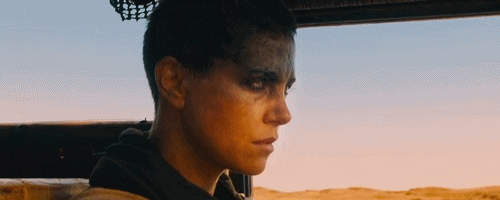 The lead character is arguably not even Max but Imperator Furiousa played by Charlize Theron who serves Joe as his best convoy driver for fuel or ammunition runs in her War Rig semi-trailer truck. Furiousa hides a secret though, she was taken as a child from a more peaceful place and she is planning her escape to get back there and to take with her the young healthy women that Immortan Joe has taken for his brides.
The film is effectively a chase film with character motivations and interactions taking place often on the run. Yet the story is deceptively deep as Immortan Joe clearly at the end of his life prizes women to possibly breed healthy children as more important than how many guns and wealth he can acquire. One powerful shot shows a pregnant woman placing her belly in front of Furiosa rendering a gun toting Joe impotent to fire.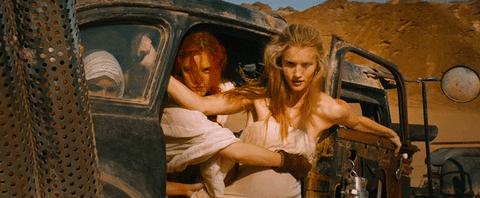 Tom Hardy has always created tremendous physical presences in his films and he is no different here but his Max is a little chattier than Mel Gibson's.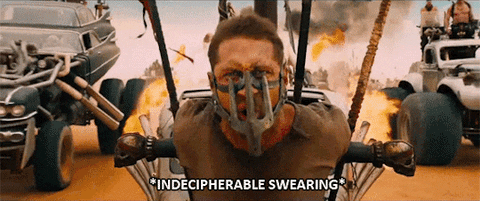 Nonetheless he till mostly grunts through the film and like previous efforts, Hardy nicely conveys the theme of Max learning to co-exist and even rely on others. Charlize Theron packed on 9 kilograms of muscle to her frame for the film and here covered in grease and rags with a mechanical arm she is the most beautiful thing in the film. Conveying so much with glances from her shining green eyes she is unequivocally a fucking movie star but also one of the best actresses working today. Being liberated are the Five Wives some played by former models who all convey subtle personality traits that define each of their characters and make them all unique.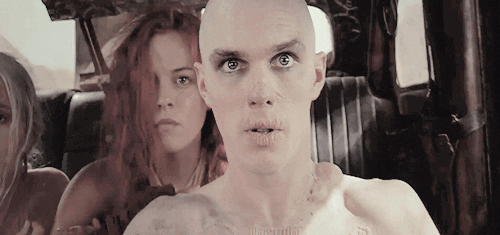 Nicholas Hoult portrays a War Boy named Nux originally loyal to Immortan Joe and eager to die a glorious death hunting down Furiosa. He has possibly the biggest arc as a character and Hoult conveys a growing revelation that War Boy has always wanted to be liked and have friends. This need and its lack of gratification shows up the harshness of his world.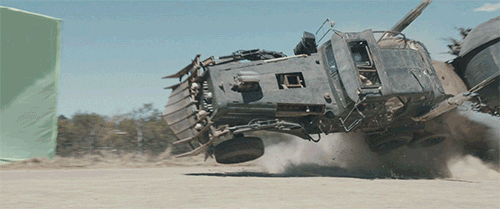 The music could be my favourite score of the year, certainly of any blockbuster. So much thought has gone into production design right down to things that may not even appear on screen in terms of gear sticks and interiors of certain vehicles. Such details inform about the characters reflecting their personalities and status as well as how they live. While a stunning array of real stunts were performed in shot, various rigs and wires are CGI'd out and the palette of the colours has been dramatically changed in post. It creates an epic new look for the film not dissimilar to comics and distancing the film from the original trilogy to stand on its own.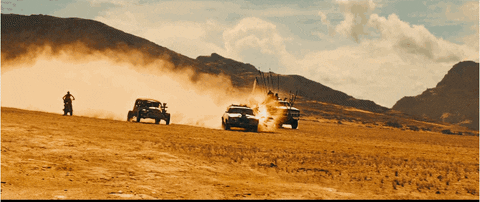 Special shout out to this film's Supervising Stunt Coordinator Guy Norris who performed many stunts on Mad Max 2 most famous of which was the bicycle stunt when he flipped over several times in mid-air after a crash and broke his femur. Now 54, Norris book ended the stunts of this film by first rolling Max's Interceptor as seen in the trailers and at the end of filming driving a sixteen wheeler truck into the wreck of another at 60 miles per hour. Cinematographer John Seale also came out of retirement to do this film and his work is magnificent.
George Miller is making the best use of all modern technology can afford him but he has wisely foreseen that there is a growing recognition to feature women as more than love interests in genre pictures on a regular basis and that nothing beats the thrill of real stunts in an action film. This is a great movie.
-Lloyd Marken