10. Die Another Day
The last of the Brosnans. It still hurts. There was a time children when Pierce Brosnan was considered second only to Sean Connery for greatest Bond of all time but times have changed. Timothy Dalton has been re-evaluated for his grit and plenty of defenders rally to Roger Moore's side as the best for having a sense of humour. Daniel Craig once picked on for being blond and a variety of ridiculous charges has taken the series from strength to strength and even Brosnan lovers such as myself have to admit his films are a pretty weak bunch. This one gets kicked around a lot because of an invisible car. No really the submarine car was fine. Going into outer space with lasers-not a problem. But the invisible car was too much! To be fair they also don't like the CGI wind surfing which I am in complete agreement with. There's a lot of CGI and Bond taking up extreme sports like a Dad trying to be cool with the young kids which does a disservice to the franchise and to Brosnan. Bungee jumping in 1995 seemed natural. CGI wind surfing after XXX with Vin Diesel felt like all concerned were trying too hard. There's more serious problems though with the tone. Pierce finally gets his way to be a hard ass with Bond captured and tortured at the beginning. We'd never seen Bond imprisoned, grow a beard and look like shit. It's exciting. I love the way he swaggers into a hotel in Hong Kong and just mentions his name confident it will get the attention of Chinese intelligence of which he is prepared to deal with. Proof that if you take away the gadgets and the suits Bond is still Bond. Disavowed and on the lam Bond drives old convertibles and carries six shooters in Cuba. It's kinda thrilling and then Halle Berry arrives as CIA Agent Jinx. Nothing wrong with that but the timing of her entrance sees the film change. Interesting to note this is the first Bond (M15+ rated of course) sex scene ever that follows and Brosnan shows a man who hasn't had a steak while in North Korea but after that the film goes Bond epic not Bond rogue. An over the top sword fight, ice castles, lasers in the sky and yes invisible cars follow which is not all bad but the tantalising possibilities of the first half evaporate. Maybe that wasn't a bad thing barely a year after The Towers had fallen. The car duel between two super cars I loved and thought we were well overdue for in the Brosnan era. Pierce brings his A game whether frantically grabbing Jinx to save her, smiling as he uses an ejector seat to flip his upside down Ashton Martin Vanquish back over or advising Rosamund Pike to put her back into it. The villains by comparison (Toby Stephens and Rick Yune doing great work) to him do appear very youthful but I always felt robbed he didn't get to do another one. Casino Royale basically was the kind of Bond film he always wanted to make and 50 wasn't too old. Honestly if he wanted to do three more to tie with Moore I would've gone for it. It would have been nice if they'd done at least one more and announced it as his swansong before filming began but it was not to be.  It's important to remember that Brosnan saved Bond for the post-cold war and politically correct era. He renewed popularity in the franchise especially in America and without him we don't have Craig's era. He was so good in his debut it's like everybody got comfortable with him and the follow ups were not as good, although the last two are at least trying new things. While it's too over the top in the second half I never had a problem with Die Another Day when it came out. For me it was a return to form after the boring The World is Not Enough and time has not hurt it for me. I like it still and that's all there is to it.
9. Dr. No
I wonder if you had wandered on set in 1962 and told people the future they would have believed you. Connery was signed for multiple films, sequels were planned and the novels were successful but when Bond started there was nothing like it. Cinema had barely been going longer than 50 years let alone a franchise that had lived that long. So in a way this should be No.1 because without it, we've got nothing.
The titular villain Dr No. played by Joseph Wiseman barely seen until the end is more than serviceable. The exchanges between him and Connery are clever. There's the scene with the tarantula. It's amazing how much of the formula is right here in the very first picture. The briefing with M and Moneypenny. Bond is introduced in a casino smoking a cigarette and memorably giving his name. There is a car chase albeit with a fair use of rear projection.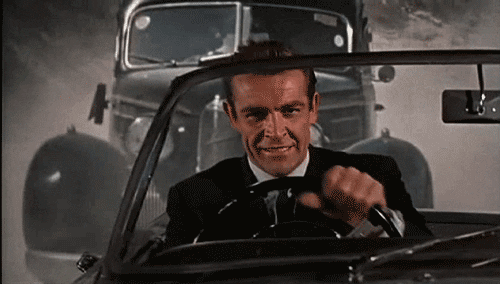 The villain has both a nefarious world changing scheme and an enormous lair and yes it does get blown up at the end. The film closes with Bond dismissing a rescue party to get intimate with his female lead. Even Felix Leiter pops up looking the shit because he's played by Jack Lord of Hawaii Five-O fame. Ursula Andress with phallic knife and pure white bikini comes out of those waves and you bet your arse Sean starts singing about mangoes. The film is dated in some of the ways Connery's Bond talks to women and the native helping him John Kitzmiller's Quarrel but notice later he mentions him by name after Dr. No killed him. These first three from Connery are pretty flawless and got the series off to a great start. Considering how risky the venture and the budget this film holds up remarkably well. My favourite scene though is Bond waiting in his hotel room for a man to come kill him. He puts pillows in his bed to resemble a body, turns out the lights and then sits behind the door playing cards all night waiting. Anthony Dawson playing Professor Dent enters the room hours later and fires repeatedly at the pillows before being disarmed by Bond. Dent's gun lies on the floor as they talk, Bond trying to get information but appearing relaxed – arrogant in his victory. We see Dent eyeing his gun, dragging the rug it's on closer to himself as Bond appears to not be paying attention. Finally Dent grabs his gun and pulls the trigger but it's out of bullets. Bond remains unperturbed, "That's a Smith and Wesson and you've had your six." and with that government employee James Bond shoots him dead having known all along what he was trying to do and playing with him letting him live in that false hope. For me this scene is at the heart of the character, it may be the most important scene of the entire film series and after fifty three years it is still as ruthlessly bad ass as anything out there in popular culture.
8. You Only Live Twice
Another one that could slide down tomorrow. Thinking about Professor Dent I can't believe it's not below Dr. No even as I write. And yet if Casino Royale was playing on TV with this on another channel, I know which one I'd switch to. With Thunderball's box office and sensing Connery's imminent departure Cubby Broccoli and Harry Saltzman wanted to make Bond an experience beyond the star that played him. This is the first of what is known as the Bond Epics. Hardware galore, stunts pushing the envelope and production design and character portrayals so iconic it had to be lampooned in the years to come. This is the Blofeld we remember reinvented later as Dr Evil; this has the underground volcanic lair, the piranhas, Little Nellie and a car chase concluded by a giant magnet packing helicopter. This is why they skydived 88 times to get the opening of Moonraker, threw Rick Sylvester off two mountains and had Wayne Michaels do that bungee jump off a dam in 1995. In 1967 there had never been an action film like it and parody has not diminished it. A few years ago I marvelled at that crane shot with the rooftop fight, the John Barry score didn't hurt either. But it also reflects what is wrong with the film. We're not with 007 on the roof watching his face as he fights the goons. We're taken out of the film with an impressive cinematic trick. As a kid this had to be one of my favourite Bonds and still as an adult with Connery in yellow face and lack of character development for the series I can't help but still rate it highly. Plus this is the one where Connery wears the Royal Navy uniform which is a little different to the one he actually wore when he served.  Connery looks older here but this is still the 60s and so many elements have been parodied so often because they were so fresh and iconic at the time. This is the end of the classic run with Connery despite his latter two films and while set pieces seem to trump character it's akin to going out with a bang. Seems to I think is key, after all Tiger Tanaka and Aki are cool characters and you've got to love Donald Pleasance and there is still a lot of wit to be found in the dialogue. Reboots and Marvel franchises were far off in the future at this point. You've go to hand it to Eon for having the gumption in 1967 to say to hell with it we'll recast and keep making them. The ramping up of the hardware, shooting further abroad, building mythology, diminishing the importance of the star these are all the things that were not present in From Russia with Love and they are all the things that ensured the survival of Bond. Ten years before the age of the blockbuster began James Bond got a head start. Lucky for us it's just a damn fine movie too.
7. The Living Daylights
Finally we come to Timothy Dalton, a man who started as a footnote like Lazenby and became like Lazenby a celebrated chapter. The first Bond I saw at the cinemas was GoldenEye and Brosnan is my Bond but I do remember a video case being brought home with the above picture for us to watch one night in the 80s. This was the first time I watched a new Bond-a current Bond and as a child of the 80s I was happy to see the Ashton Martin V8 Vantage fire rockets and laser beams. Then you have that stunt with Bond and Necros hanging out of a plane holding onto dear life to a cargo net. You don't get stunts like that anymore. I like many have grown up to appreciate Dalton's take on the character. For fans of the book Connery might still fit the period and feel more suave but Dalton famously was pictured reading the novels on set. Dalton plays him as a burnt out public servant, someone who may be happy to be fired and will always stick to his own personal moral code. If Moore is known as the funny Bond then Dalton is routinely referred to as the angry Bond. It gives them both a disservice for their nuanced takes but it does reflect how edgy Bond became played by Dalton. Some posters came with the tagline 'Dalton Is Dangerous' and look to that scene with John Rhys-Davies as General Pushkin for evidence. We're kind of on Pushkin's side in it and we're not sure whether Bond is going to do something he regrets. When he mentions his car has a few optional extras before firing the rockets he's not smiling and THAT sells it. The guy is about to run a Red Army blockade, supercar or not he's rightfully tense. He's known for not delivering puns well but check out his "We have an old saying too Georgi. And you're full of it" and tell me you didn't laugh. Gruff as he can be, particularly with women, he also smiles tenderly in his love scenes and takes some pleasure in his victories. If Bond is a formula then this is the 80s version of it and as a child of the 80s I'm very happy with it.
6. License to Kill
Tonight on Miami Vice Felix loses his legs and James swears revenge. But is this personal vendetta going to cost him everything. The Bond franchise took elements from what was popular at any given time karate films, space travel, Jason Bourne, here it is the buddy cop films of the 1980s. They even have Michael Kamen of Lethal Weapon fame score the movie. M revokes his license to kill and I half expect him to say "Your badge and your gun." Instead of the delightful "We're not a country club 007." And yet we still have a tuxedo casino scene, there's still aerial stunts and scuba diving gear, while not technically a lair the baddie has a large structure that goes kablooey at the end and Q even shows up in the field and yes there's a girl or two. Yes Bond gets involved in the drug war, yes the stakes are personal and yes the violence is ramped up like never before in the series but this film as much a James Bond film as a late 1980s action cop flick. This is a take it or leave it one for a lot of fans it certainly almost killed the franchise in terms of box office but time has been kind. What I like here is that Dalton gets to be as tough as he wanted to be and by wounding Felix and creating a personal vendetta for Bond it really does make it a more a real and satisfying story then end of the world spectacles. For all the talk of Martin Riggs influences the film makers looked to Yojimbo for inspiration and it lifts the whole film as a result. Carey Lowell as Pam Bouvier is an equal love interest and Talisa Soto as Lupe Lamora plays a complicated hurt woman. Robert Davi as main villain Franz Sanchez is very layered valuing loyalty above all else and ironically being undone by Bond's loyalty to Leiter. An extremely young Benicio Del Toro as Dario the main henchman is not so layered but very memorable as someone you believe is bat shit crazy. Desmond Llewelyn remarked that Timothy Dalton was his favourite Bond and it might have something to do with Q being out on location helping Bond like a buddy. Desmond as always is great in the film and it's a joy to see Q get to shine even more. Defintely one of the best moments for the character up there with Goldfinger, GoldenEye and Skyfall. Going on a personal vendetta in such an entertaining way makes you wonder what if Dalton had done OHMSS after all and then avenged Tracey's death in Diamonds are Forever. Oh man Dalton in Vegas. I would have loved that. It would have been interesting if he had done GoldenEye too or even that Hong Kong set picture in 1991 that got canned because of legal wrangling. Barring Brosnan, third films are celebrated turns for the actors, Goldfinger, The Spy Who Loved Me and Skyfall. I really wish Dalton had gotten his chance but it was not to be. As it is, these will have to do and they're more than enough. A special note, Dalton was no stunt man and he's obviously not falling from planes or driving trucks but he does get physical in the role and it is very much appreciated. Aah Timothy, do you even know how much young people have re-discovered your Bond and love it. You were ahead of time good Sir. Ahead of your time.