Rogue One comes billed as a standalone entry in the Star Wars saga eagerly spoken about as a team on a mission war film during development and early production. It's only fair that a franchise film would promise to give you something different while being obligated to feel familiar. If MacDonald's didn't broaden their menu it would stagnate but you don't go there to get Chinese take-away do you? So it is with film franchises too. The fact that this film is set so closely to the events of the original Star Wars released in 1977 tells you everything about the corporate need to bank on established content but it provided creative opportunities and challenges. Rogue One actually works best with connecting dots to the rest of the franchise and showing us new ways to remember the past. In light of The Force Awakens timeline this feels like a story about heroes long ago forgotten in the darkest times of a past war. There is something refreshingly melancholic about that for the saga. Visually it is great looking with half a dozen unique worlds visited and all the best of modern filmmaking used to honour the past but break new ground. However the strongest element of the $2Billion grossing The Force Awakens is the weakest one in Rogue One and that is of characters. The film has found defenders for this with the moodiness of this piece arguably making it difficult for these characters to pop but ultimately their plight should be affective and it isn't. Look to The Guns of Navaronne and The Dirty Dozen for what was promised and has failed to be delivered. That is not to say that the film is without merit.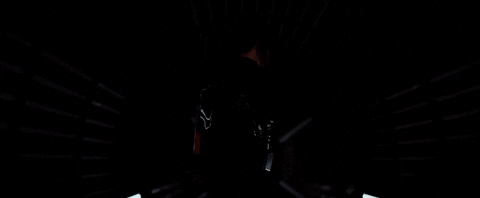 We open with Jyn Erso as a child living on a farm with her parents. The Empire comes in the form of Orson Krennic played by Ben Mendelsohn who wants Mads Mikkelsen's Galen Erso to come back and complete work on the Death Star. Little Jyn's mother is killed, her father taken and Jyn survives to be raised by Saw Gerrera (Forest Whitaker) a Rebellion Commander. That must have been a fascinating story but you'll see none of it here. Still so far so good on the standard hero origin story, a mentor teaches her self-reliance and she has a tragic backstory that will give her personal drive in quest that is ultimately about the fate of the galaxy. Jyn is tough, laconic with a dry sense of humour. Felicity Jones one of the most talented and beautiful of a new breed of actresses here does her scenes well. Harrison Ford once famously said to George Lucas "You can type this shit but sure as hell can't say it." Well it turns out Harrison Ford, Mark Hamill and Carrie Fisher could but Felicity Jones, Diego Luna and Donnie Yen cannot.
The rest of the cast includes Diego Luna a Rebellion intelligence officer Cassian Andor prepared to do bad things for a good cause, Donnie Yen as Chirrut Imwe a faithful believer in the Force who draws strength from his father but no mystical powers and his cynical but loyal friend Baze Malbus (Jiang Wen), a defecting Imperial cargo pilot Bodhi Rook (Riz Ahmed) out of his depth and afraid but clearly to do the right thing and a smart arse Droid for comic relief K-2SO (voiced by the delightfully talented Alan Tudyk) round out the cast. These are not characters; I had to look up Wikipedia to remind myself of half their names, they're types and while these backgrounds are effectively conveyed by the actors and dialogue true performances that make you feel for them never occur. We are told who they are rather than shown half the time and when we are, we just don't care. The plot is always moving from planet to planet and set piece to set piece that the characters themselves barely get a chance to interact and grow relationships. We know they are inherently good people and we do want them to succeed but we are not scared for their safety and that is huge misgiving for this type of film.
Wicked the musical for example is a fantastic example of doing a prequel and sidequel which effectively flips long established truths about The Wizard of Oz. But you don't expect Judy Garland to step on stage with Idina Menzel. How to tell a Star Wars story from this time frame and not include Darth Vader? To their credit the filmmakers have stepped up to the plate with ambition and courage.
SPOILER ALERTS!!!!!!!!
Grand Moff Tarkin originally played by Peter Cushing (who passed away in 1994) returns in this film along with a few others played mostly by now sadly deceased actors. Rather than cut around the actor Tarkin is present throughout played by Guy Henry with Cushing's likeness added by CGI. It is not quite perfect as an effect (personally I feel sad knowing a day is coming when this is possible) but it is effective as a performance and something that after a while you do not give much thought to. Links to Star Wars perhaps come across sometimes as more fan service than necessary but a new explanation for the Death Star's long maligned design flaw wrapped up in a personal story is ingenious. Yet for fans of the mythology the links to the past are far more affecting. A family living in comfort with the grand lights Coruscant in the background, an older and grayer Senator linking to the prequels and what was lost with the Republic. The Rebel Alliance here is more complex than previously known with breakaway leadership, having fought a secret war for close to 20 years with no progress, combatants prepared to not just die but kill and slowly asking what is it all for? Rogue One shows them at a make or break moment in their history and this world building is so effectively done it enriches other chapters in the saga.
Talk of a troubled production with extensive re-shoots only crop up in the sense that we feel short changed with Saw Gerrera and Jyn Erso's relationship and some of the most dynamic shots in the original teaser trailer do not appear here.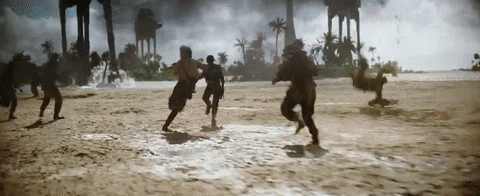 The debut of director Gareth Edward's Monsters was a wonderful film. A little film that still had impressive effects, a heartfelt but not heavy handed message and two dynamic central performances. The relationships and characters were the weakest element of his follow up Godzilla which was okay because he got the character of Godzilla right. That film was spectacularly epic in scope and action and Rogue One continues that achievement. Action scenes are done well, for a series that has excelled in space battles (Star Wars, Return of the Jedi, Revenge of the Sith…yes Revenge of the Sith damn it) they may have made the best one yet in Rogue One. There is a seamless mix of location shooting, practical effects and cutting edge computer animation. Characters walk down muddy mountains in the rain, storm beaches towards AT-AT walkers and everything is has a modern dynamic whether it be hand held shots or close range pyrotechnics. Dangers and physical risk feels real in this film and the battle scenes are shot with war like tropes even if the blood and gore remains absent. The stakes are real in this Star Wars film just not the emotional pay offs.
 -Lloyd Marken