Sully is an American hero. We should cherish that simple reassuring fact until the end of time that such things can be true and real in this day and age. Yet Chesley Sullenberger is also a man, a quiet professional of considerable skill and talent but a human being with flaws and doubts like the rest of us. Clint Eastwood's film accepts both these truths can co-exist but has something to say about how each responded to the events of January 15, 2009.
On January 15, 2009 Flight 1549 took off from La Guardia airport in New York City. At 2,000 feet before levelling out of ascent multiple birds struck the aircraft disabling both engines immediately. They never got higher than 2,800 feet with the major urban population of New York City beneath them. In 200 seconds the plane had landed on the Hudson river, a feat of piloting in itself which was truly extraordinary. From the point that the plane hit the water to the point where all survivors were on the pier was 24 minutes. To have had anybody survive such a landing would have been remarkable. It was in the dead of winter in the northern hemisphere, the conditions meant that the odds of at least somebody perishing were extremely high. Five individuals were injured or hospitalised but no one perished. All 155 souls on board survived the water landing and immediately the story of the Miracle on the Hudson raced across the world. The incident was the inverse of September 11, 2001. An incident involving an aircraft and New York City where good prevailed, professionalism and heroism saved the day, people were rescued not murdered.
At the centre of it all an airline pilot who had served in the United States Air Force, a Texan who had learnt to fly at 16 in a crop duster over clear prairie skies and had that cool 70s moustache from the golden age of air travel. In other words-America. Knee deep in casualty reports from Afghanistan and Iraq, and the fall out from the Global Financial Crisis here was the story New York, America and the world could feel good about. The movie Sully understands this but also understands that the word survivor is not used randomly, everybody on board went through an ordeal and they would happily have never gone through it if given the choice.
Saying Tom Hanks portrayal here is his most low key does not give credit to his Captain John H. Miller or Jim Lovell but Sully is a very shy man at heart and Hanks embodies that. Not a perfect physical match for the real man American's favourite everyman movie star was the inevitable choice and the role comes at the right moment for his age and in his career. There could've been more interesting choices but none better. The rest of the cast is superb, Aaron Eckhart is so laid back as co-pilot Jeffrey Skiles that it may be taken for granted how good his performance is. Looking more like his real life counterpart than Hanks, Eckhart is laidback but more expressive than his co-star. Skiles had only just qualified on the Airbus but was a Captain in his own right demoted due to airline cutbacks (basically experienced and overqualified for the job he was doing). A lot of focus and attention has gone the way of the man who said "My aircraft" and took the controls and not much to the co-pilot and Skiles has weathered that with good humour and grace but Sully will be the first to tell you there were two men in that cockpit that day and both did their jobs superbly. I was pleased to see Skiles as a buttress of support in this film and a calm assertive figure in the narrative. Watch a scene where Skiles makes it easy for Sully to meet him downstairs. Eckhart is so natural as the character that beneath a brown moustache long term fans of the actor have failed to recognise him. Possibly too low key for an Oscar run hopefully some lauded film critics society will tap Eckhart for his performance here and give him an award.
Eastwood always an actor at his best when dialled down gets similar performances form a wealth of character actors including Molly Hagan, Ann Cusack, Jamey Sheridan, Valerie Mahaffey but Laura Linney who shined against type in Mystic River is wasted here. Reduced to playing scenes of calling each other across the other side of the country Hanks and Linney do well. We get that his wife is part of his strength, we feel their isolation and we see how disruptive the investigation and media attention was to the family. These scenes convey a lot that is important to know but they are conventional wife scenes in these kinds of films. It would be fair to suspect there was more to it in real life; Sully's wife is in her own right a strong, layered and inspiring woman.
You won't get half of that from this film and that's nothing against Linney. Faring not much better are the air hostesses who played the biggest role in evacuating the plane in a timely and safe manner. Their professionalism is conveyed in telling body language. As the lights fade out in the plane they move forward with a smile telling people to keep their seatbelts on before surmising to each other we're turning back. But blink and you'll miss just how important it was that Doreen Welsh (Molly Hagan a long way from Herman's Head) wounded by the crash with water streaming into the back of the plane got passengers to turn around head out through the forward exits. More justice is done to the calm professional and earnest work done by FAA Air Traffic Control Specialist Patrick Harten. Harten's scenes are done with minimal fuss and lots of close ups on the actor Patch Darragh. Calm, professionalism, minimal. Those words get used a lot to describe the actions and demeanour of people in a crisis who come through. It's difficult to not repeat them throughout a review of this film or a recollection of this story. These people were calm and professional and did their jobs with a minimum of fuss.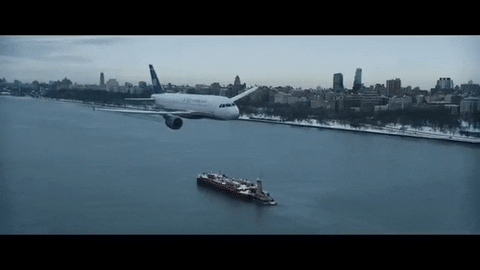 As filmmaker Clint Eastwood's films often bear these hallmarks too, the 'action' sequences cut all music, bear few flourishes with camera movement but have a grounded real world approach. Compare the nightmare Sully has at the beginning to the actual water landing later in the picture. There is no music played, the insides of the aircraft have been painstakingly recreated to be as true to what was there on the day as possible. The effect is to put you in that moment as best they can and to not do anything that will remind you – you are watching a film. Weeks after Suicide Squad, it is a joy to see effects in service to story and action that is both moving and involving. If the special effects house has done a decent if not mind blowing recreation of the flight then several practical effects cannot be faulted. Considering how difficult it is to recreate such a scene that few saw the achievement of the effects is in keeping with the tone of the film.
Clint Eastwood is 86 years old this year and it's fair to suggest maybe that every film he makes he is putting forward his views on the world as a parting message. The director has been doing that since at least Unforgiven and maybe even all the way back to Play Misty for Me and he's rebelled against expectations again and again. White Hunter Black Heart was not a jovial biopic about a beloved Hollywood director making his greatest film, at the height of Rambo mania Heartbreak Ridge was mostly a service comedy and surprisingly romantic, Gran Torino which promised Eastwood reclaiming his star persona had something to say about the cyclical nature of violence and Million Dollar Baby was not just a heart-warming sports movie. Sully is not just about two pilots landing a passenger jet on a river. Clint Eastwood is not a director known for his subtlety but his images have haunted throughout the years. He chooses exactly the second the first ferry arrived to rescue the first passenger off the wing to play music. There wasn't a dry eye in the theatre I attended at that moment, subtle can be overrated sometimes. Hanks plays Sully's relief at hearing the magical number of survivors in the hospital with a noticeable turn of his face and holding back tears. Yet look afterwards when Hanks walks over to a window and holds his tie around his shoulders like a man finishing a long day at the office. 
See Eastwood line up a shot of Hanks ascending the ferry stairs with the plane in the background. Some of these choices are more nuanced and when they are not they are truly moving. The adults are making a blockbuster today kids so just sit back down and learn a thing or two.
A couple of themes resonate, Eastwood celebrates the human factor of what the cockpit crew did, when technology failed them, rather than going through the PAM or worrying about the odds Sullenberger 'eyeballed' it. Eastwood wants to celebrate a man making the call in the heat of the moment and backing himself and places the Safety Board investigating the landing as villains who don't know what it is to have been there. Their hard 180 reverses throughout the film are the kind of black hat obviousness that Eastwood is famous for, you may recall how repugnant Hilary Swank's family was in Million Dollar Baby.
Eastwood also plays up the dichotomy of a man being celebrated in the media as a hero as he is being torn apart behind closed doors with his reputation, pension, career and life's work on the line while trying to quietly endure post-traumatic stress. You get the sense despite Katie Couric's presence that Eastwood doesn't think much of the media. At one point a journalist stands on the river and reports live to the camera that the people on the plane located behind him "Have minutes to live." It's a subtle dig by Eastwood standards but the message is clear "Look at you standing there doing nothing." Theodore Roosevelt once said "It is not the critic who counts; not the man who points out how the strong man stumbles, or where the doer of deeds could have done them better. The credit belongs to the man who is actually in the arena, whose face is marred by dust and sweat and blood; who strives valiantly. "
Eastwood clearly celebrates Sully as the man in the arena but he places alongside him Skiles, Welsh, Donna Dent, Diane Higgins, Harten, the ferry crews, every passenger on that plane, the members of the NYPD, FDNY and USCG, the nurses, doctors and ambulance staff. The best of New York, of America, of humanity. These are things to be cherished and not to be lost as people who grew up in dustbowls, defeated Nazis and built the jet age give way to a generation who have never known the Middle East without war, the proliferation of unstable employment, reduced economic growth and social isolation. The world is troubled, as it was and always will be but we can meet any challenge if we remember who we are. At our best we're Chesley Sullenberger and his team. Heroes.
-Lloyd Marken