Most people sit in an office cubicle, on a work site, at a factory line for days on end, year after year. The commute might change, the company might be re-located, the pay may increase and the time straining your back may decrease but it's all the same. Working for a pay cheque towards one holiday, one house, and one kid with a college degree and good teeth. Most enjoy their jobs to a point; very few would state it was their dream. Nobody gets exactly what they want out of life and that's okay but it's why we push our kids to pursue opportunity and it is why we watch Greats. Athletes, leaders and celebrities-we're in love with them all. They tell us they were poor, they tell us they were knocked back and told they were no good and we think yeah maybe if one thing went my way I could have been just like them. How often is that really true? Eddie the Eagle implausibly showed up at the 1988 Winter Olympics as Britain's sole Ski Jump competitor. His performance was so significantly behind the second last place getter that a new rule was instituted making it more difficult to place in the sport for the Olympics. There are those who to this day who were embarrassed that he was there and confounded by his popularity. That's because they don't know what it's like on that factory floor or in that office cubicle. Eddie had dreamed the impossible dream and we like dreamers. We need them, when they achieve something they keep our dreams alive. They make anything possible, thank you Eddie.
The reality was despite always running low on funds and living rough, Eddie was a gifted and experienced athlete. A quick look at Wikipedia reveals he was the world number nine in amateur speed skiing at one point, narrowly missed the Great Britain team in 1984 for his original sport downhill skiing and had already competed at the 1987 World Championships in Ski Jumping placing 55th in the world when he arrived in Calgary. How many people can say they were 55th in the world at anything?
Eddie the Eagle the movie does not relate a lot of these facts. It makes you believe he jumped the 90m ski jump for the first time at Calgary for example which is not true. I suppose it's hypocritical to not blanch at Creed which depicts a boxer with limited experience having a bout against the current world champion and then fear this movie is criminally unrealistic when Eddie continues to fling himself down mountains at high speeds with little training but that was my reaction. Maybe I'm getting old but when his father urges him to be a plasterer and stay in England I couldn't help but see his point.
The film is criminally put together with Hollywood tropes and artificial drama. The film begins with Eddie narrowly missing the team in 1984 for downhill skiing and sets off overseas to train in ski jumping. Early scenes with his father Terry (Keith Allen) are more effective than latter ones. Terry fears his son is throwing away good money and time on an amateur sport which will yield no true results for him. As Eddie waits at a bus stop to leave he drives by and tells him "I'm not made of stone." And his son replies "Goodbye Dad." With clear determination to chase his dreams. We like dreamers. We admire both men in this scene for who they are and what they believe. Later the film miscalculates as his father sits down and is surprised his wife is going to watch their son at Calgary. Dad at that point becomes nothing but a caricature that will inevitably make a late minute turn around in his support of his son.
Eddie arrives in Garmisch-Partenkirchen, Germany (he actually went to Lake Placid in real life) with no support and low on funds where he comes across fictional coach Bronson Peary. Peary played by Hugh Jackman conveniently has every cliché you need for a film like this, he's a former naturally talented skier who never lived up to his potential and now drinks while working the snow plough at the training facility trying to forget how disappointed he made Christopher Walken.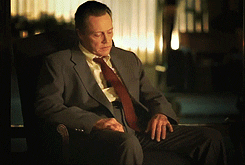 Oh. Eddie offers him the kind of redemption his character so desperately needs. Watching Hugh Jackman be ignored by pretty girls and lose fights is a little refreshing but I'm not buying it, he was far more authentic and mature as Jean Valjean. Only one sequence truly implies what is at stake when something goes wrong in this sport which truly requires courage. At Calgary it was perpetuated that Eddie was afraid of heights to which he has said "They said I was afraid of heights. But I was doing sixty jumps a day then, which is hardly something someone who was afraid of heights, would do." The film does not give the impression Eddie Edwards had done 60 jumps before he arrived at Calgary.
As you may have guessed by now, the film is predictable and full of clichés. But! It's about a dreamer and we like dreamers. Taron Egerton (a ridiculously good looking kid) convinces as Edwards with a strained jaw and polite manner. It's a delight to see his steely resolve come out from beneath his unassuming demeanour every time people write him off. Hugh Jackman meanwhile might be too nice to effectively be a grumpy coach but he has an easy chemistry with Egerton and he plays a scene teaching Eddie how to control the body in the run down the slope just right. Others would've played it louder and it would have been too much. See the film and you'll know what I mean.
80s power ballads blare suiting the period and theme of the film and there's some great location shooting and doubles instead of CGI appear to have been used where they can. The action could have been staged better maybe but we get a sense of the sport and the risks involved. It wouldn't be argued this is a great film but you follow Eddie in his plight no matter how crazy at times it may seem. Whatever the film makes up, it charms and hooks you in with the true appeal of Eddie the man who is a nice guy and a dreamer…          We like dreamers.
In real life Eddie Edwards attempted to qualify for 1992, 1994 and 1998 Winter Olympics. He's done a variety of things since including co-hosting radio shows and appearing on reality competition television programmes. In 2013 he competed in a celebrity diving TV program called Splash on ITV. He trained hard and did an inward 1.5 somersault pike from 10m in the semi-final. He won by public vote after a synchronised dive in the final. An athlete at heart still, a Champion in spirit, A True Olympian.
-Lloyd Marken
https://www.youtube.com/watch?v=6FWAiXll_jw