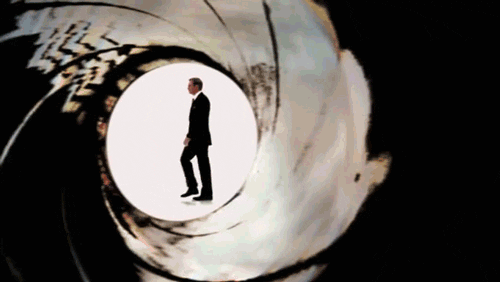 5. The Spy Who Loved Me
If there are some surprising low ranked entries on this list this one won't come as a surprise for being Moore's best. For Your Eyes Only might be more serious and contemporary but if there is one consistent theme throughout this list it is that however noble your intentions if the film gets boring it goes down the ladder. The Spy Who Loved Me is not serious with noble aspirations of character development or plot twists but it is never ever boring and it is the high watermark of Moore's tenure. The fun Bond in his most fun Bond movie.
Barbara Bach is stunning in a way exceptional even for the beautiful Bond girls but more importantly one gun barrel sequence from Agent Goodnight we have a woman in Agent XXX who is Bond's equal in every way. Yes she has to be rescued in the end but that only makes it personal for Bond and the audience. We like her and he does too. She kicks ass and even beats Bond at one point. Bach may not be the greatest actress of the Bond series but The Spy Who Loved Me she doesn't have to be and she performs well being more than eye candy.
The Henchman is Jaws in this one. Think of the icons the Bond series has given us over the years. Blofeld, gold painted Shirley Eaton, the Ashton Martin DB5, Blofeld as played by Donald Pleasance. Jaws is right up there and tellingly a decade on from those images. There's a few fans that wished he'd died in Egypt, he gradually becomes less terrifying after he drops that stone on his foot in the ruins but there is a reason why the audience cheered when he was seen alive at the end of this film. Introduced as a monster here and often compared to Frankenstein, it is fitting then he gets a girl and turns good in Moonraker. Frankenstein after all just wanted to be loved and understood. Jaws used for his strength and size is recognised for his feelings by 007 in his final film. In The Spy Who Loved Me, though Jaws is a force of nature, in a fairly light hearted film he creates a definite physical threat. Both extremes are all Richard Kiel and I can't help but feel that while Jaws remains a villain in this film the audience recognised some of Kiel's heart in the performance and just responded to the big guy with affection. Either way he adds something to the rogues gallery and fits right in with the rest of the film which is BIG in terms of production design, action set pieces, laughs and Barbara Bach's wardrobe.
Speaking of icons, that Union Jack parachute does not make sense for a secret agent but it doesn't matter because it looks so cool. Rick Sylvester skiing off that mountain and then his parachute almost not inflating as it is struck by the discarded skis is definitely in the top 5 of stunts that this series has pulled off. Rick gets two with that fall For Your Eyes Only. Thank you for being a mad man Mr Sylvester.
Curd Jurgens plays the villian Karl Stromberg…Hardly a Blofeld and I'm a bit of a sucker for Drax actually but you have got to love his casual request to cancel a money transaction after blowing a helicopter out of the sky with the intended recipients inside.
Moore also appears in Naval uniform at Faslane or somewhere pretending to be Faslane. C'mon Craig get your kit on. Here is Moore in the British Army.
A special note, HMS Fearless an amphibious assault ship features heavily at the end of the film. In 1982 she played an important role in the Falklands Islands War.
After building such an impressive set (a giant tanker swallows up nuclear submarines) they had to have a pitched battle in it, the first since OHMSS. For all the spectacle though even here they take time to show young men dying and making it matter.
Every now and then there are make or break Bonds that ensure the survival of the series. Goldfinger created the formula and is the classic that kick started everything. GoldenEye re-introduced Bond for a new era and re-invigorated his box office prowess. Daniel Craig continues to make us more excited about Bond than we ever have been. In 1977 the series had been coasting for a while still making money and Moore was settled in the role after Connery had left and come back and left again. But The Spy Who Loved Me essentially proved Bond could live on beyond those 60s classics without having to steal cultural influences. In a lot of ways it's a mix of Thunderball and You Only Live Twice and it doesn't matter.
I'm going to say it again, the key here is fun. This is just so much fun and a bit of luck. Moonraker proves that. The follow up is fun, has great set pieces, a witty villain, Jaws and…it is not nearly as good. There is a time and a place and everything here just works. Roger Moore is on fire here whether sternly cutting short discussion of his wife, dropping fish out of cars that should not be in them just for a sight gag, facing down Jaws and then saying "Later." before going on to have sex and it all starts with that magnificent "So does England."
The car chase with the Lotus reflects both the work ethic of everybody involved and perhaps why the film works so well. We start off with a bike chasing 007 in a car, then a car and then a helicopter ending with the Lotus driving off a pier and becoming a submarine. It's escalation of force until the movie tops itself by doing something unexpected and original. To make that effect work took work, experimentation and first and foremost a fun imagination. It's what the Bond series can do at its best.
Bond is a broad Church as the saying goes. If you look at my Top 6 there is a Bond from every decade with every actor who played him minus Lazenby. Part of what makes it work as a franchise is it moves with the times and constantly re-invents. It actually makes a great deal of sense that they're movies you watch with your Dad since they're something that your Dad grew up on and his love of the older films is something he can share with you as you take ownership of the current ones which are still familiar enough to him. I'd argue The Spy Who Loved Me made this possible. It's when the franchise made something new and iconic for a new age and was rewarded with enormous success as a result. Roger Moore maybe the funny Bond but the franchise doubled in age and output during his era and that's on him largely. This was his pinnacle.
4. GoldenEye
One of the last times my father took me to a movie was on Boxing Day with my sister and brother to see GoldenEye. I was 15, soon after I was seeing movies with my mates. As a kid I enjoyed The Living Daylights, Moonraker, You Only Live Twice, Goldfinger, The Spy Who Loved Me, and Octopussy. If Licence to Kill failed to compete against Ghostbusters 2, Lethal Weapon 2 and Batman–GoldenEye made Bond feel like event cinema again. That 720 foot bungee jump off the Verzasca Dam in Switzerland made the film something that had to be seen on the big screen and Brosnan looked the part in a ridiculously good looking way. Glamour was back. Gadgets were back. Stunts were back. Interestingly to note, the first post cold war Bond made Russians the bad guys albeit all renegades but it's not like they really re-invented the wheel first time out and this is from a series that had actually avoided making the Soviets the bad guys for the most part. If The Living Daylights is 80s Bond and The Spy Who Loved Me is 70s Bond then GoldenEye is the 90s Bond.
We really got the whole package in Pierce Brosnan a desire to go dark, one of the most ridiculously good looking men ever, prepared to get physical but also not taking any work away from the stuntmen, that silky Irish voice pronouncing the Queen's English, comfortable with puns or passionate with wounded hurt over lost loves and traitorous adversaries. What more could you want? Well a good script would have been nice but I digress. I've got something positive to say about every Bond actor there has been but sooner or later you have to admit who your Bond is. Connery maybe my favourite but I don't feel a sense of ownership over him. He's my father's Bond. Pierce Brosnan is my Bond and I couldn't be happier.
Famke Janssen as Xenia Onatopp was delightfully over the top mixing sex with death in the way that the Bond series always has. Looking back over the series I don't see any obvious inspirations for her except for Barbara Carerra in the rogue Connery production. Her performance is one of a kind and is still celebrated. Izabella Scorupco might seem to suffer as a result but she's one of the best Bond girls actually. Smart, capable and with a good sense of meta humour. "You're like boys with toys." She admonishes at one stage. In the hallowed history of the series sexual imaginings are set up but not shown. That sarong fluttering in the breeze around her bikini is perfection in almost revealing but not quite. Hey I told you I was 15. Sean Bean could have played Bond and is enjoyably here a Double 00 Agent Alec Trevelyan gone bad. A special note for Special Effects Designer Derek Meddings. Derek Meddings worked with model effects and worked on Thunderbirds, various Bond films, and the original Superman and Batman film. The man who led the team that created the Krypton of my childhood last worked on GoldenEye with his sons. In post-production he died from colorectal cancer and GoldenEye is dedicated to his memory. Goldeneye is one of the last films to use models on a large scale with stunt work and developing CGI.
The middle aged guy was in the audience for this one too. When Bond drives the bike off the cliff and free-falls into the plane that is when I heard the chortle this time. There is so much to love here. That opening. The scene with Q. The first time we meet Judi Dench in the role of M. That tank chase is pure Bond, over the top and epic showing us something that has never been done before. In a lot of ways the big finale lacks the energy of the first half. What makes it work is the taunting of the character for the first time in the franchise and the fact that we've been saving up for a fight between Alec and Bond all movie and when it arrives it doesn't disappoint. Sure a lot gets blown up but GoldenEye remembers that when there is something personal going on with the characters we as an audience are way more invested. Too bad they didn't do anything cool with the Z3 Roadster but all the more reason I defend Die Another Day. For the first time Bond grossed $100 million at the U.S. Box Office and the Broccolis were back in business. The below photo sums up my feelings about the wasted potential of the Brosnan Bonds that followed.
3. Skyfall
Nothing like success to breed criticism. First Bond to gross a Billion worldwide, critically lauded, a hit song and search the internet and you'll find a lot who don't understand why everybody raves about this. They've got a point. Bond fails in his mission, there's plot holes galore, and is he having sex with a former child prostitute uninvited and Bond's injuries get forgotten as the story moves along plus why has the DB5 got all the gadgets? None of that matters though. Bond here is wounded, vulnerable, and older and we finally delve into his backstory if only a little bit. "You know the answer to that. You know the whole story." "Orphans always make the best recruits." "When he did come out, he wasn't a boy anymore." Like sex, the Broccolis know, just enough to get our imagination going is far more satisfying than any elaborate exposition. If I have a nit-pick it is I would have preferred if M was a better shot. I waited for her to mix it up ever since that kidnapping in The World is Not Enough and along with Eve's resignation from the field I can't help but feel the women get the short end of the action stick here for no good reason. Connery as Kincade would have been stunt casting and Albert Finney is wonderful but admit it-I'd watch that movie and so would you. Connery hadn't done an onscreen role in 9 years at this point. It would've been the perfect way to retire and wipe that League of Extraordinary Gentleman crap away but not to be. A special note for DP Roger Deakins, this is a glorious looking digital movie and he's done stellar work on this year's Sicario. Spectre by comparison looks gloomy and muted in the trailers but let's wait and see.
The pay off with the setup of Moneypenny and M and Q feels right. The band is back and we've come full circle. Where that leads in Spectre or in 10 years' time is anyone's guess but Bond remains. After 53 years and 24 films we're still looking forward to the next one. Skyfall keeps that love alive. I find it telling my mother likes Pierce Brosnan the best (I sense his persona rather than his interpretation of Bond informs this most) and my father likes Sean Connery the most, so the other night I asked them both what was their favourite Bond film and without hesitation they both answered Skyfall. Jarvier Bardem as SIlva is menacing and camp all at the same time, gloriously selling a larger than life character with little subtle choices in his performance. Hired most likely due to the success of his Anton Chigurh this is a very different type of villainous portrayal and just as great.
It's always hard for me to decide whether I like Skyfall more than Casino Royale. Something that I always think about is that Casino Royale has the love story with Eva Greene as Vesper Lynd and then I think yeah but Skyfall has the love story with Dame Judi Dench as M. If you look back at the Brosnan films she has a hard ruthless edge in those films film too even if they don't necessarily play it up as much as they do in the Daniel Craig era but she's great here. Sassy, weathered but determined. Under attack but not ready to throw in the towel. There's so many facets to her character, a late husband mentioned (remember we saw a man in her bed in Casino Royale), a trust in Bond to get the job done even if he's damaged, no hesitation early on to have Bond shot or have another agent bleed out and yet look at the satisfaction on her face when she looks Bond in the eye with her dying breath and says "I did get one thing right." You got a lot right M.
2. Casino Royale
We spend a lot of time in that casino. We do have that incredible fight scene in the stair well but this is if you like the bottle episode of the Bond franchise and paradoxically it opens up the possibilities of the franchise like never before relying on character interactions, battle of wits and superb dialogue to get us through. It's Bond in a way we've never had him and it leaves an impression. So much so that we forget maybe that massive parkour chase and set piece at Miami airport that plays like a more regular Bond picture. Even in those scenes here the exciting things are relatively low key. A particular highlight is the knife wrestle in a crowded public place. One of my favourite scenes in the whole movie is Bond going back to his room to dress his wounds, scowling in pain and downing whiskey before joining Vesper who is in shock. What's neat is that by showing Bond himself hurting first it makes it less about him comforting her and more about them sharing their survival. Eva Green as Vesper Lynd ten years younger than Craig none the less has great chemistry with him and their love affair feels very genuine. This is a film that takes time to breathe like for example From Russia With Love but unlike that film I remember this as being more exciting. I knew from my Dad having read the books that Bond got tortured in a particular way in the original novel. I mused with him before seeing the film whether they would modify that torture to be more palatable for modern audiences but no they went ahead and did it. Again you have to hand it to the Broccolis. It's safer to hand Pierce a truckload of money and do another Bond epic. Each Brosnan film made more money than the last. Instead they reinvented the franchise yet again with an unknown star that at one point seemed to only have their support and together they proved everybody wrong. I would have loved one more Pierce Bond and I would have been interested to see him do that Casino Royale with Quentin Tarantino but not a day goes by that I don't love this movie. The ending hurts just like that one from 1969 albeit I think that is still by far more emotionally wrenching. I'm kinda hoping Vesper is mentioned in Spectre. She should be remembered. That death should carry weight even now. When Craig retires from the role it may not hurt to call Martin Campbell again either.
1. Goldfinger
David Letterman once said of all American chat show hosts "We're all trying to be a little bit like Johnny Carson." And every Bond film sans the last entry (maybe!) is trying to be Goldfinger. A lot of the formula is present in Dr No but it solidifies in Goldfinger and they've been remaking it ever since with various degrees of success and intertwined with modern influences. They've made some great ones, I think at least one that epitomises the decade and the Bond of that era but Goldfinger is timeless and beats them all. Plot holes, third acts that lose steam, inconsistent tone, too serious, too silly. None of this matters with Goldfinger it's perfect from beginning to end. Throughout this list each film has almost inevitably touched upon a shopping list of things to tick off or comment on. Song, Henchman, Villain, Car, Female Lead. Here they are not just series highlights but highlights of cinema itself. The song sung by Shirley Bassey. The Henchman Oddjob. The Villain Auric Goldfinger. The car Ashton Martin DB5. The Female Lead Pussy Galore played by Honor Blackman. Finally it has at the heights of his powers The Bond. Look at the photo below. Now isn't that just the coolest motherfucker there ever was. From a boy pulling milk around with a cart in the tenements of Edinburgh to twenty five years later being James Bond. What an incredible journey it was for Connery to come from humble beginnings and become James Bond. It was no accident, Connery oozes old movie star charisma in this film but always the hint of something real and post modern in his approach. Nothing I can say about this film hasn't already been said. Watching it recently I was amazed by how endlessly quotable and known the dialogue has become, how the stunts held up and how the era had transformed from something dated to something ageless as the cool 1960s have become. A final note my journey with Bond starts here. One night when I'm very young my Dad tells me there is a good movie on tonight, (yes it was Channel 10) and we sit down to watch it. It's about a spy and it's an action film. Some guy comes out of the water in a ski suit and takes it off to reveal a dinner jacket underneath. There's a fight, not long after, there's a car with gadgets like K.I.T.T. I don't fall asleep or get bored and go in the other room. I like the movie and after that whenever I get told it's a Bond movie whether it has Roger Moore or Sean Connery or Timothy Dalton I want to see it and I think of it as a Bond movie. There is something consistent in the brand if not the tone or tastes or even success and that is to be applauded. The journey continues but I can't help but feel very fortunate Goldfinger was my first. I think it will always be No.1 for most because it is timeless. What I admire most about Eon productions is I think they know Goldfinger will always be the best too and yet every Bond movie they make, even A View to A Kill, they set out to finally make one better than it. I admire that and who knows maybe one day they will.