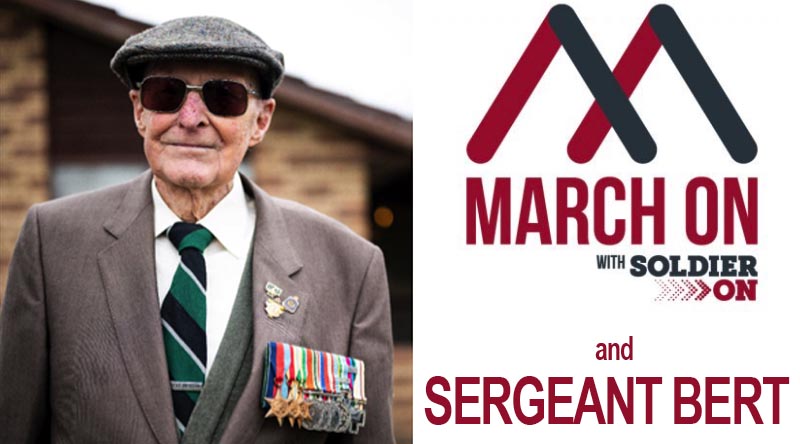 March 01 – March 28
You may recall previously a post on the charity Soldier On and their patron 101 year old Sgt Bert Le-Merton who had raised $107,191 for the charity by walking 96kms around his local Sydney neighbourhood.
He reached that last September.
Last check he was at 419 kilometres. 
Founded in 2012, Soldier On supports 3,000 veterans and their families with a holistic approach to their physical and mental wounds with employment programs, health and wellbeing services, learning and participation activities.
In March they ran a campaign called March On, calling on people to cover 96kms throughout the month to raise funds for the charity.
Having recently dialled back my gym attendance I saw this as a good opportunity to get back in shape and raise funds for our veterans.
I knew I could probably cover about 3-4kms on a treadmill in half an hour. This meant I would have to regularly attend the gym to get to 96kms by the end of the month.
So on the first of March I went and got on the treadmill.
I played on repeat Bill Conti's Going The Distance theme from the film Rocky. At different points in the music I would move from a walk to a jog to a faster job and back again and repeat for 30 minutes before cooling down for five minutes.
The treadmill told me I covered 4.04 kilometres that night and burned 255 calories in those first 35minutes.
As you get older it becomes mandatory to stretch before you exercise and I made sure I stretched but being out of shape I found my body resistant.
I jogged on Monday the 1st, Wednesday the third and by Thursday my shoulder was in a lot of pain.
From jogging.
I rubbed deep heat throughout the day and pushed myself to go back that night on the fourth.
The whole 96 kilometres loomed over me, I couldn't afford to miss too many days.
Friday the shoulder continued to bug me but it hurt less.
I went Friday night the fifth and Saturday and Sunday and Monday right through to Thursday.
An unbroken eight day stretch and the shoulder got better, I got fitter too.
I stopped listening to Going the Distance and just listened to regular podcasts from The Ringer while shifting speeds at different timed intervals.
Day 10 I was on track with 33 kilometres done so I upped the distance to cover to 100 kilometres.
I never repeated that eight day stretch.
I missed the Thursday 11th of March as I was attending Triple X and needed to write my review after.
I jogged the 12th and 13th but not the 14th. No excuses.
I had a session on the 15th and got to 51kms right on schedule but did not jog the sixteenth.
From there I had a five day unbroken streak from the 17th to the 21st.
On the 18th of March I covered 4.51 kilometres in 36 minutes. Four kilmoetres in 31minutes before starting the cool down late. 299 calories burnt, an average pace of 7.5kms/per hour. The scales put me at 109.3kgs and a BMI of 33.7.
At this point I had been jogging consistently for three weeks.
On the 17th of March I finally got under 110 kgs on the scale for the first time in forever. I started wearing ties at work and swapped out my suspenders for a belt. It made me look like I had gained weight rather than lost it but I knew that belt couldnt' have been worn comfortably earlier without the hard work so i enjoyed it.
Friday the 19th of March I got to my lowest weight during the month with 109.1kgs and BMI of 33.7.
I was starting to increase the speeds a little to burn a little fat, to cover a little bit more distance but not too much.
Ninety six kilometres was chosen because it was the length of the Kokoda Track and as you went along in your goal different milestones told you how far you had travelled.
Menari 34.8kms. Templeton's Crossing at 63kms. Eora Creek.72kms.
Templeton's Crossing is named after Captain Sam Templeton Commander of B Company in the famed 39th Battalion. He was also affectionately known as Uncle Sam by some of the men.
Jack Wilkinson, a fellow soldier, noted the following in his diary in 1942:
"…Two long hills to climb.  Missed out on tea as I was with last of the troops.  Had a job to get some of them to make it..
'Uncle Sam' came back and helped me about half way up the last hill.  I was carrying four rifles and three packs and had doubts about making it myself. 
But 'Uncle Sam' insisted on carrying all my gear as well as that of others. "
Captain Templeton went Missing in Action during the Kokoda campaign. He never returned home. Another casaulty of war.
625 Australians died during the Kokoda Track campaign. The battle saved Australia from invasion.
I reached Templeton's Crossing on the 21st of March at the end of the five day streak. I was covering consistently 4.4 to 4.5 kilometres now in the same time frame where I had covered a little over 4 on the first night.
I had worked through the initial pain for getting back into exercise. I was now leaner, more fit and faster.
I had to complete seven sessions in the next ten days to reach my goal.
But on Monday the 22nd my left leg was bothering me with soreness. I decided to rest it.
Tuesday the 22nd I came back and did my best session but the left leg was still bothering me.
4.47 kilometres in 35 minutes to score an average pace of 7.7 kilometres per hour and burn 309 calories. I had jogged one minute longer by mistake on the 18th to reach 4.51kilometres.
I went and saw Two Man Tarantino on Wednesday the 24th and rested it again.
Thursday the 25th I raised in conversation with a colleague about maybe just walking the rest of the campaign but I had set myself a goal and really wanted to see it through.
Thursday I worked through the pain and jogged but made sure I didn't push myself. I was back down to 4.32kms, 290 calories, 7.4kph but was grateful to see the scales tip at 109.3kgs having recently chowed down on the Brisbane Powerhouse Snackbar Menu Pizzas.
Friday morning I felt pretty good.
I was getting lunch at a burger joint when my legs got caught in between two chairs.
My body reflexively pulled up to get out of it and I felt my RIGHT leg explode and i let out a yelp.
I limped out with my lunch and back to work.
No matter how gently I walked, the back of my right leg will regularly send this tearing sensation to my brain and I would be unable to take another step for a brief second.
I was in pain.
Having never been an athlete i had no reference for what was happening.
This was more than a pulled muscle.
I struggled back to work but found only standing gave me releif. Sitting down the back of the leg became sore from the pressure and walking constantly agitated it.
I asked a very kind colleague to drive me back to my car and I've got to be honest, I wasn't sure if I would be able to drive it. I pushed the chair back a little which made the leg rest more horizontally than usual and that seemed to not agitate it.
I went to bed with some deep heat and tried to rest it up.
My dream of jogging the whole month was over.
I had 19 kilometres to go in five days and no way I would be able to jog in the next five days.
I was not even sure if I would be able to complete the 100 kilometres.
I was so disappointed.
Because during that month many kind donors some of which remained anonymous had given money for our veterans in the belief that I would reach my goal.
I went back to the gym on Saturday and walked on the treadmill for 50 minutes and covered 4.37kilometres. This would keep me on track to get to 100kms by the end of the month but it was going to be close.
The next night I went back and found the leg was doing okay so I stepped up the walking pace and covered 4.70kms.
As I walked those two nights my leg would seize up but I found I was able to keep going.
On the second night I did seize up at one point quite a bit and my right leg went down. Fortunately I grabbed the handles, shot my left leg to the side off the treadmill and was able to drag my right leg up and keep going.
I haven't seen a physio but it appears that I tore my hammy.
Why was I doing this you may ask?
There were 6,268 participants in the March On campaign.
They raised $1,549,576 dollars for veterans and covered 483,060 kilometres.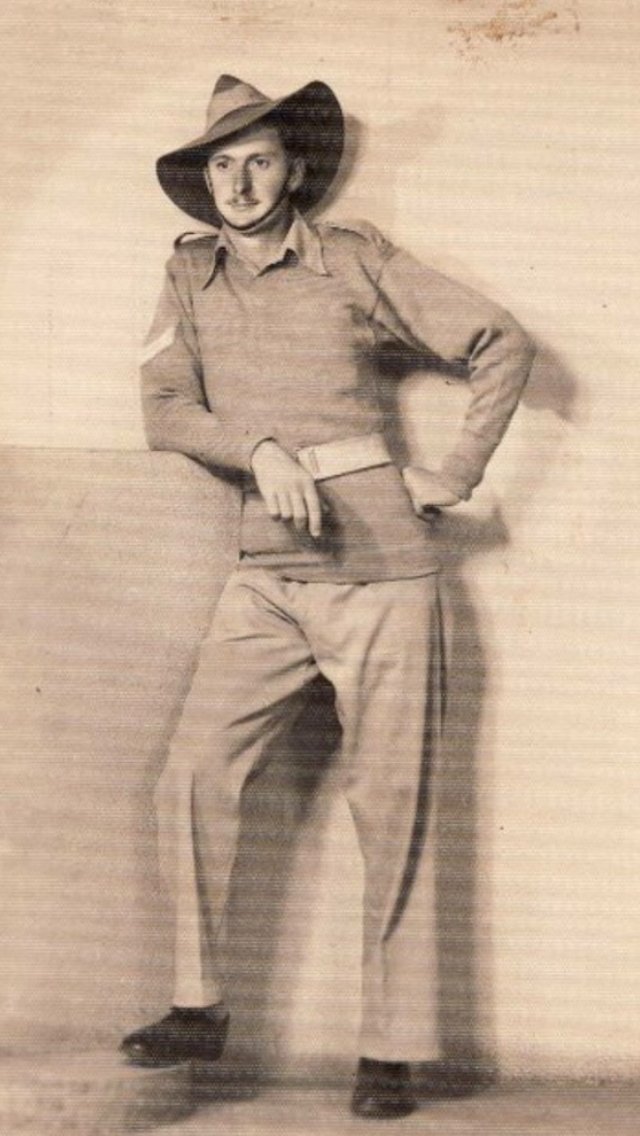 One of them was 102 year old World War II veteran Sgt Bert who walked 159 kilometres in March.
"If I can do it, you can too… so get up off your saddle and March On with me to support our veterans." said Sgt Bert.
Another was a young veteran named Holly who had been diagnosed with complex PTSD and received help from Soldier On.
"Soldier On provided a safe space for me during some of my darkest times. I am forever grateful for the support I received following my diagnosis of complex-PTSD. Without Soldier On, I'm not sure if I would be here today." Holly said.
These were words that galvanised me through the month when I felt lazy or tired.
Maybe ego was involved, I was pushing myself and seeing results and admitting to injury would derail all of that. I like to think of myself of someone who rarely sets goals but often sees them through.
But mostly i just wanted to say I did it for all of the people who were supporting our veterans
And for the veterans themselves.
Two people I served with briefly in the Reserves both did March On. One of them had been in the Regs and gone to East TImor.
Two friends I had at school had served.
One was a signaller in the Army and served in the Solomon Islands.
Another went into the RAAF and did two tours of Iraq.
They seem fine but they know as I do that many of our veterans are not fine.
They're comitting suicide at an alarming rate and Soldier On is helping them as are many of other worthy charities.
For Holly, for Sgt Bert, for Captain Sam Templeton, for all of our veterans I wanted to see this through.
-Lloyd Marken