April 28
As the situation deteroriated in India it consumed our news.
Seven days in a row of 300,000+ new cases every day.
"The situation is critical right now. This pandemic is the worst we have ever seen until now and these two weeks are going to be a hell for us," said Doctor Shaarang Sachdev, Head of Emergency at his Indian hospital.
You've all seen the images now.
It was estimated every four minutes in New Delhi a person died.
People racing family members in the back of cars to hospitals and temples and anywhere else where they heard help could be found but none could.
Where people had piled up on mattresses in hospital corridors now
Parks were being made as make shift crematoriums. Pyres burned on roadsides.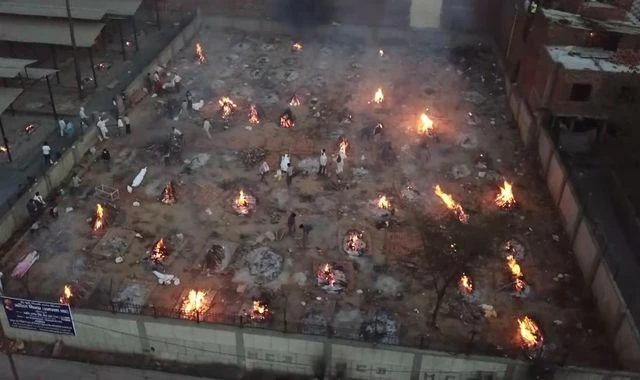 People were dying from COVID long before they could get tested.
The scale of death and illness had overwhelmed the system.
Yet Indian health care workers fought on, they did what they could, they risked their own lives.
A black market had sprung up around oxygen tanks but it seemed there just wasn't any.
"I get around 50 calls every day, somebody asking for beds, somebody asking for cylinders, somebody asking for drugs. We don't have anything available and patients are dying," said one doctor.
It is funny what images get to you.
I took it in when the burning pyres were shown on a scale that was hard to see.
But the image that got to me was men simply laying bricks and building for more cremations.
In a split second my brain recognised the scale of death you've seen is nothing compared to what is to come.
Police went everywhere to deal with anger spilling out from a population feeling such anguish and fear.
Perversely there were still religous ceremonies and festivals going ahead in river banks, in mass groupings and without social distancing or mask wearing.
The pandemic was raging.
RAGING.
It had raged in Wuhan, it had raged in New York, it had raged in India previously reaching nine million cases and it had raged in Brazil and was still raging.
But it almost felt like the scenes coming out of India…
If we had held out hope that 2021 would not be as bad as 2020 – as I had hoped – well that hope was almost irrelevant now.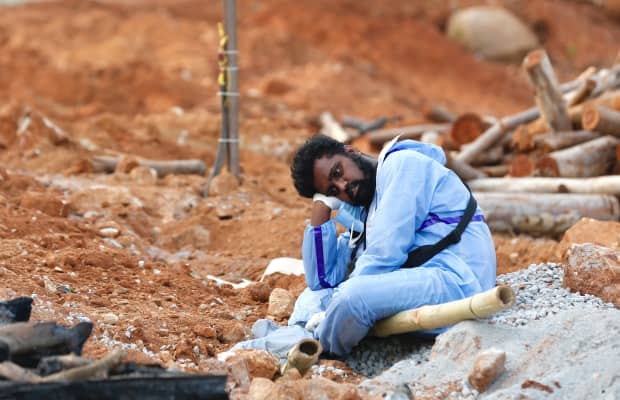 I do still want to see that the vaccine had changed the situation but seeing loss on such sale meant that whatever gains we came out of this year we had witnessed very clearly that the situation can become as tragic and heartbreaking as it has ever been.
On the 28th of April, 2021 the World Health Organisation reported in India there had been 17,997,267 confirmed cases with a daily increase of 360,960. There had been 201,187 deaths with a daily increase of 3,293 deaths.
In the face of such events it can be easy to lose heart. But helping in whatever way you can makes a diffrence. There were many organisations that could use support at this time.
One of them is Medicines Sans Frontieres (Doctors Without Borders).
On April 28 their website adviseed they were "preparing to support two units within a 'Jumbo' hospital in Mumbai. The units will include two sets of tents with about 1,000 intensive care unit bed capacity in each. Five additional medical doctors and five nurses have been recruited to strengthen the response."
MSF was also "providing prevention kits, counselling and phone follow-up to high-risk patients, including TB and diabetes patients and the elderly."
Since 2006 MSF have been treating patients in Mumbai for drug resistant tuberculosis and HIV.
They were also indentifying cases and referring patients to suitble hospitals and clinics.
"Most of our 256 patients come from the informal settlements where, due to poor living conditions, the risk of disease is high," Dr Hemant Sharma, Project Coordinator of MSF's COVID-19 response in Mumbai said.
Doctors Without Borders were also doing work in Papua New Guinea.
"The situation in Papua New Guinea is an example of the global inequity of access to vaccines and other medical tools. When cases numbers began to soar, health workers here remained unvaccinated, while other countries are hoarding more vaccines than they need," MSF Medical Manager Farah Hossain said.
In early April a MSF team supported the COVID_19 facility set up in Port Moresby by the National Capital District's Provincial Health Authority with a capacity of 43 beds for very ill patients.
The team has trained local medical practitioners on emergency situations, the application of PPE, oxygen therapy and treatment of acute pneumonia.
They go wherever they're needed and donations go to their underlying cause to allow them to response to any crisis where they're needed not just where the world's attention is currently focused on.
The following week we made a small donation.
-Lloyd Marken