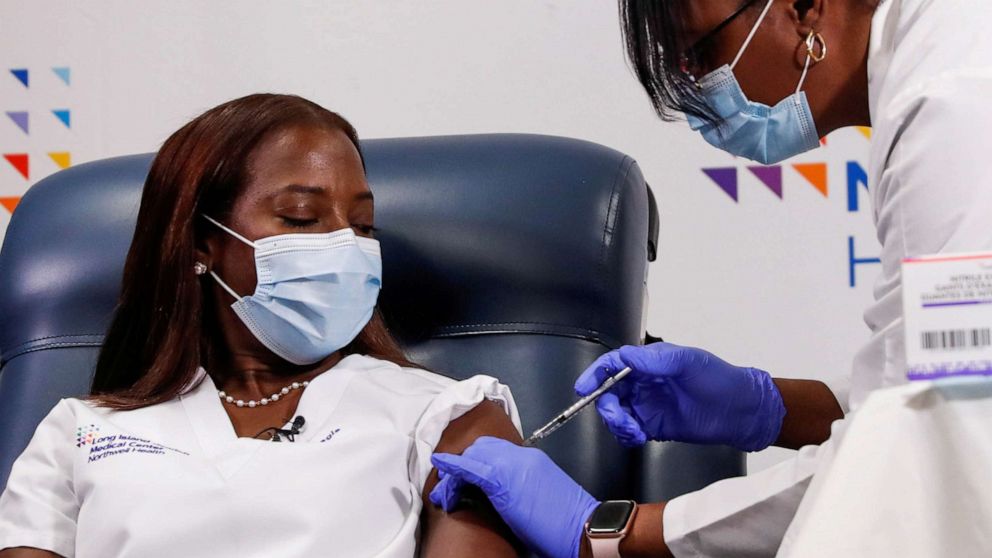 December 10
Dr Anthony Fauci was quoted saying in the lead up to Christmas, "For the first time in more than 30 years, I'm not spending the Christmas holidays with my daughters."
The 79 year-old Director of the Institute of Allergy and Infectious Diseases would most likely talk to them via Zoom along with his wife of 35 years.
The advice he had for his fellow Americans was to do the same.
Ten people inside during the holidays he felt was likely too many and a surge in numbers from Thanksgiving gatherings would only start to reach their heights as we entered the longer holiday period of Christmas and New Years.
Speaking to New York Governor Andrew Cuomo he advised, "We could start to see things start to get really bad in the middle of January, not only for New York state but for any state or city. [That] could be a really dark time for us."
Hospital admissions had soared over 70 per cent in the previous two weeks with ICU availability at less than ten per cent in the state. In Southern California it was 4.2%.
In areas where ICU wards were at less than 15% California Governor Gavin Newsom had issued stay at home orders.
America had set a new record for COVID-19 hospitalisations in December with more than 109,000 patients with 21,200 of them in Intensive Care.
The New York Times calculated that hospitals that serve more than 100 million Americans were at 15 per cent ICU capacity – no more.
On the 10th of December, the World Health Organisation reported in the United States of American there had been 14,972,356 with a daily increase of 216,360. There had been 283,994 deaths with a daily increase of 2,552.
December 11
Close to three million kits of the Pfizer vaccine were getting ready to roll out of the Pfizer vaccine.
The CDC Director Robert Redfield advised on the same day that daily deaths in America in the coming weeks were set to exceed total fatalities from the attack on Pearl Harbour or September 11, 2001.
December 12
The American Food and Drug Administration gave approval for the Pfizer vaccine to be used in the United States late Friday there.
California Governor Gavin Newsom advised more than 300,000 doses were coming to his state.
Experts warned the vaccine would not affect the rising American death toll from COVID-19 for the next couple of months at least.
December 13
Sunday.
More than 184,000 vials left a Pfizer manufacturing facility in Kalamazoo, Michigan on trucks bound for air freight across the country. United Parcel Service and FedEx planes would take off from Lansing and Grand Rapids to hubs in Louisville and Memphis from where the vaccines were loaded onto planes and trucks to go to the first 145 of 636 vaccine staging areas across America.
It was hoped 2.9 million doses would be given by the end of the year with health care workers and the elderley the first in line to receive a jab.
Stephen Hahn, the Commissioner of the F.D.A. said it was possible 20 million Americans could receive both jabs by the end of the month.
Moncef Slaoui, the chief adviser to the government's vaccine development, told "Fox News Sunday" that 100 million Americans might be vaccinated by the end of March. 
Slaoui advised that the U.S. needed to acquire herd immunity from the virus to halt transmission and that would mean 75-80% of the population had to be immunised. Some polling showed only half of Americans were keen to get the vaccine, others put the number at a quarter. Let's hope the latter were more accurate.
It was hoped three quarters of the country would have been vaccinated by the May or June.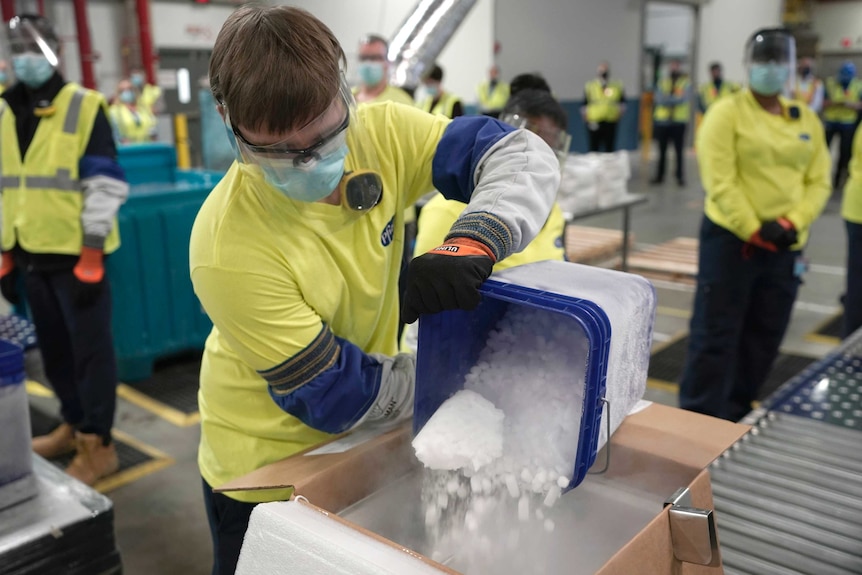 Even as relief was in sight, the reality of the situation was still pronounced as numbers skyrockteted.
New Jersey Governor Phil Murphy whose state had suffered so much in March and April advised, "The next six to eight weeks are going to be hell."
Shipments were being dispersed to 145 distribution sites on Monday, 425 on Tuesday and the remaining 66 on Wednesday. Each state is receiving an amount of doses based on their adult population.
The vaccine is transported using containers with dry ice and GPS sensors to ensure shipment stays 94 degrees below zero.
December 15
Twenty seven year old Intensive Care nurse Sarah Lindsay became the first American to receive a COVID-19 Pfizer BioNTech jab.
She received it at the Long Island Jewish Medical Centre in Queens, New York City.
Part of the Northwell Health System which has treated 100,000 COVID patients since the pandemic began.
New York State Governor Andrew Cuomo watched via live stream and told the veteran nurse after, "Sandra, you didn't even flinch."
"It didn't feel any different than taking any other vaccine," she replied.
"I feel hopeful today, relieved. I feel like healing is coming. I hope this marks the beginning of the end of a very painful time in our history. I want to instil public confidence that the vaccine is safe," she said.
On the reluctance of some to get vaccinated Governor Cuomo said, "We just have to do it. The vaccine doesn't work if it's in the vial."
Lindsay is a nurse. An intensive care nurse. She's a New York ICU nurse.
She has been a hero for a long time.
Now she's a symbol.
A symbol of hope, a symbol of the nurses who have borne the brunt of this terrible disease and risked everything, not just their lives but the lives of their loved ones who battling this disease.
They've seen death on a scale most war veterans have not.
They've gotten sick.
Some have died.
Some are fighting right now to be paid out after their health has deteriorated and they can no longer work.
Minorities per capita have gotten the brunt of this disease and it is minorities who per capita not without reason are wary of government administered vaccines.
Nurse Sandra Lindsay represents that too.
She also represents the best of us.
Thank you Nurse Lindsay and God bless.
There were other stories across the country as reported by The Washington Post.
I just lost my 27th patient today," said Louisville physician Valerie Briones-Pryor. "So the vaccine I took today was for her family and for the other 26 I lost."
African American emergency medicine physician Sylvia Owusu-Ansah in Pittsburgh took her jab.
"There is a skepticism there that is not unwarranted," she said, referencing the seed of distrust among Black Americans about experimental medicine — planted with the Tuskegee syphilis experiment, in which Black men in the study were left untreated. "Basically, if I can do it, they can do it."
African American nurse, who works in a COVID ward, Mia Yepez got her jab in Jefferson saying, "We want to be able to stop the many admissions."
The Chief Medical Officer Robert Hart at her place of work, Ochsner Medical Center, described Yepez as, "She is in the middle of it day in and day out."
President Walter M. Kimbrough of Dillard University and President C. Reynold Verret of Xavier University, both historically black colleges of the state, both said publically they were happy to get vaccinated.
Anesthesiologist Raymond Pla was the only black staff member of the George Washington University Hospital to be vaccinated Monday.
His message, "If you want the funerals from the covid-19 infection to slow down and stop, you got to get the vaccine."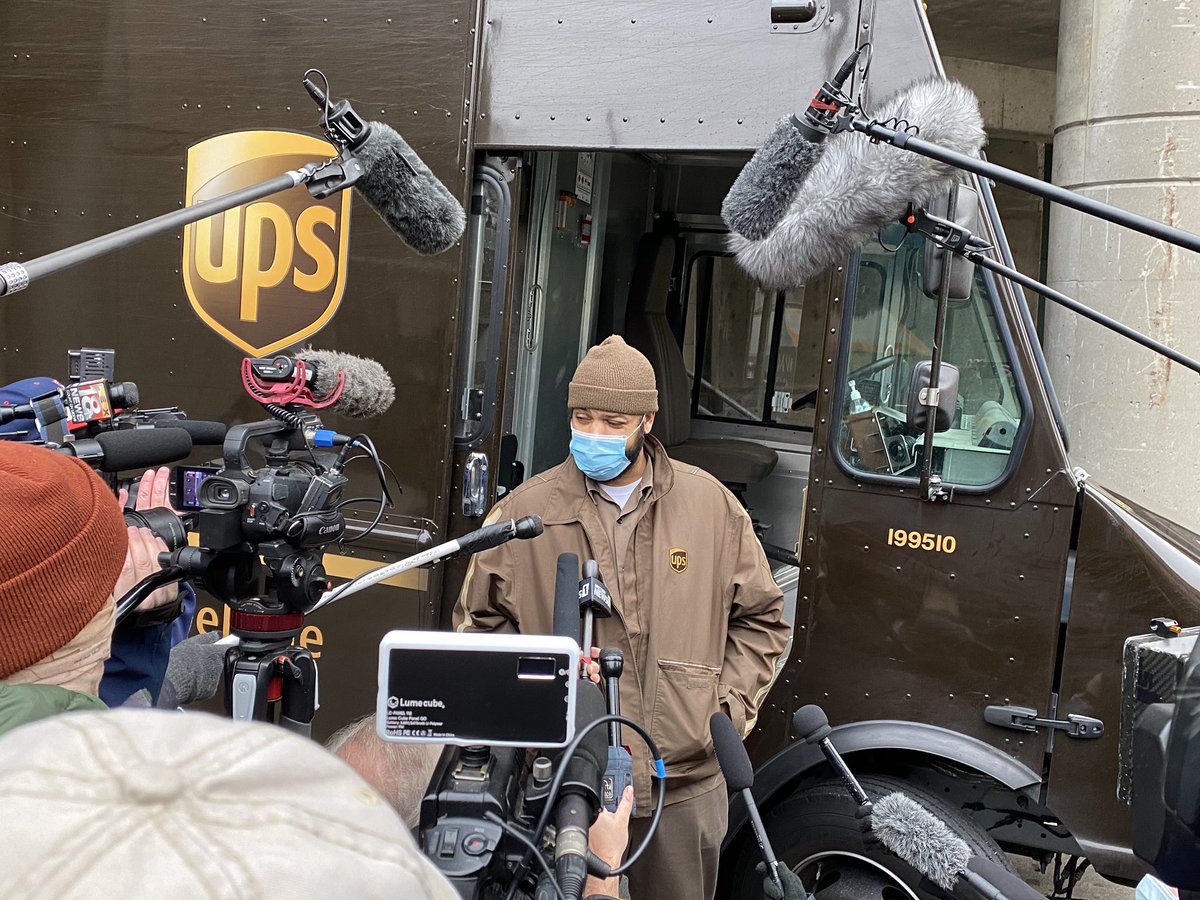 UPS driver Byron Bishop pulled his truck up to the University of Louisville Hospital greeted by applause and an elbow bump from the Governor of the state Andy Beshear.
"It's humbling being a part of this vaccine process, because it's going to save a lot of lives," said the driver.
Referring back to the date that Kentucky recorded their first COVID-19 cases, the Governor told this was the best, "The best I've felt since March 6. Today is the day we start winning the war against covid."
He told a story about a close friend who had lost his mother to the virus and had to quarantine for two weeks unable to grieve with the rest of his family. Just one more devastating story from the pandemic.
"The vaccine will liberate our workforce, the people who are really working, taking care of patients, from worrying about whether they face a death sentence from accidentally getting infected," said David Lubarsky, chief executive of the University of California at Davis health system.
The United States of America would breach 300,000 dead on the 17th of December reporting 301,536 deaths with a daily increase of 2,942.
Days before the U.S. reached 300,000 dead Dr Fauci had said, "The numbers are staggering — the most impactful respiratory pandemic that we have experienced in over 102 years, since the iconic 1918 Spanish flu."
It took four months for America to reach 100,000 dead and it was now believed a further 100,000 could die in the following six weeks.
Leon Kelly, the coroner of El Paso County in Colorado and the Deputy Medical Director of its health department had seen a lot of death in the past few months.
"It can certainly feel like you're standing on the beach and sandbagging a tsunami," said Kelly.
"To me it represents an extraordinary failure in our response. To think, now we can just absorb in our country 3,000 deaths a day as though it were just business as usual. It just represents a moral failing," said John Hopkins health researcher Jennifer Nuzzo.
Jennifer Nuzzo was not wrong, none of this was good enough or justified. President Trump has blood on his hands and always will. That in my opinion is and always will remain his biggest crime. That and any of his allies, enablers and supporters.
On the 15th of December the World Health Organisation reported there had been 72,467,704 confirmed cases globally with a daily increase of 507,504.
There had been 1,620,942 deaths globally with a daily increase of 8,797.
In Australia there had been 28,039 confirmed cases with a daily increase of eight. There had been 908 deaths.
In Canada there had been 460,743 confirmed cases with a daily increase of 5,891. There had been 13,431 deaths with a daily increase of 81.
In the United Kingdom there had been 1,869,670 confirmed cases with a daily increase of 20,263. There had been 64,402 deaths with a daily increase of 232.
In India there had been 9,906,165 confirmed cases with a daily increase of 22,065. There had been 143,709 deaths with a daily increase of 354.
In the United States of America there had been 16,041,095 with a daily increase of 180,420. There had been 296,840 deaths with a daily increase of 1,434.
But this was not just a day of doom and gloom. All the days of December showed death. Showed heartbreaking loss.
December 15 was a day of hope too. A vaccine being distributed against in just nine short months after COVID-19 rapidly spread across the world and changed our lives forever.
A miracle performed by scientists.
Delivered to our greatest heroes and our most vulnerable.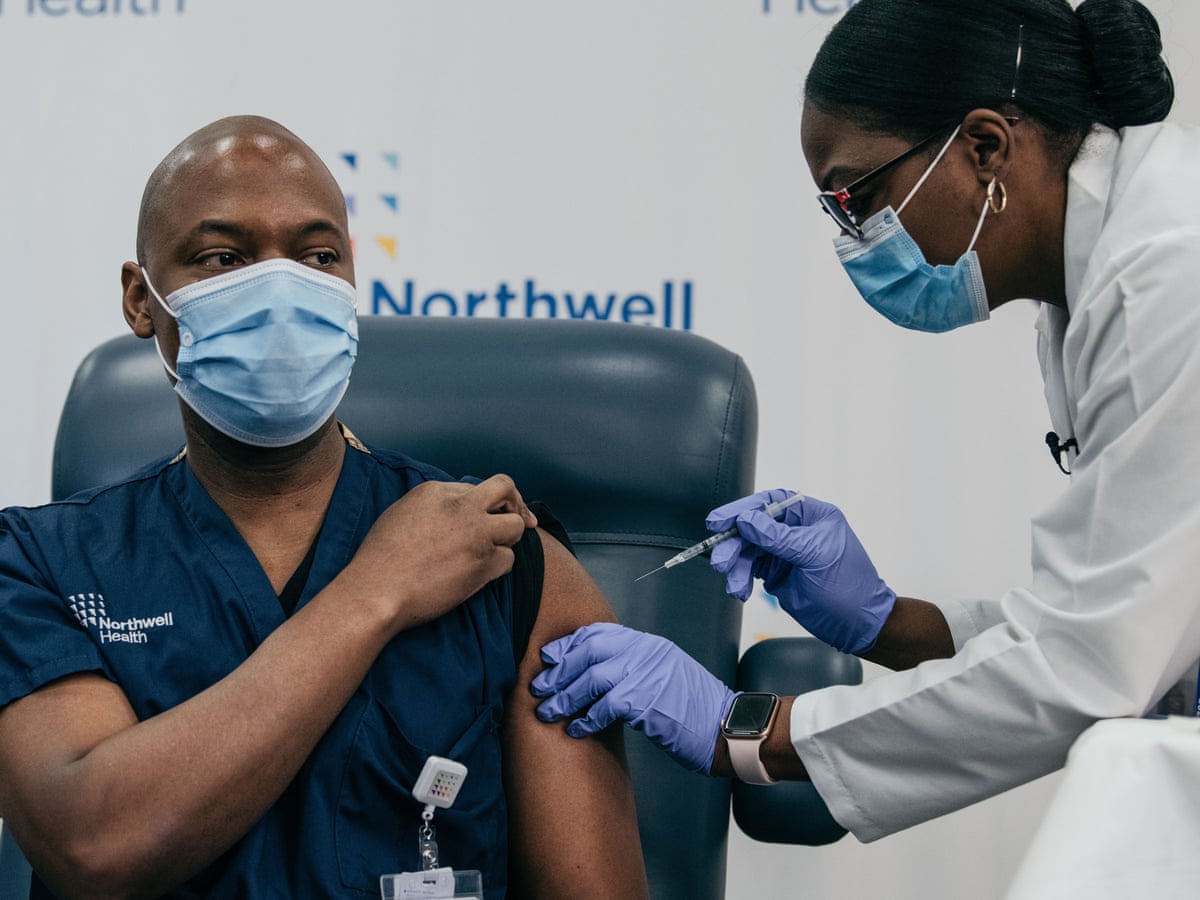 Back in Queens at the Long Island Jewish Medical Centre, the second person to receive a shot was Yves Duroseau, the emergency medicine chair at Manhattan's Lennox Hill Hospital.
Like nurse Lindsay before him, he got the needle from Michelle Chester, the Director of Employee Health Services for Northwell Health.
"Ready?" Chester asked him.
"Please," he replied.
"Let's do this." she said.
Duroseau had lost an uncle to COVID and had another family member in hospital fighting the disease.
-Lloyd Marken