March 27
I spent most of Saturday recovering from my torn hammy but it made me restless.
I watch some shows on Youtube that focus on pop culture. A lot of them covered Godzilla vs Kong which had just come out.
I also needed to get back out to the gym to complete my 100 kilometres for the March On campaign for Soldier On.
So I I left for a late night session by myself at Chermside cinemas.
I expected not many people to be there but much to my shock there were many people. Hardly near full capacity but easily over half. I limped along with my torn hammy and wondered what the hell I had gotten myself into.
I sat there slowly bubbling with shame as the film continually failed to engage me.
What the fuck was I doing there? How could I be so stupid.
On some level I believed we should be in lockdown so I was directly contradicting myself and for no good reason. I was following the health guidelines but not my own reasoning.
I hadn't thought this through. Still it was just one case for the moment.
However after I got back home from the gym Karen informed me there was new scare.
One new case had been reported on Saturday following 6,881 tests on Friday.
A friend of the landscaper case from yesterday.
But while that person had been waiting to get test resutls and been told to isolate the man had held a party with 25 people in attendance – apparently!
And I had just gone to the movies with a bunch of people from the local area.
I highly doubted I was at risk but it just felt dumb to have gone. The movie had been far from worth it.
Other Australian states moved to protect themselve from Queensland's concerns.
Travellers who left with one rules for entering WA landed five hours later to find they needed to go into self quarantine.
At a Australian Football League game the previous night in Geelong supporters of the Brisbane Lions who had travelled to Victoria for the game were told to leave the stadium immediately and get tested and sef isolate by signs around the grounds.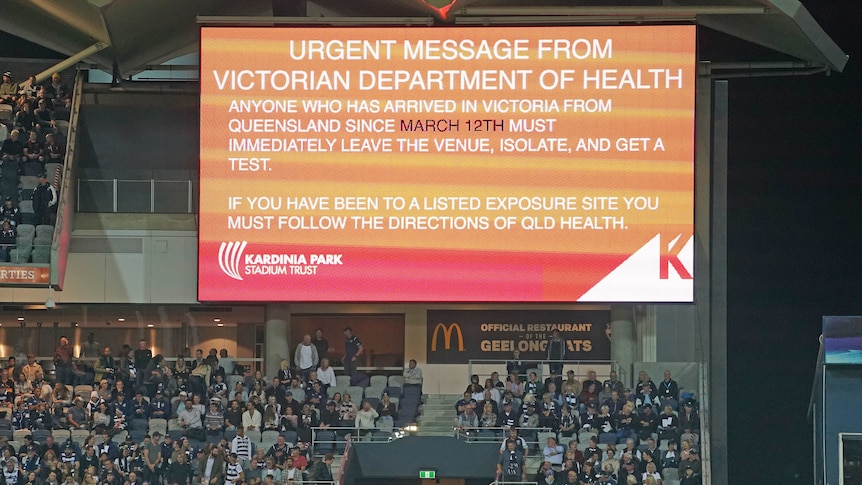 This applied throughout Victoria to all Queenslanders who had been to contract listed sites on the prescribed dates. You only had to isolate until you returned a negative test.
In the Northern Territory it was a similar situation except you had 72 hours to get tested and isolate.
In South Australia anyone from the affected LGAs had to get tested and self isolate.
New South Wales and Tasmania prohibited Queenslanders who had been to the contract listed locations from entering unless they were essential travellers. If you were already in those states you had to get tested and self isolate until you received results. 
With 71 active cases in Queensland, it was reported that hospitalisations were as high as they had been at the peak of the pandemic last year. The Queensland government wanted hotel quarantine numbers to be halved in the state.
It is also interesting to watch unbroken press conferences with our leaders.
As other state governments ramped up precautions in light of the news coming out of Brisbane, Queesnland itself did not make any changes.
Why?
Interestingly enough Premier Annastacia Palaszczuk called on the federal government to offer aid to north queensland tourism operators as Jobkeeper was coming to an end.
I wondered…
To most of us, it was obvious a lockdown would occur but what would be the trigger?
A new case out in the community for several days had previously done it but… not this time.
Now another new case with a party thrown into the mix and yet still a lockdown was not called.
March 28
On Sunday came news actually that the party well it turned out to just be four housemates. Not twenty five people. This was far from what might have been called in my day a hootenanny.
Questions were asked by journalists but nobody had any clear answers for them and nobody seemed to want to take responsibility except to say that was in the brief and a mistake must have been made.
The Premier, the Chief Health Officer or the Health Minister couldn't help beyond that.
Mistakes happen I guess, in a way it was nice to see them not just throw some staffer or public servant under the bus but it made me sad to see yet again the narrative of news cycles quickly move on rather than just asking that questions be answered.
With over 11,000 new tests having been carried out the previous day there were three new cases in the state, two from hotel quarantine and one in the community. A brother of one of the new cases.
That night I went back to the gym and walked on the treadmill for the March On campaign for Soldier On. 
Some good news just quickly.
Without going into details, older parents of friends, family and work collegues and fellow bloggers of a certain age in Australia, Canada, United Kingdom and the United States of America had at this point been vaccinated.
Not my parents yet but nonetheless this was wonderful news.
Some of these people had underlying health conditions and it was such a relief to see that they had received vaccinations. It reminded us that maybe progress was getting made.
On the 28th of March, 2021 the World Health Organisation reported there had been 126,404,770 confirmed cases gloabally with a daily increase of 594,210.
There had been 2,771,779 deaths worldwide with a daily increase of 10,358.
In Australia there had been 29,252 confirmed cases with a daily increase of twelve. There had been 909 deaths.
In Canada there had been 956,655 confirmed cases with a daily increase of 5,093. There had been 22,826 deaths with a daily increase of 36.
In the United Kingdom there had been 4,326,036 confirmed cases with a daily increase of 4,399. There had been 126,573 deaths with a daily increase of 58.
In India there had been 11,971,624 confirmed cases with a daily increase of 62,714. The next day India would reach 12 million cases with 12,039,644 and a daily increase of 68,020. There had been 161,552 deaths with a daily increase of 312.
In the United States of America there had been 29,859,706 with a daily increase of 71,187. There had been 543,003 deaths with a daily increase of 1,280.
-Lloyd Marken
ONE YEAR EARLIER: March 27,2020.
Having trialled one day working from home I would finish working in the office on Friday and head home not sure when I would return to the office. I would miss my colleagues.
That night hotel quarantine for Australians from overseas was announced.
The next day Karen worked bravely working a polling station during local council elections carried throughout our state.