April 07
Wednesday.
My brother from another mother passed on some very good news.
His father, mother and brother had all recovered from COVID and were out of hospital.
It was quite a relief.
There were some pretty sad stories about the state of hospitals and the number of people getting sick in India and it was only going to get worse.
He told me a story of a wardsman who basically slept at the hospital, worked non-stop and applied IV tubes to patients since medical students were being pressed into service.
As so many sad stories were set to come out of India we had one of relief although anxiety still remained high.
In Australia 920,334 vaccines doses had been dispensed.
Still a fairly slow rate and in the news were the fact that private hospitals in Brisbane had still not been able to vaccinate their frontline staff. Including the Brisbane Private Hospital, St Andrews Memorial Hosptial and the Wesley Hospital. Hospitals I had been a pateint at over the years.
April 09
Thursday night and a radical blow was struck to Australia's vaccine roll out.
The main element of the the country's vaccine strategy had been 53 million AstraZeneca doses with over fifty million doses to be made right her in Australia at CSL limited.
Pfizer had been used and other vaccines were going to be secured but the Oxford-AstraZeneca was going to be our jab of choice.
That was until now.
The Australian government named Pfizer as the preferred vaccine for adults under 50.
"The use of the Pfizer vaccine is preferred over the AstraZeneca vaccine in adults aged less than 50 years who have not already received a first dose of AstraZeneca vaccine," the Chief Medical Officer Professor Paul Kelly said.
"This is based both on the increased risk of complications from COVID-19 with increasing age, and thus increased benefit of the vaccination, and the potentially lower, but not zero risk, of this rare event with increasing age," he said.
A Melbourne man had been hospitalised last week developing blood clots a fortnight after being vaccinated.
Authorities did advise it can still be used for those under 50 if "the benefits are likely to outweigh the risks for that individual and the person has made an informed decision based on an understanding of the risks and benefits".
I personally had been waiting for the vaccine to be available at my local medical centre to receive a jab. Now I could not make a booking because I was under 50.
The Australian Technical Advisory Group on Immunisation (ATAGI) advised getting a rare blood clot after receiving the vaccine was somewhere between one in 166,000 and one in 250,000.
Out of those stats about a quarter would die.
So that was approximately a one in 800,000 chance of dying from taking the AstraZeneca jab.
According to UNSW haematology senior researcher Jose Perdomo, it appears "very likely" that the AstraZeneca vaccine triggers a unique immune reaction characterised by low platelet count and clotting.
"This is similar to another relatively rare but serious clotting condition, caused by the use of [blood thinner medication] heparin. This type of immune reaction involves platelets and white blood cells, and that is the reason for the development of severe clotting. In both cases, clotting appears within two weeks of administration of the substances." advised University of New South Wales haematology researcher Jose Perdomo.
The average Australia had a one in 1,000 chance of getting a blood clot from deep vein thrombosis and 6 per cent of those would die. That is a one in 17,000 chance of an Australian dying from DVT in a year.
"Everything we do in life – every medication we take, every vaccine we give – has a risk. It is a very safe vaccine but that doesn't mean that occasionally some very rare side effects won't occur, and that's what we're seeing. People just need to be aware that every day we balance risk versus benefit, usually without thinking about it," said Professor Jonathan Carapetis, from the Telethon Kids Institute and Australian Association of Medical Research Institutes.
In Australia over 900 hundred had died from COVID. That alone was a one in 30,000 chance of dying from it in a country where the disease had been relatively so far kept in check.
If every Australian was vaccinated with AstraZeneca given the current statistics it could be estimated that something like 25 would tragically die. Far less than 900.
However I beleived the governments were far more prepared to have lose lives through lack of action rather than through direct action.
Who really wants to be the one who pulls the trigger on 25 lives?
No one.
But the cost of doing nothing could be end up being higher.
In America one in 600 people had died from COVID.
"A cautious approach is recommended since specific risk factors are currently unknown," Dr Perdomo advised.
I wondered if in a country that had suffered far more loss if the risk of these blood clots would lead to such decisions.
And it had.
In Great Britain where over 125,000 people had died from COVID and government had failed to enact restrictions as early as some other countries.
In the country partly responsible for the Oxford-AstraZeneca vaccine and having rolled out the drug to many millions already even there Great Britain was restricting use in people under the age of 30.
On April 7th the UK's Joint Committee on Vaccination and Immunisation (JCVI) recommended that Pfizer or Moderna vaccine be offered to people under 30.
In the UK there had been 79 cases of blood clotting and 19 of the cases had proven fatal. Three of those were under 30. Eleven under 50.
They presented a risk/reward analysis based on a COVID-19 infection rate of 2 per 10,000 – roughly equivalent to the UK's situation in March.
The UK government had come to this decision from a risk reward analysis based off the statistics from March when the risk of COVID was 2 per 10,000.
Analysis, prepared by Cambridge University based on this statistic argued that someone aged 20-29 was more likely to end up in intensive care from AstraZeneca than COVID.
That of course didn't take into account the lowering of the median age of hospitalisations whwere the Brazilian stain was prevalent or that the March had not been the height of Britain's most devastating COVID wave.
In fact other Cambridge researchers from the Winton Centre for Risk and Evidence Communication prepared models with higher infection rates that still showed the risk was higher of catching COVID than taking the vaccine.
Friday the UK government was still planning to have all of Briish adults vaccinated by the end of July.
For the family of 59 year old British man Neil Astles who had passed away from a blood clot within hours of receiving an AstaZeneca jab this was all too real and yet still his sister Dr Alison Astles urged people to get vaccinated.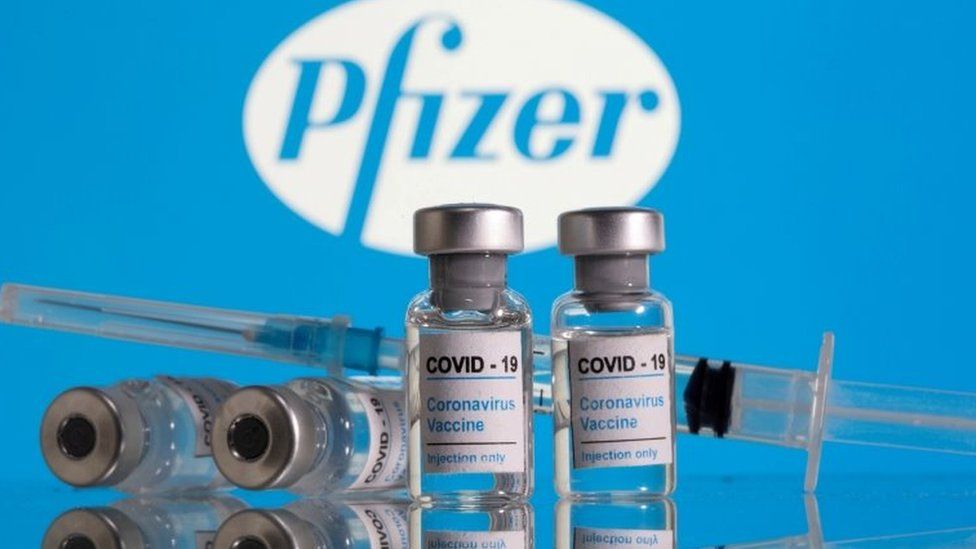 With a significant change to the number of Australians who would get the AstraZeneca jab an additional 20 million doses of the Pfizer jab were secured by the Australian government.
That meant there would be 40 million doses of Pfizer delivered by December and 51 million doses of Novavax jab arriving from July onwards once it was approved and 25 million doses under the COVAX scheme.
That was something like 169 million vaccine doses for a country that had a population of 25 million.
There have only been one million Pfizer vaccines delivered to Australia so far.
There was no doubt that the roll out of the vaccine in Australia had suffered a significant setback. How this would play out remained to be seen.
One more thing Friday night it was reported that Prince Philip, the Duke of Edinburgh had passed away. I know a lot of people will have opinions about the Royal Family. I did admire Prince Phillip for his service in World War II and for his sense of service to his wife and family. You can read into that what you will.
When your wife after a lifetime of marriage says you have been her strength and stay throughout all those years – you know you will have done something right.
Vale Sweet Prince.
-Lloyd Marken
ONE YEAR EARLIER: April 07, 2020 
April 09, 2020.