March 31
Wednesday and there was one new case in hotel quarantine in Queensland and only two new community cases and both were linked to recent cases.
The Blues Festival was cancelled in Bryon Bay for the second year running.
A PA nurse and her housemate but she never had contact to a returned traveller from India that she was linked to. This prompted further questions about how the disease might be spreading in the environment of the hospital.
The nurse had gone to hens party in Byron Bay over the weekend with ten people and an eleventh – a male entertainer. The entertainer and six of the ten guests had now tested positive.
The nurse had not worked directly with a returned traveller with COVID that her infection was linked to after genomic testing.
We just need to work out how she got it on that ward. There is most likely some environmental contamination or some aerosolisation of the virus when the person was admitted. So that's why that ward has been closed. No-one is going in or out of that ward," advised Dr Jeanette Young.
The nurse had been given the first dose of the vaccine on March 19.
The Health Minister Yvette D'Ath got a COVID testing following having a sore throat.
A 20 year old man tested positive in Byron Bay.
More than 33,000 people get tested including Health Minister Yvette D'Ath after having a sore throat.
The Premier indicated if the numbers were similar tomorrow there was a good chance the lockdown would end on Thursday evening.
"The fact we do not have any unlinked community transmission in the south-east or in our state is absolutely encouraging. Fingers crossed all will be looking good for Easter. If we see very good testing rates across Queensland and we don't see any unlinked community transmission, the signs for Easter are looking positive.," the Premier said.
One hundred and fourteen residents and staff at TriCare Mermaid Beach aged care residency on the Gold Coast had been tested and all returned negative results advised federal health minister Greg Hunt. This was following news that a contractor had done work at the facility and later tested positive.
Cases as far travelled as Bryon Bay, Gold Coast, Toowoomba and Gladstone. Two patients with COVID in the Gold Coast University Hospital, one in Toowoomba hospital and one in Bundaberg hospital.
Since the pandemic had started there had been 1,571 cases in Queensland, seven deaths and 2,485,240 tests had been carried out.
There were now 20 active cases in the state.
For the government the indications were if the numbers held the three day lockdown would be enough.
In January Prime Minister Scott Morrison had put forward the goal of having four million vaccinations carried out by the end of March.
On the eve of reaching that timeframe there was bound to be talk of the fact that the target had not been reached – not even close at 670,349 doses admnistered.
There were not even 4 million doses in the country yet which may be the crucial issue. There had been 3.8 million doses ordered to arrive during this timeframe and instead only 700,000 had. We were up to just under 50,000 doses a day.
It was looking highly unlikely an earlier stated goal of everyone receiving their first dose by the end of October would transpire.
Agricultural Minister David Littleproud put some of the problems at the state level when being interviewed on Channel 9 News.
"We have made it very clear to them, have confidence in the supply chain — we have plenty coming through, you cannot leave them in the rack, you've got to put them in people's arms," he argued.
"They have done three-fifths of bugger all."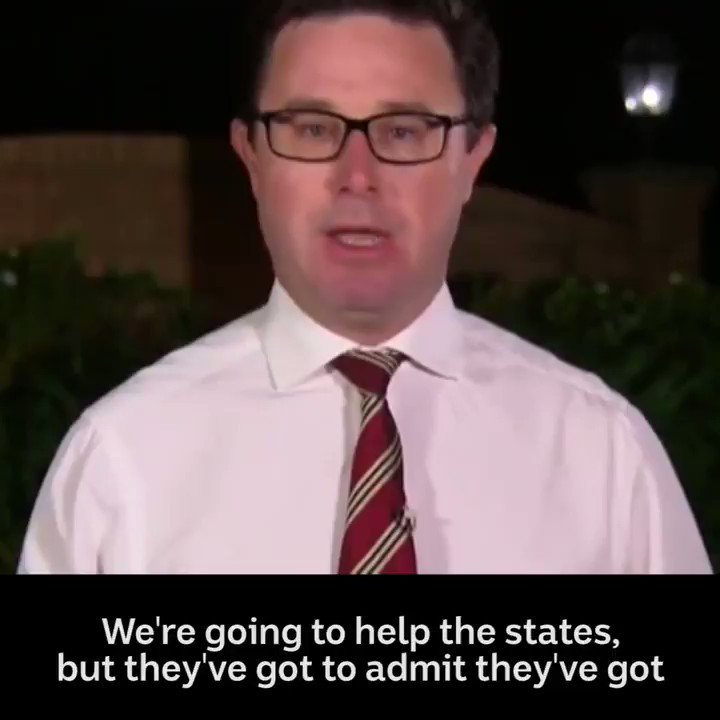 This started a war of words between state and federal leaders of all political persuasions.
"Queensland is releasing its vaccine numbers every day. We do not see that from the federal government. If the states are releasing their figures every day I think it's only fair, fair and reasonable, that the federal government releases their figures every day. We need to have guaranteed supply and we need to have guaranteed times of delivery," said Premier Annastacia Palaszczuk.
Queensland had completed 89% of 1A vaccinations for frontline workers.
Pfizer vaccines were being used there which required a second dose to be given three weeks later.
"We do have to make sure that if we give the first dose that we can give the second dose. Although the Commonwealth has done their best to try and assure us that we would get those second doses, at the same time we're getting information that supply is not progressing as we had hoped," advised Dr Young.
For a change New South Wales and Queensland Premier were of a similar opinion.
What is extremely unfair is that when we are given 24 or 48 hours notice about how many new doses we're getting. As you can appreciate, disseminating that within 24 hours or 48 hours is a difficult task. I want to put the facts on the table because it's so important for us to not only vaccinate as many people as soon as possible, but also to make the vaccine available through multiple channels," said New South Wales Premier Gladys Berejiklian.
"There is no point in delivering something to us a day ago or two day ago and saying you haven't rolled them out. I am as angry as I have ever been in this 15 months of war against this virus," said New South Wales Health Minister Brad Hazzard.
"Let's get this really, really clear: The NSW government was asked to roll out 300,000 vaccinations to the groups in 1A and 1B. Of that we have done 100,000," he said.
"The Federal Government was asked and is responsible for 5.5 million people and they have rolled out 50,000. I think the figures speak for themselves."
"It's a big job, we're all doing it, the states and territories are doing it for their frontline workers, we're doing it through the GP rollout," advised Prime Minister Scott Morrison.
https://www.youtube.com/watch?v=Y1z8BdDqsOM
A year on from when the pandemic started to sweep the west. Back then we put into actions and waited to see how the first quarter would play out with our health care systems, our supplies, our economies, our way of live and our loved ones.
There have now been four such quarters. A full game if you and game two in the series had kicked off.
Where will this all end and on many people's mind is maybe how and when?
How many people will die, lose their jobs and businesses, lose their health and when will this threat be out of our lives completely or at least greatly diminished.
We got the vaccine, this year will reveal if that is a game changer and a temporary or ongoing one. They say doctors live in the future, maybe they know.
I know that I do not.
But I remain grateful for all the good fortune I have been a recipient of, I look to do what little I can to help the less fortunate and to take solace in friends, families, some moments of joy and the idea that deeds however small matter. That if we can help each other and think of each other we will have the means to get through this.
It is not over but the first match in the series is.
As we close it, here is a little update.
On the 31st of March, 2021 the World Health Organisation reported 127,905,155 confirmed cases globally with a daily increase of 526,819.
There had been 2,798,278 deaths worldwide with a daily increase of 9,047.
In Australia there had been 29,296 confirmed cases with a daily increase of 18. There had been 909 deaths.
In the People's Republic of China where the virus had originated in Wuhan it was reported there had been 102,734 confirmed cases with a daily increase of 19. There had been 4,851 deaths.
In Canada there had been 971,715 confirmed cases with a daily increase of 6,311. There had been 22,900 deaths with a daily increase of 20. WIth over four million vaccinations Canada was starting to see an uptick in case numbers.
In Iran one of the first countries hit hard by the virus had suffered greatly in subsequent waves over the past year and another wave was coming. There had been 1,875,234 confirmed cases with a daily increase 10,250. There had been 62,569 deaths with a daily increase of 91.
In Poland there had been 2,321,717 confirmed cases with a daily increase of 32,891. There had been 53,045 deaths with a daily increase of 653. The next day they reported 35,253 new cases, their highest recorded daily increase of cases. A week later on April 8 956 deaths were reported in one day, the highest daily record of new deaths due to the virus.
In Colombia there had been 2,389,779 confirmed cases with a daily increase of 7,049. There had been 63,079 deaths with a daily increase of 124. The population of Colombia was 50 million.
In Germany there had been 2,808,873 confirmed cases with a daily increase of 17,051. There had been 76,342 deaths with a daily increase of 249.
In Spain there had been 3,282,047 confirmed cases with a daily increase of 7,202. There had been 76,424 deaths with a daily increase of 76. Spain was one of only nine countries that had reported more than 3 million cases at this point.
In Turkey there had been 3,277,880 confirmed cases with a daily increase of 37,303. There had been 31,385 deaths with a daily increase of 155. As you can see above, cases were dramatically on the rise in the country.
In Italy there had been 3,561,012 confirmed cases with a daily increase of 16,055. There had been 108,879 deaths with a daily increase of 529.
In the United Kingdom there had been 4,338,385 confirmed cases with a daily increase of 3,995. Thre had been a dramatic fall in new daily cases but only in the context of the recent devastating wave. In March last year when the virus shook the world, Britain reported 4,262 new daily cases on the 1st of April, 2020 for example. There had been 126,670 deaths with a daily increase of 55. Great Britain was one of only six countries that had reported more than four million cases.
In Russia there had been 4,545,095 confirmed cases with a daily increase of 8,275. There had been no let up in the daily death rates in the the country. There had been 98,850 deaths with a daily increase of 408.
In France there had been 4,510,870 confirmed cases with a daily increase of 29,575. There had been 94,763. deaths with a daily increase of 361. On the 5th of April there would be 66,794 new daily cases. Only one day recorded a higher increase in daily cases in the country and that was 86,794 on the 8th of November 2020.
In India there had been 12,149,335 confirmed cases with a daily increase of 53,480. There had been 162,468 deaths with a daily increase of 354. I am writing this on the 7th of May and the dramatic rise of cases has played out in a tragic way. It had already started here. India, Brazil and the United States of America are the only three countries that have reported more than 10 million cases in the world.
In Brazil there had been 12,573,615 with a daily increase of 38,927. There had been 313,866 deaths with a daily increase of 1,660. On March 27th the country had reported their highest number of new daily cases with 100,158. The country recorded its highest daily number of deaths on the 10th of April with 4,249.
In the United States of America they reached more than 30 million cases with 30,033,063 with a daily increase of 64,599. There had been 545,051 deaths with a daily increase of 621. No country had suffered more than America this past year and new that over 135 million vacccine doses had been dispensed was cause for celebration but the daily new case numbers there were still high.
We were about to find out what protection the vaccine would grant against new strains and a new subsequent wave when it came.
I hoped it would be promising news.
I hope the worst of this is behind us.
It would come to be that that was not the case for India and others.
But we play on.
It is all we can do.
-Lloyd Marken
ONE YEAR EARLIER: March 31, 2020
Globally we passed over 750,000 confirmed cases and reached 36,522 dead.
On a more heartening note Karen became the Teddy Bear Lady in our local neighbourhood.