May 06
A Sydney man and his wife tested positive for COVID-19 having visited 14 suburbs over five days where he unknowingly had the virus.
In a twist there was no explanation for how we caught it.
Genomic testing linked him an American man who quarantined at the Park Royal in late April. So there was a missing link.
New restrictions were put in place on the eve of Mother's Day to run three days until midnight Sunday night.
Mask were to be worn indoors and on public transport, there was no singing or dance indoors with the exception of weddings where 20 could get up and boogy. No more than 20 visitors were allowed in households and no more than two visitors to aged care facilities.
"If this was WA or Queensland they would have shut down the whole city. They would have said stay at home, they would have said don't go about your business. We're saying the opposite," jabbed Premier Gladys Berejiklian
Which was a bit funny because recently the Queensland Premier had chosen not to go into lockdown when a case had been out in the communtiy for several days. That decison ultimately meant that two Queenslanders with COVID had travelled to Byron Bay leading to the Bryon Bay Bluesfest having to be cancelled in Berejiklian's home state.
Additionally there was the missing link element here, somebody was out in the community potentially with COVID with no idea that they had it, maybe even more.
Yet the New South Wale Premier was urging people to go out about their business.
It also did eventuate in a lockdown in south east Queensland so Berejiklian's comments needed to taken as seriously as her thoughts had been prior to making them.
In Victoria state run vaccination centres were averaging 8,000 jabs a day since phase 2A started earlier in the week.
The New Zealand government paused travel from Sydney for two days.
Six thousand people from New South Wales had travelled to New Zealand over the last 6 days would be contacted.
Those who had been to Sydney hotspots travelling into Western Australia were ordered to self quarantine for 14 days and those entering Queensland had to go into hotel quarantine.
Canada also approved Pfizer for use on teenagers aged 12-16 following trials. There was still a long way to go in vaccinating the adult population though.
Nationwide the same day 14,568,067 doses had been dispensed and 1,173,962 people or 3.1 per cent of the population has been fully vaccinated out of a national population of 37 and a half million.
In Queensland a man was in Intensive Care following blood clotting after getting the AstraZeneca vaccination. He was one of five cases of clotting across the country in the past ten days as the government moved to deliver 270,000 doses of the vaccine next week.
There had been eleven cases of blood clotting after 1.4 million doses of AstraZeneca had been given in Australia including one dose to yours truly.
That is 11 / 1 400 000.
That is so far you had a 1 / 140 000 chance of getting a blood clot.
Out of those eleven cases though had been one fatality.
The threat of dying from COVID remained higher even in a country like Australia where case numbers and deaths had been so low.
Capacity at the Howard Springs facility was due to expand from 850 to 2,000 in preparation for repatriation flights from India as more aid from Australia landed in India.
An ABC News report said that these expansions would be complete by the end of the month, not May 15 but it did give the government time to have undertaken a lot of the work to expand capacity if repatriations did begin on May 15.
Two weeks is a long time in politics, Perth had been in lockdown at the end of April with talk about high numbers of COVID cases in hotel quarantine.
Back then the pressure was on for the Federal Government to act to protect the country from another outbreak in the community and certain sectors of the media were constantly bemoaning shutdowns as hurtful to the economy.
The plan to do something had been discussed at National Cabinet and signed off by health beaurecrats.
But now less than a week later and the focus was on the moral considerations of such an unprecedented decision and the government seemed anxious to peel back the law in another weeks' time.
Phrasing it around lower number COVID cases in hotel quarantine and a shift to more repatriations through facilities like Howard Springs made sense.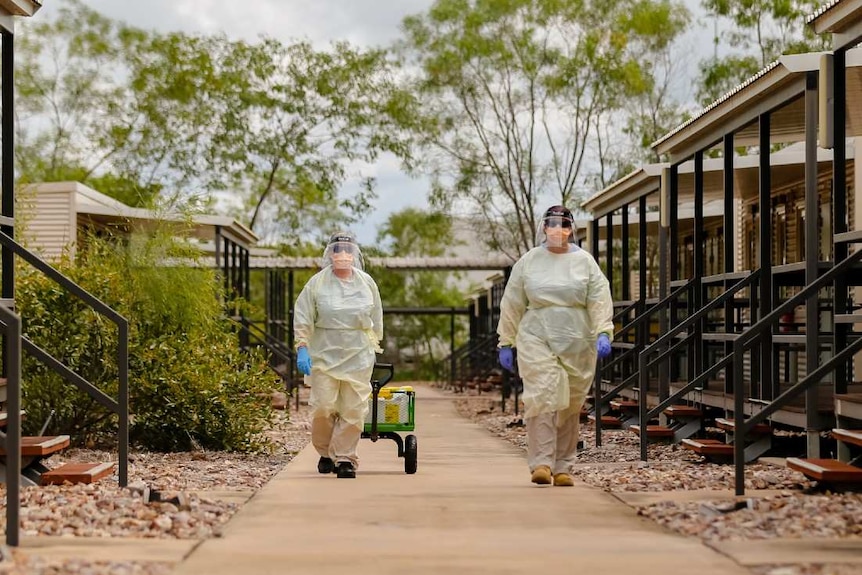 It was understood the first repatriation flight from India would start as soon as the ban lifted May 15 with a flight that could bring home 200 passengers with priority given to 900 Australians stranded in the sub-continent that were classed as vulnerable.
It was expected that Howard Springs would be close to empty of travellers quarantining there at that point.
Anybody scheduled to board would have to return two negative results before stepping on the plane.
"This second wave is very bad, the logistics in India are very difficult, people are living in remote towns and villages and to get them safely to an airport is a very difficult undertaking. These are the real, practical consequences. There are thousands of people, many dying on the streets in India. So it's going to be very complex," Immigration Minister Alex Hawke.
I imagine those Australians waiting to get on those flights were like, "Yeah no shit mate."
There would only be one repatriation flight per week, previously to the travel ban there had been two a week from India.
But two weeeks was a long time for the virus to wreak havoc.
How many people would die waiting for a flight home in that time?
On May 6th, 2021 the World Health Organisation reported in India there had been 21,077,410 confirmed cases with a daily increase of 412,262.
A world record for daily new cases.
There had been 230,168 deaths with a daily increase of 3,980.
A new record of daily deaths in India too.
May 07
The next day the Prime Minister Scott Morrison announced the ban would end on May 15.
"The original decision to put in place that biosecurity order until the 15th of May has proved very effective and it will run its full course until that time without any change," Morrison said.
"The challenge we have had with arrivals from India is the higher incidence of infections and the stress that was placing on the quarantine system," he explained.
At one point the infection rate at Howard Springs was 15 per cent, much higher than the goal of two per cent causing concern for the quarantine system and potentially Darwin's hospital system.
However now those numbers had halved and there was an expectation they could be close to zero by next weekend.
No decision had been made yet about commercial flights coming in from India.
Meanwhile the situation in India remained dire.
Positive test results for COVID were averaging about 20 per cent and plenty of people were not getting tested and dying from COVID.
The percentage fo the population that had been fully vaccinated was 2.2%.
More than 46,000 Red Cross staff and volunteers were helping in India.
In the capital city Kathmandu of neighbouring Nepal positve test results for COVID were up to 47 per cent. The country was in lockdown and its hospitals were stretched.
On May 7th, 2021 the World Health Organisation reported in India there had been 21,491,598 confirmed cases with a daily increase of 414,188.
The highest ever – 414,188.
The global total of new cases in the world that day was a little over double this with 853,895.
There had been 234,083 deaths with a daily increase of 3,915.
The next day would set a new record with 4,187 deaths.
-Lloyd Marken
ONE YEAR EARLIER: May 6, 2020
In Melbourne, there was an outbreak at the Cedar Meats abattoir leading to 62 confirmed cases.