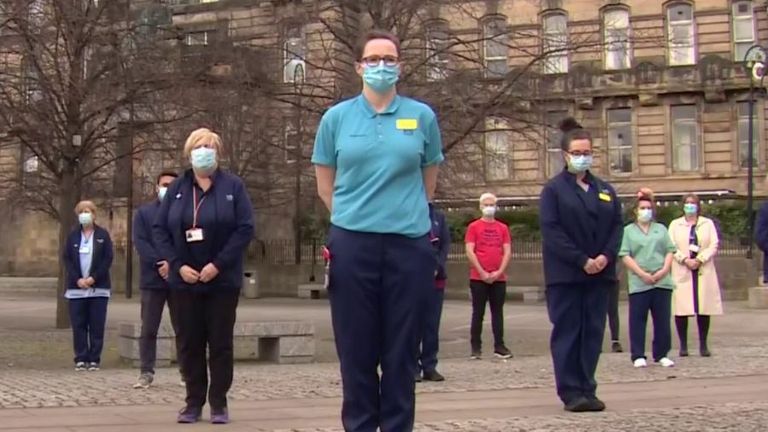 March 22
I saw my GP on Monday the 22nd of March. As we discussing a few recent things to do with my health she mentioned my COVID vaccination.
I advised I was too young but she told me I would come under 1B for an underlying health condition. I asked if she was sure and she was.
I guess I had thought about it but often saw it as something to come down the line.
She told me to keep checking the website, no vaccines were availble at my medical centre yet but they would be soon as part of the 1B roll out.
March 23
I checked with my specialist who treated me for the underlying health condition which was well under control and he gave me the green light for to get the COVID vaccination.
Britain's Prime Minister Boris Johnson warned that the third wave currently going through Europe would come to the UK.
"I've talked to our (European) friends repeatedly over the period – we're all facing the same pandemic, we all have the same problems." the Prime  Minister said.
"If there is one thing that is worth stressing is that on the continent right now you can see sadly there is a third wave under way. People in this country should be under no illusions that previous experience has taught us that when a wave hits our friends, it washes up on our shores as well. I expect that we will feel those effects in due course."
"That's why we're getting on with our vaccination programme as fast as we can but a vaccination campaign and developing vaccines, rolling them out – these are international projects and they require international co-operation." said Johnson and I wholeheartedly agree.
Recently case numbers were on the rise and restrictions were coming into place across the continent. Recently several nations had suspended use of the AstraZeneca vaccine.
Now the President of the European Commission had floated the idea of blocking drugs being exported to the UK which had vaccinated much more of their population.
Throughout most of 2020 the UK had been per capita one of the highest case number and deaths nationally across the globe.
"I'm reassured by talking to EU partners over the last few months that they don't want to see blockades, I think that's very important." the UK Prime Minister advised.
March 24
In Britain they paused on the anniversary of their first lockdown and remembered 126,000 of their fellow countrymen and women ahd had passed away in the past year.
Prime Minister Boris Johnson who lesser measures at a slower pace than Australia and New Zealand and even many other European nations allowed, "There are probably many things that we wished that we'd known and probably many things that we'd done differently at the time."
"Cautiously but irreversibly, step by step, jab by jab – this country is on the path to reclaiming our freedom," said the Prime Minister.
Looking at the assembled nurses and ambos and doctors standing in reflection and remembrance of those who were lost.
How many of those deaths had they personally witnessed?
How many lives had they saved?
Had they seen any colleagues fall?
These were our heroes of a battle that still raged on and here they were still standing.
For us.
March 25
The first 800,000 of the locally made AstraZeneca jabs rolled out from CSL. The hope was to produce a million jabs and distribute them per week. This came in the wake of the short suspension of the AstraZeneca vaccine in Europe having ended a week earlier.
It has to be said it was a great sight to see, the CSL plant was ready to run red hot in getting as many vaccines as possible produced and out in the community or wherever it was needed given a recent break out of cases in Papua New Guinea.
A lot of hard work had already been done to reach this point.
In India cases were on the rise and discovery of new mutant strains. There was a pause of Indian produced AstraZeneca vaccine which could cause problems of getting vaccines to Great Britain and Brazil and countries that would be served through the COVAX scheme.
India itself was looking to ramp up its vaccination scheme with people over 45 to get the jab next month.
-Lloyd Marken
ONE YEAR EARLIER: March 22, 2020. 
Following a National Cabinet meeting with state Premiers the Prime Minister announced all indoor entertainment, sporting and religious venues were to be shut from midday the next day. This included pubs, clubs and restaurants and cinemas.
With an expected rise in unemployment dole payments were going to be doubled.
The World Health Organisation reported on March 22 that Australia had 1,098 cases with a daily increase of 17. The death toll was seven.