February 07
On Sunday the 7th of February, 2021 the World Health Organisation reported there had been 105,505,344 confirmed cases globally with a daily increase of 467,316.
Worldwide there had been 2,310,121 deaths with a daily increase of 12,416.
In Australia there had been 28,848 confirmed cases with a daily increase of six. There had been 909 deaths.
In Canada there had been 797,756 confirmed cases with a daily increase of 4,022. There had been 20,609 deaths with a daily increase of 96.
In the United Kingdom there had been 3,929,839 confirmed cases with a daily increase of 18,262. There had been 112,092 deaths with a daily increase of 828.
In India there had been 10,826,363 confirmed cases with a daily increase of 12,059. There had been 154,996 deaths with a daily increase of 78.
In the United States of America there had been 26,547,977 confirmed cases with a daily increase of 129,961. There had been 455,735 deaths with a daily increase of 3,549.
February 08
I was back in the office the following week on tenderhooks beginning a weekly countdown.
My best friend, a Canberra resident, was getting married in Sydney on Sunday.
I had taken leave, reserved a hotel room with no cancellation fees, gotten a crack in my windscreen repaired and bought a wedding present.
Yet if the Queensland border shut with Sydney again I would not go. The 14 day quarantine required in a hotel at your own expense upon returning to the Sunshine state was something I would not do.
So after months of believing in a strong border posture by state governments I now was at the mercy of such decisions.
That was fair enough, I still believed what they were doing was right.
On Monday Queensland remained closed to certain areas of WA that had been invovled in the recent lockdown there.
For anyone who had been in New South Wales since the 2nd of February the Queensland Health advice was,
"If you have been in New South Wales since 2 February please check the list of venues attended by the latest case and follow the health advice.
If you have been in New South Wales since 2 February and are currently in Queensland please monitor your health, get tested if you have any symptoms then isolate until you receive a result.
There is no decision at this time to close the border. We are monitoring this situation closely and awaiting more information from New South Wales health authorities."
I had called the previous week to get a border pass and told that one was not necessary and to monitor the government website for updates.
In Wollongong a returned overseas traveller from South America tested positive for COVID leading to locals to get out and get tested.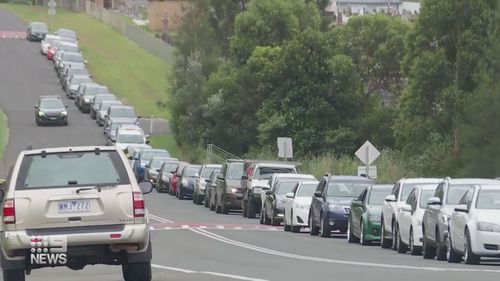 The individual had completed 14 days in hotel quarantine. A week ago it was decided by NSW Health for people to test on Day 16 after they have left hotel quarantine.
In Melbourne, Victoria another hotel quarantine worker tested positive. This time the individual had tested negative following their last shfit on Thursday. They had returned to work on Sunday and tested postiive.
This followed another hotel quarantine worker having tested positive in Melbourne last week at the Grand Hyatt.
The Grand Hyatt was one of three hotels quarantining Australian Open players and staff. Five hundred people were classed as casual contacts, tested and told to isolate until returning a negative.
A hotel quarantine worker at the Grand Hyatt had finished his shift 29JAN2021, tested negative. Then later developed symptoms and tested positve while having been out in the community. The young man is also a volunteer firefighter with the CFA.
It prompted new restrictions from Premier Daniel Andrews on the 3rd of February including masks being mandatory again and private gatherings were limited to 15 people.
Following these latest cases, the Federal Health Minister Greg Hunt was full of praise for the quick actions taken by the state governments.
The case in Woolongong gave me concern about the upcoming wedding in Sydney but we would just see how things transpired.
February 11
Thursday was the last day I was at work before getting ready for the trip. The border between Queensland and New South Wales remained open.
I was fairly confident that if there was no change by Friday that I would be going.
It seemed that even if there was a dramatic change or a new community transmission in New South Wales changes to the border was unlikely to take effect before I returned home on Monday.
There were now eleven cases linked to a Holiday Inn outbreak from hotel quarantine in Melbourne which would have no bearing on a possible trip to New South Wales but was of course of concern in the wider picture of people's health and safety.
February 12
Following the recent outbreaks in Melbourne Premier Daniel Andrews announced a five day lockdown for Victoria.
His state had endured a 111 day lockdown last year, he didn't want to risk that again.
"There might be more cases than we know about — if we wait for that to be proven correct, it will be too late. Then we will face the prospect of being locked down until a vaccination is rolled out … to a very large number of Victorians, a significant percentage of the Victorian community. That's months. That's not days or weeks, that's months," Premier Andrews said.
With that the Premier put the state into Stage 4 lockdown. You could only leave your home for caregiving, essential work, shopping or medical reasons. You could exercise for two hours per day with another person from your household.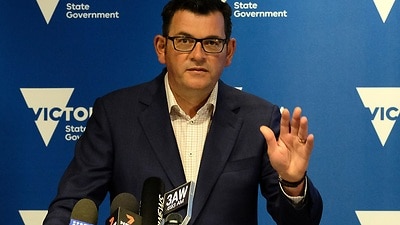 "Victorians are well acquainted with this. We've done this before," Mr Andrews said.
"I am confident that this short, sharp circuit-breaker will be effective. We will be able to smother this," he said.
Victoria Chief Health Officer Brett Sutton shared similar concerns about the UK variant of the virus.
"It became the predominant strain in England, now the predominant strain in the UK, and [is] fast becoming the predominant strain across Europe and potentially globally. That's because it is significantly more infectious than any other virus that we've seen previously. Nobody wants all the consequences of a circuit-breaker, but the alternative is potentially devastating. I do not want to be here either, come Wednesday, not having done this and talking about 10, 15, 20, 30 new cases a day, including mystery cases, or including cases that we can't chase down," Professor Sutton said.
The Victorian Premier advsied that the Australian Open tennis tournament was going ahead just not with crowds.
Victoria was heading for lockdown and quickly the Queensland Government advised people returning from Melbourne from 1am the next day would require to hotel quaraninte for 14 days.
I was heading for my first interstate trip in three years.
If it wasn't my friend I wouldn't have taken this trip but he's that kind of friend.
-Lloyd Marken