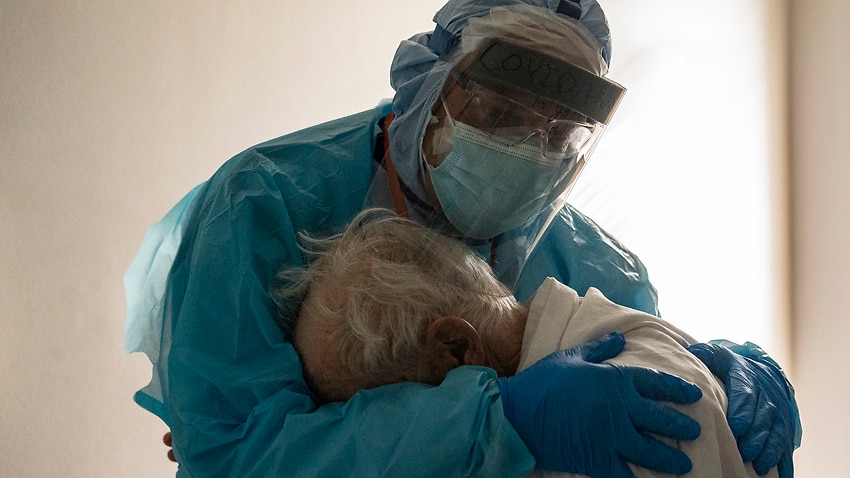 December 01
It popped up on social media and went viral.
Just a simple photo.
Just a simple tale.
One of far too many but for perhaps just a moment we stopped and spare for what was hidden from view far too often or that we had just turned our eyes away from.
The photo is of Doctor Joseph Varon holding an elderly man crying. 
The man is COVID-19 patient in the ICU unit of the United Memorial Medical Centre in Houston, Texas where Dr Varon works. 
The photo was taken by Getty Images Photographer Go Nakamura.
On the day the photo was taken, Dr Varon was working his 252nd consecutive day in a row.
It was Thanksgiving.
I'll let Dr Varon speak for himself as per this excellent article by SBS News in Australia.
 Dr Varon saw the man, "Out of his bed and trying to get out of the room. And he's crying. So I get close to him and I (ask) him, 'Why are you crying?" recalled the Doctor.
"And the man says, 'I want to be with my wife.' So I just grab him and I hold him," Dr Varon said. "I was feeling very sorry for him. I was feeling very sad, just like him."
Dr Varon told CNN, "Eventually he felt better and he stopped crying."
"I don't know why I haven't broken down," the doctor said. "My nurses cry in the middle of the day," he said.
The good Doctor told of how difficult isolation in a COVID ward can be for many patients in particular the elderly. Anybody who has worked in nursing home or hospital ward could attest to that. 
"You can imagine. You are inside a room where people are coming in spacesuits. When you are an elderly individual, it's more difficult because you are alone," he said.
"Some of them cry. Some of them try to escape," he said. "We actually had somebody who tried to escape through a window the other day."
Days on from when the picture had been taken, Dr Varon advised the man was, "Doing much better. We are hoping that before the end of the week he'll be able to get out of the hospital."
Sadly that is not always the outcome from the treatment of patients within the Dr Varon's intensive care ward.
Below is a picture of a patient who had passed away also taken in the same ward by the Getty photographer with Dr Varon second from the left supervising.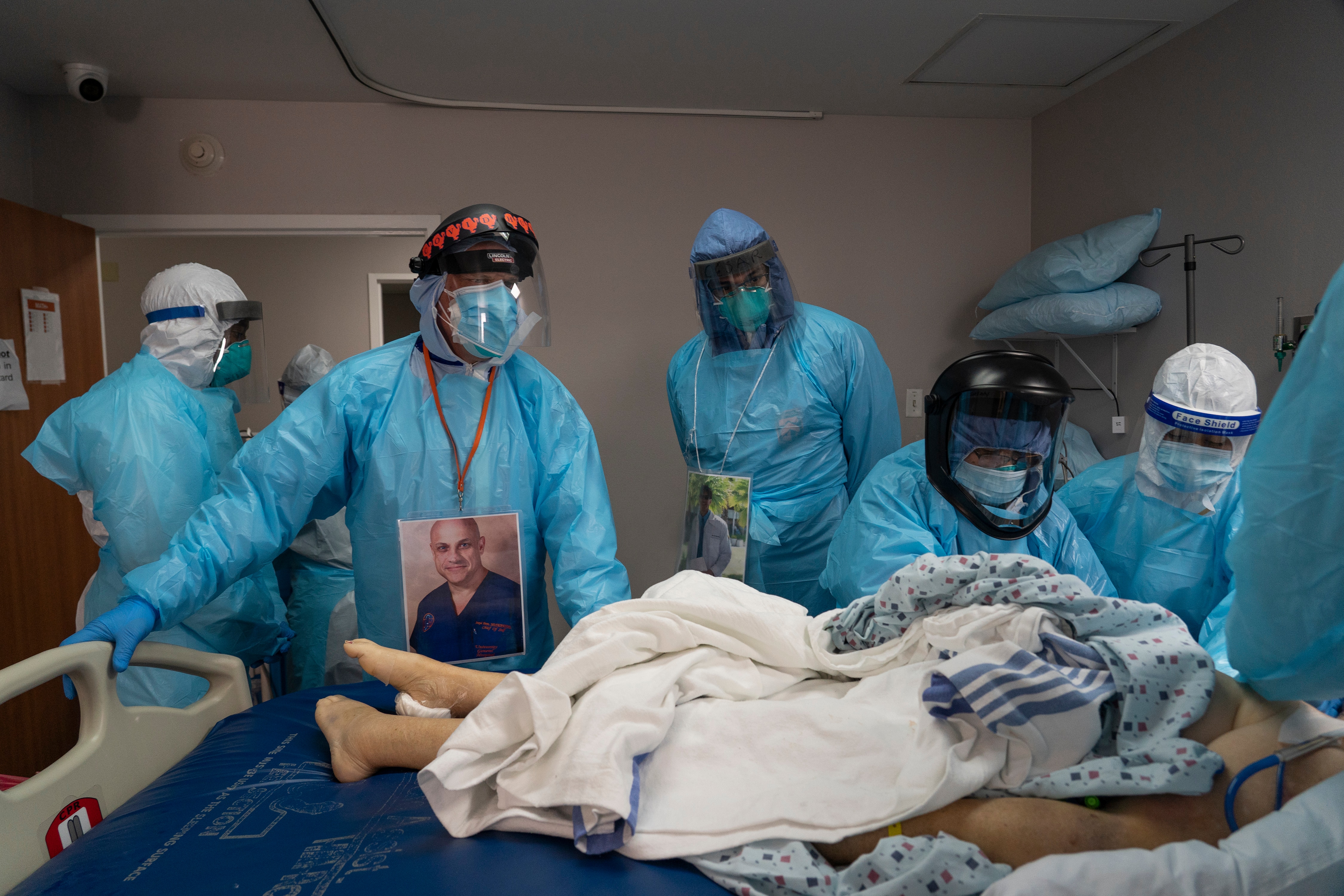 The doctor had some simple advice for all of us.
"People are out there in bars, restaurants, malls. It is crazy. People don't listen and then they end up in my ICU."
"What people need to know is I don't want to have to be hugging them."
"They need to do the basic things – keep your social distance, wear your masks, wash their hands, and avoid going to places where there are a lot of people. If people would do that, healthcare workers like me could hopefully rest."
On the 1st of December, 2020 the World Health Organisation reported in America there had been 13,234,551 confirmed cases of COVID-19 with a daily increase of 151,674. 
There had been 264,808 deaths with a daily increase of 862.
-Lloyd Marken