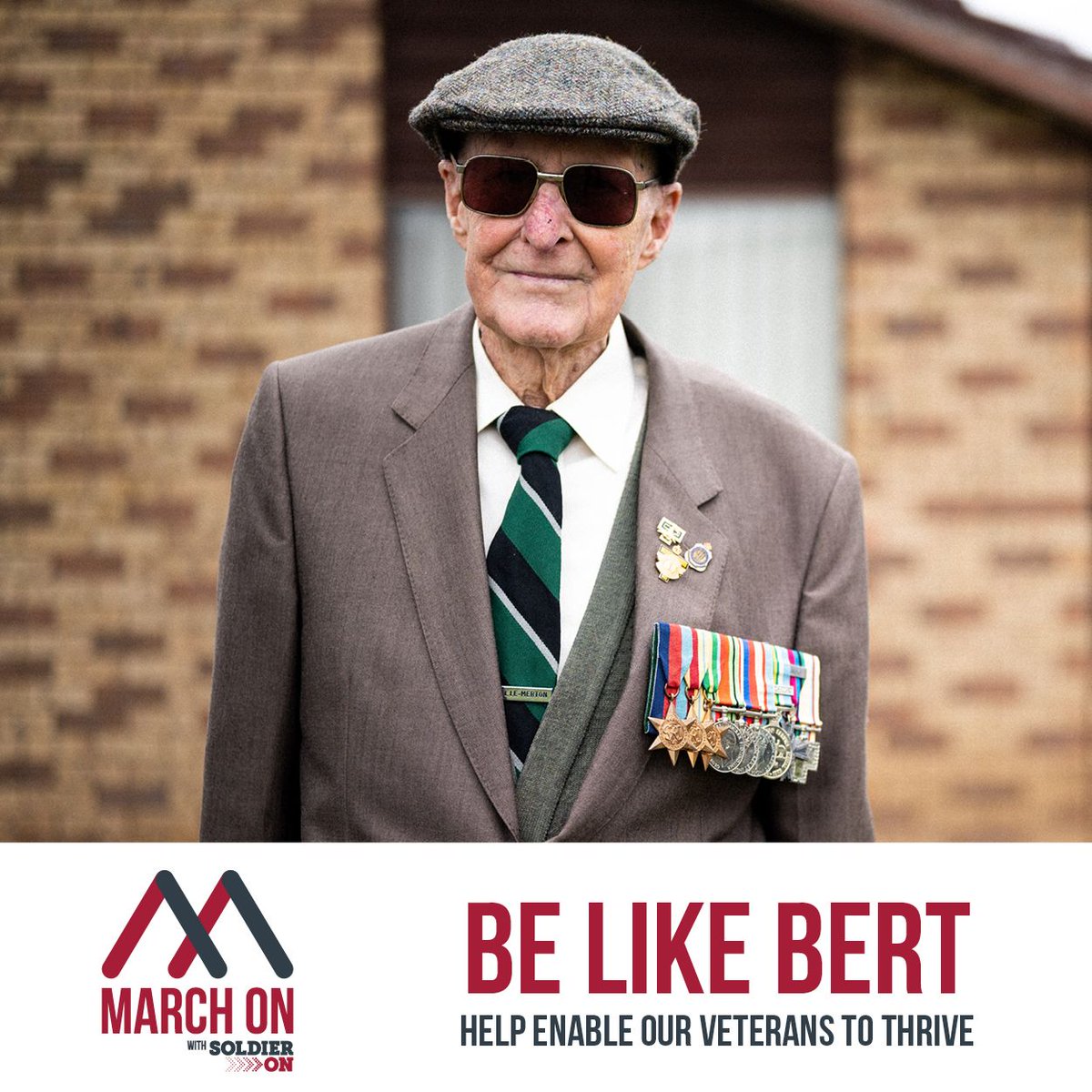 September 22
The Rats of Tobruk in 1941 denied Axis forces a sweeping advance through North Africa. Similar to the halting of the Japanese advance on the Kokoda Track a year later it is a significant part of Australian military folklore.
Sergeant Bert Le-Merton was there with the 2/13 Battalion.
Now at 102 years young he has been echoing the achievement of Sir Thomas Moore and walking in the name of charity. Where Sir Thomas Moore raised money for the NHS, Sgt Bert has been raising funds for Soldier On, a not for profit charity founded in 2012 to support veterans by John Bale, Cavin Wilson and Danielle Clout. Bale had been close friends with Lieutenant Michael Fussell who was killed in Afghanistan. 3,000 veterans and their families are supported by the charity with a holistic approach to their physical and mental wounds with employment programs, health and wellbeing services, learning and participation activities.
"It's a matter of interest to me that this organisation was assisting younger troops. That was very interesting from my viewpoint. It's been a very interesting pastime if you like, for an old bloke. In my view what we're doing is extremely important. What I find is the young troops, who are retiring, for whatever reason don't seem able to fit back into civilian life. To my mind it's glorious that so much has been raised because it puts Soldier On in such a fine position to help young members of the service," Sgt Le-Merton has said.
After the war, Bert worked for the Australian Taxation Office for 41 years before retiring at age 61. Sgt Bert whose children and grandchildren have continued to serve the nation and the community set out to walk 96kms and raise $10,000 Australian dollars. Bert who is known as 'The Walking Man' around his local suburb averaging 1-2kms every day has reached his milestone and has just kept on walking daily. He is now at 107.3kms and has raised $107,191 from 92 donors of which I am proud to say I am one.
March On Sgt Bert.
While mentioning this great Australian and soldier and the ongoing work to support veterans in our community which is an interest of mine. I should maybe address recent news coverage of Australian special forces allegedly committing atrocities in Afghanistan.
War crimes have occurred since war began, there are some who have said junior soldiers are being thrown under the bus from a hypocritical command and politicians who sent them into fight a dirty war where these things were going to be inevitable.
Others have pointed to the culture in the special forces as a contributing factor.
My own take is that people do terrible things in war, at some point the potential to cross a line can occur.
If any Australian soldiers at any level are found to have done something illegal contrary to the law of the army then they should be held accountable by the laws they operate under.
Same for anyone higher up who encouraged, covered up or turned a blind eye to such things.
We hold ourselves to standards, we are accountable when we fall short of them otherwise it all falls apart.
But if we merely use these soldiers as scapegoats expect the military to become more disillusioned with their leadership.
For those who have come forward to tell their story and hopefully have truth come to light. If the allegations turn out to be true well then we owe them thanks for their courage. Some of them are no longer with us already.
-Lloyd Marken