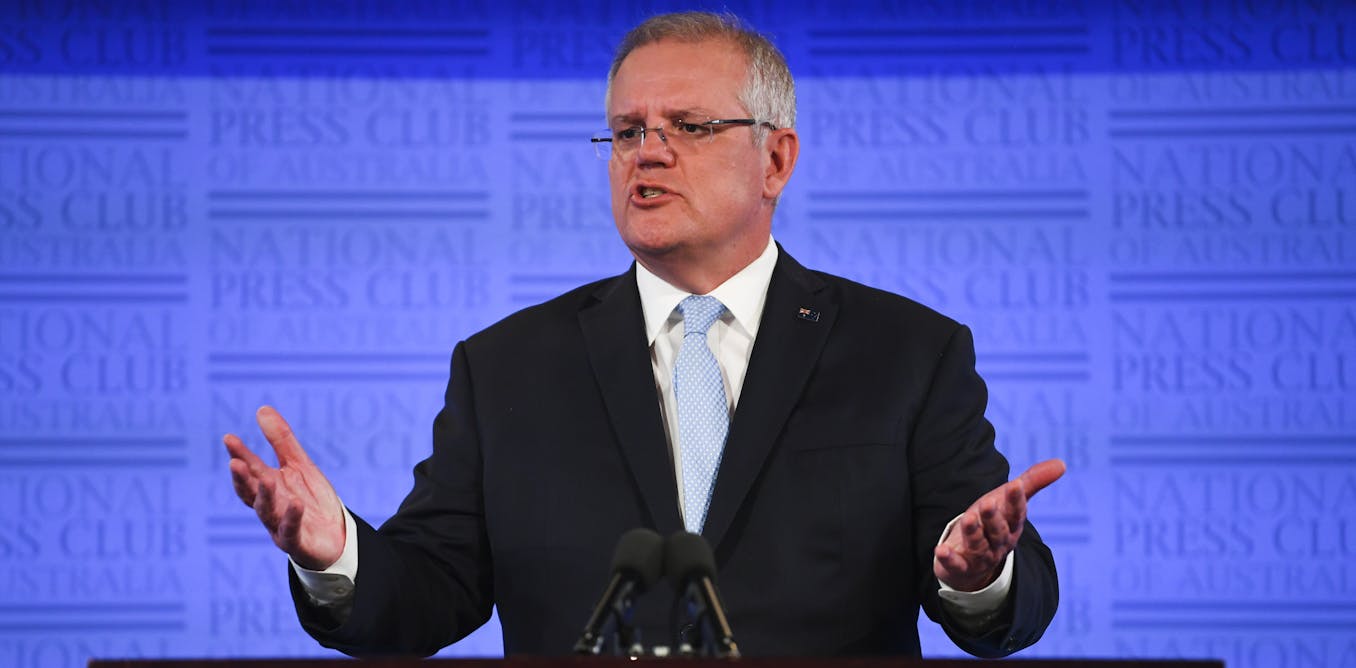 May 26
Tuesday.
The Prime Minister did an address at the National Press Club in Canberra talking about the tough road ahead economically with a plan to stick with the National Cabinet meetings over the previous COAG meetings.
Reform to vocational education was on his mind and bringing unions to the table for industrial reform.
The Prime Minister outlined the road to recovery would be a long one taking between three to five years. The unprecedented actions of Jobkeeper and Jobseeker set in place for a financial quarter would not continue indefinitely with the PM warning "At some point you've got to get your economy out of ICU."
The ABC article also editorialised "The blunt comments are expected to further dash hopes that the Government will bow to pressure and extend the JobKeeper wage subsidy scheme to more workers who missed out on the $1,500 fortnightly payments."
He also announced a new JobMaker scheme.
There was no push to have Australia turn more inward, while the Prime Minister defined us as a sovereign trading economy he sought to create an educated workforce that would mean competitive and modern manufacturing, agricultural industries while still trade of natural resources would play a big role.
"Firstly, we will remain in Australia an outward-looking, open and sovereign trading economy.
We will not retreat into the downward spiral of protectionism. To the contrary, we will continue to be part of global supply chains that can deliver the prosperity we rely on to create jobs, support incomes and build businesses.
Our economic sovereignty will be achieved by ensuring our industries are highly competitive, resilient and able to succeed in a global market. Not by protectionism.
While a trading nation, we will never trade away our values or our future for short-term gain."
These remarks were not without context, Australia did call for an independent enquiry into the source of COVID-19 in Wuhan and in the weeks since China has placed tariffs and seen a reduction in importing Australian barley and wheat.
As China has grown into the a economic powerhouse it has started flexing abroad in trade and in military excursions. No different than other superpowers before it but surely any calls that could help in combating this global pandemic should not lead to bullying tactics.
As the ABC reported the country faced a record deficit, debt exceeding 30% of Gross Domestic Product, unemployment hovering around 10 per cent and a fall in foreign investment by up to 40 per cent.
The national leader relayed all the work that had been done to build up medical stockpiles, hospital capacity and testing numbers and contract tracing abilities.
The virus was not going anywhere and on our comparative good fortune the PM stressed, "We should not downplay this, this achievement and pretend like the risk never existed, or that our preparations or our precautions were unwarranted. Let me assure you, Australia, the risk was great and uncertain and it still is.
The fact our worst case scenarios have not been realised is cause for great relief, not apathy."
In his speech the Prime Minister outlined more than 5 million Australians were directly benefiting from his government's welfare measures.
"At a now anticipated direct cost of more than $150 billion in just six months, all borrowed, all of it, against future tax revenue. These supports can only be temporary.
It was William Green, the leader of the American Federation of Labour who said during the Great Depression in 1934: "we cannot indefinitely support one sixth of our population on money borrowed against future taxes".
That was a Labour leader in the Great Depression."
Now here was a mainstream conservative leader steering through a once in a century health crisis, a budding trade war and a looming recession who had outspent all previous Prime Ministers.
The expense the welfare packages running long term came with a hefty price tag. Long term it was just not feasible even for the biggest bleeding hearts amongst us.
Which drove home the gravity of the situation, if Jobkeeper and Jobseeker continued for only the next quarter and the economy didn't re-open to a certain extent by then…
Then what?
On the 2nd of June, Treasurer Josh Frydenberg told us what we already knew, Australia was in a recession.
On the 26th of May however the Prime Minister was focussed on the positives. Citing that with a hopeful completion of the 3 Step Plan by mid-July for re-opening the economy across the country there would hopefully be 850,000 jobs ultimately restored.
He did acknowledge the idea of flicking a switch and turning the economy back on was simply not plausible.
"Success in this current phase will certainly not be easy. It cannot be assumed as we go through this process. It will not be business as usual. Opening up will be harder than closing down.
We will all have to have to retrain, to live and work in a way that creates a sustainable COVIDSafe economy and society as you are indeed doing here today.
All of us are in uncharted territory. There will be inconsistencies, there will be frustrations. There will be trial, there will be error.
During this time we can also sadly expect unemployment and underemployment to rise before it falls. Debt and deficits to rise sharply, as costs rise and revenues fall.
This will test our confidence and our resolve.
That is why the reopening of our economy must be followed by a concerted effort to create momentum and to rebuild confidence."
If there was hope to be found in the speech it was when he said "We should be encouraged that we have restored jobs and rebalanced our Budget before. So Australia, we have done this before and we can do it again, together."
I will close as I sometimes have with the opening hook of the Prime Minister's speech that day, designed to draw you in emotionally while he unveils policy.
One could get cynical about these things, there is after all a political purpose behind them. A number of highly paid staff curating and writing the brief and deciding what goes in and what doesn't make it.
I would remind you that in these words the Prime Minister is talking about real people and in these few individuals he is seeking to talk about all of us and not just Australians but all people.
About people who have lost a lot and the grace and courage they display in these moments that came from within them and lies within each and every one of us.
We will need this courage and grace and so we need these words to be said by our leaders now more than ever and we need to believe in them.