April 20
On Monday the 20th of April, the bulk of staff at work had been away for two to three weeks. We now found ourselves back in the office to get our flu shot and get back to working from home.
One of them, a particularly beloved colleague dropped off snacks for everyone which just speaks to why we love her.
While arrivals and departures were staggered you could feel it in the air. People were happy to see each other again if only fleetingly.
I was fortunate, I was there to work all day.
I enjoyed all the creature comforts of my office desk and but more so being around some of my colleagues whom I had missed. It was good to get back into the rhythm of working in the office and efforts were underway to see if some staff could rotate.
Nevertheless for the rest of the work I worked from home.
Across the State, Term 2 started and for many students it started remotely in the home.
There was a fantastic episode of the ABC program Four Corners that night that covered the early days and decisions from Australian governments at all levels to help their citizens through some dark days.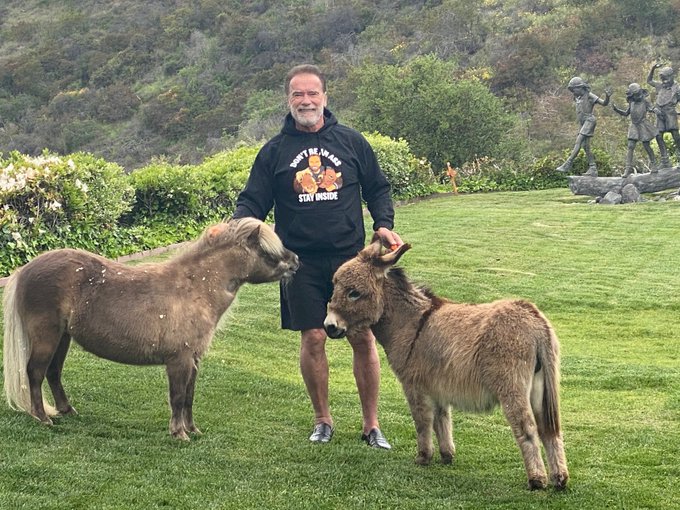 April 21
Taken with Arnold Schwarznegger's social media posts and his pets Whiskey (the minature pony) and Lulu (the donkey) I decided to buy a new hoodie he started selling.
All proceeds from the sale went to the charity he helped create – After School All Stars. It runs after-school programs for students across the country particularly in poor communities that need it even more.
There are 19 chapters helping over 90,000 kids across 468 schools in 60 cities from 13 states.
The charity had pivoted with the lockdown, knowing some of the kids involved in their programs get their best daily meals from the meals at school – they resolved to provide food for these families.
That was enough for me.
I belaboured figuring out what would fit me in US sizes trying several internet sources and it's quite possible the Hoodie won't arrive until September at which point temperatures will be rising in springtime Brisbane.
Doesn't matter.
If one American child eats a meal based off my poor fiscal responsibility then that's alright with me.
Of course if I had been completely selfless I could've just donated directly to the charity but I really wanted that hoodie. Although as restrictions relax I may look silly walking around outside with a hoodie that preaches to stay inside.
Some studies find that over 10% of America's population live in food insecure households.
Kids can't grow and can't develop their minds if they're lacking a balanced diet and it is estimated that could be as many as 16 million children each year.
America produces enough food to feed more than its population.
Food insecurity in America doesn't come from a lack of food – it comes from people not having enough money to buy the food.
There are expectations that food insecurity in the country could easily double given the increasing amount of unemployed Americans.
30 million applied for welfare and unlike in Australia the amount of claims that will ultimately be approved and the length of how long they can be on welfare is limited.
On the 21st of April the World Health Organisation reported 751,273 cases in the America with a daily increase of 27,668. The number of Americans who died with COVID-19 was 35,884 with a daily increase of 1,681.
Closer to home in Australia the tertiary education industry was facing a daunting prospect with international student enrolment set to decline with a loss projected between 3-5 billion dollars.
I spent seven years working at the Queensland University of Technology on contracts and as a temp hoping again and again I might become permanent. Now permanent workers may need to worry about their jobs.
International students who have spent years studying here in Australia now find themselves struggling to pay rent and unable to afford flight homes. Over 500,000 international students were in Australia when COVID-19 hit.
On the 12th of April Education Minister Dan Tehan announced an 18 billion package for to shore up income from domestic students in universities. Yet a huge source of income for Australian universities were international enrolments with some projecting a decline between of 3 to 4.6 billion dollars this year alone.
Universities themselves were trying to assist students financially struggling due to loss of casual employment and unable to apply for support from the government. Up to $110 million dollars through hardship support funds.
Countries like the UK and Canada had put relief packages in place for international students.
In Australia the Prime Minister was suggesting it was time for them to go home and the price of a plane ticket would only be $10,000.
Those in the industry were of two minds.
It has once again been revealed how reliant we were on international student enrolment. Maybe this would push a reform where it was needed.
Yet universities carry out research and grow the minds and capabilities of our brightest who go out and work in industry and make innovative solutions. Could we really afford due to a loss of income to see our universities lose researchers, budding academics and students to the pandemic? Some of them international ones too.
Not to mention families overseas may remember how we took care of their children during this crisis.
After paying a lot of money for them to receive an education here, when they were cut off from them, when it was difficult and expensive to get home, when other countries provided for such students here we were shrugging our shoulders.
What would they think of Australia?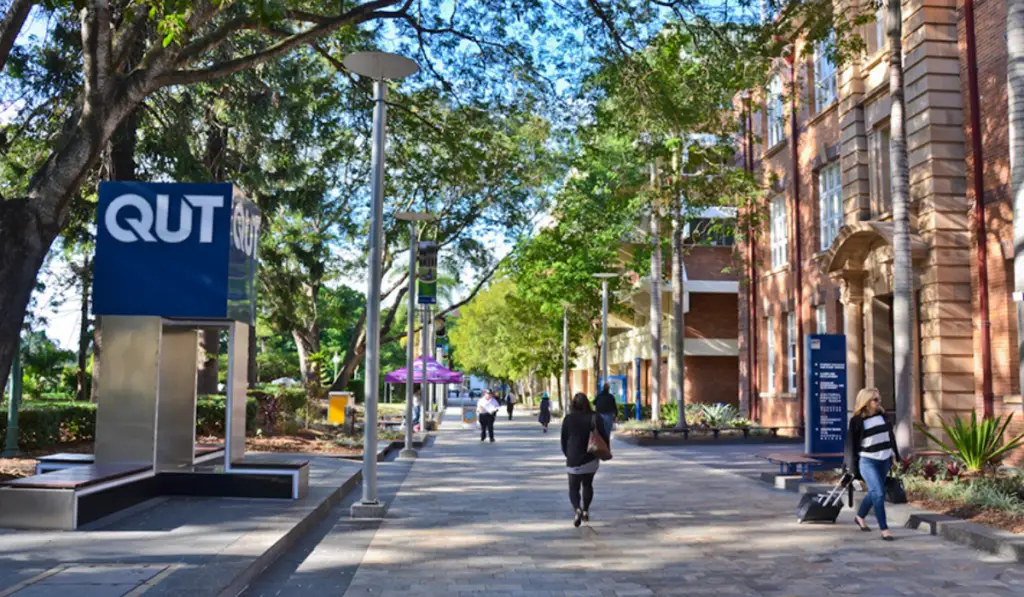 On the 12th of April, Universities Australia estimated 21,000 jobs could be lost in the next six months.
On the 21st of April, the Vice Chancellor of the Central Queensland University floated the idea of voluntary redundancies for some staff.
On the 21st of April the World Health Organisation reported Australia had 6,625 confirmed cases with a daily increase of 13. There were 71 deaths with a daily increase of one.
A guy I used to work with a few years ago in a part-time job I had was doing a push-up challenge to raise funds for mental health charity Headspace.
https://www.thepushupchallenge.com.au/pushuperer/65013?fbclid=IwAR3UCzdFCm5hvyW2Ud4w0rqBNeHpxoZVLUypX1NHusgdHtvMA8zTM9mQlz8
He set himself the goal of completing 3,046 push-ups over 21 days from 11MAY2020 to 31MAY2020. On day three he completed 326 push-ups alone. So I donated to his cause as well.
Headspace is foundation that helps young people and their families with their health in particular mental health.
I was also very inspired by the BuyThemACoffee initiative and got in touch with them. I was hoping to help out my local café at work Stellarossa Toowong but knew I couldn't hope to raise as much as BuyThemACoffee. I asked them for advice which they very kindly gave and thanked me for my small donation. I got in touch with the Wesley Hospital near where I worked. They advised instead of delivering coffee for staff they would really appreciate coffee vouchers.
So I set up a GoFundMe Page to raise $250 to buy coffee vouchers from Stellarossa Toowong and have them delivered to the staff at the Wesley.
https://www.gofundme.com/f/stellarosa-coffee-for-wesley-hospital-staff
Work colleagues and friends immediately responded and over the next four weeks we were able to raise some money.
Closing out on any given day a business like this at this time might have three or four hundred dollars in the til. 
There was a new owner/manager at the store and at this point she was having one staff member work a day.
Most of the employees are young and find themselves ineligible for jobkeeper or jobseeker in some cases.
They're great at what they do.
The new owner knowing this was treating them all fairly and spreading the work to all of them but there was not a lot of work to go around.
Despite this one of the baristas even donated to the GoFundMe page.
ANZAC Day was also coming up that weekend and collections for support services for veterans and their families were not going to be able to carried out like they had been for the past 100 years. So I donated some money to the ANZAC appeal.
I don't want to create the wrong impression, we need money.
Maybe I should've saved every extra cent I had.
But I have had a few thoughts over the past few weeks.
One that comes back to me occasionally is simply this.
What you do now – matters most.
ABC's Foreign Correspondent ran an episode that day following Emergency Responders and Healthcare Workers through New York City.
In a week where Trump spitballed using bleach to cure COVID-19 here was a program showcasing American heroes.
It showed the Naked Cowboy still hanging out in Times Square bringing cheer and goodwill to passerbys.
I will admit I thought there was something foolish in him not packing up his bags and trying to avoid putting himself at risk.
Yet something touching in his desire to remain and lift spirits and risk the potential consequences.
I thought how American, that level of optimism and foodhardiness, that mix of courage and absurdity.
He was not the only one.
In the program we followed veteran Ambos, retired cops bringing supplies to those still on the streets, volunteer nurses who quit their jobs to come take care of the sick and dying in greatest city in the world.
And people were dying. Many, many, many people.
Yet here were these Americans trying to help.
WHAT WE DO NOW – MATTERS MOST.
-Lloyd Marken